Pittsburgh Penguins: Can the Penguins Win the Cup with Only Evgeni Malkin?
September 22, 2011
Justin K. Aller/Getty Images
Penguins fans didn't realize how much they had missed Evgeni Malkin last season until they saw him play against the Red Wings in the Penguins' first preseason game.
The way he was skating around the ice, protecting the puck from defenders reminded people of his dominance in the 2009 Eastern Conference Finals against the Carolina Hurricanes.
In the first two periods, Malkin had the puck on a string and he seemed unstoppable. As Penguins announcer Paul Steigerwald says many times, he was playing as if he was possessed.
The Penguins won the game 3-2 and Malkin had a goal and an assist, but the real story was how quickly Pens fans forgot about Sidney Crosby and his concussion when Malkin was performing at his highest level.
It's almost a given that when Malkin is motivated and healthy, he's one of the best players in the league. Last season he wasn't healthy and perhaps his motivation wasn't there either. He didn't play up to his potential and honestly, he hasn't been since the 2009 Stanley Cup run.
Now that Crosby is gone, this gives Malkin a sense of motivation unlike any other. He knows he has to carry the team now. There is no more No. 87 bailing the team out. He needs to perform or the team has absolutely no shot of winning the Stanley Cup. The fact that Malkin hasn't played in such a long time gives him even more hunger and desire to get back on the ice and perform well.
The Penguins were able to accumulate the second highest point total in franchise history last season without Crosby and Malkin for a chunk of the season. Imagine if they had Malkin in the playoffs. There was no way they would've allowed the Lightning to come back from a 1-3 deficit in the series and win.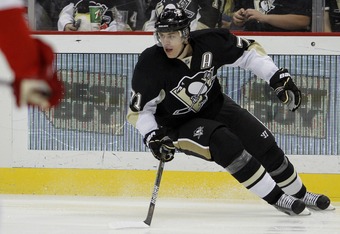 Justin K. Aller/Getty Images
All the Penguins need is for Malkin to play well. They have the defense, goaltending, and penalty killing to get it done in big games. It was their offense and power play that floundered last season when Malkin and Crosby were hurt. Alexei Kovalev couldn't do anything. James Neal needed a playmaker. Tyler Kennedy and Chris Kunitz played tremendously but it wasn't enough.
The Boston Bruins proved last season that teams don't need star studded lineups to win the Stanley Cup. They did it with great team chemistry and hard work. They had a few high profile guys like Zdeno Chara and Nathan Horton, but neither of these names are as shiny as Evgeni Malkin.
With Malkin, the Penguins automatically become a complete team. Obviously with Crosby they become even deeper and more dangerous. But if Malkin is playing at his potential, the Penguins don't really need Crosby to win the Stanley Cup. Crosby just makes it a whole lot easier for them to win it. 
The better Malkin plays, the less urgency there is for Crosby to get back on the ice. This means he can take his time to recover until he is 100 percent ready to return. 
It's just interesting how easily people forget how great a player can be. Everybody is associating the loss of Crosby with a downtrodden Penguins season. This won't be the case if Malkin plays like the way he did back in 2009.
Tonight, he showed shades of his glory days from the Cup year and this is something that is making Pens fans smile from ear to ear. 
The better Malkin plays in the regular season.