Washington Nationals and Mike Rizzo in the Final Analysis
September 21, 2011
Mitchell Layton/Getty Images
Mike Rizzo is a contradiction in terms, and as such, one of the hardest GMs to grade in the game.
His work with the draft has been brilliant, and the Nationals are one of the up-and-coming teams in the game. It is easy to stop with Stephen Strasburg and Bryce Harper. So many analysts do and they are missing the mark.
This team is littered with young studs and this year's draft was a marvel for the Nationals. Danny Espinosa, Ryan Zimmerman, Jordan Zimmerman and Michael Morse are all examples of draft picks that have panned out.
Add Strasburg and Harper to that list, and you have the makings for one of the best teams in the National League.
So, why the contradiction? The echoes of laughter from the Jayson Werth contract can still be heard around baseball. However, there are 29 other GMs cursing him in their sleep right now. His contract drove up the market price for merely good players so high that it won't recover for a while.
How do we reconcile such a good player development record with such horrible judgment?
Key Statistics
Team Payroll: 63.9 million (22nd)
Lineup: 24.4
Rotation: 20.7
Bullpen: 15.7
Composite: 20.3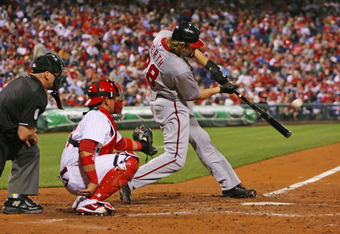 Hunter Martin/Getty Images
Analysis Score: +1.7
Lineup
Jayson Werth, Rick Ankiel and Andy Laroche were supposed to provide a veteran presence to stabilize the lineup.
Ah, the best laid plans of mice and men.
As it turns out, Michael Morse and Danny Espinosa provided the punch that kept the Nats going. Fortunately, Ankiel and Laroche were signed to one-year contracts. As we all know, Werth signed for a little longer.
The future of the team's offense rests in two key questions.
First, will Jayson Werth ever be the player he was in Philadelphia? Mind you, that still wouldn't be worth 100-plus million, but it would be a nice, added piece to a developing offense.
Secondly, when will Bryce Harper be released on the National League? He has star written all over him, but they seem to want to bring him along slowly.
Rotation
Jordan Zimmerma, John Lannon and Stephen Strasburg are a nice threesome to build around.
Mike Rizzo finds himself at another crossroads. Does he exercise patience and wait for youngsters like Matt Purke to develop, or does he take the short cut that got him in trouble last offseason?
Rumors had them interested in Wandy Rodriguez, and that kind of pitcher would make them competitive very quickly.
The problem is that such short cuts will cost money and/or young players. You have to make sure to make such moves at the right time, because if you make them too soon you could hamstring yourself for when you are really ready to compete.
Bullpen
Greg Fiume/Getty Images
 The bullpen represents their strength and another segment of the team where the draft has been very friendly.
Tyler Clippard has been the best setup man that few people mention. Drew Storen is another Rizzo draftee who has gone from prospect to top five NL closer in a very short time. The two combine to give the Nats a dynamic one-two punch at the end of the game.
Doug Slaten and Craig Stammen were also supposed to be key players, but they were derailed by injuries or ineffectiveness. Sean Burnett, Henry Rodriguez and Todd Coffey have been effective in their stead.
Teams will come calling about some of these young arms this winter, so you may see one or more dealt to fill some holes.
Response to Crisis
The crisis will come this winter rather than during this season. Livan Hernandez is done, and Jason Marquis was dealt. The two gave the Nats a veteran presence and were good stopgaps for the young pitchers to get ready. They are gone, and there are no veterans to take their place.
Will Mike Rizzo bite the bullet and go out to sign one (or trade for one), or will he let the youngsters go it alone for another season or two?
Analysis score: +1.7 (11th)
The Final Analysis
Mike Rizzo will end up being in that middle group of general managers—a group, like him, that have very good qualities and some questionable qualities.
It's hard to bag on someone for one mistake, but what a huge mistake it was. Things will be important from here on out as the Nats try to go from upstarts to true contenders.