John Cena WWE Champion; Why Having Him on Top Is a Great Thing
September 22, 2011
Rusty Jarrett/Getty Images
For the 10th time, John Cena is the WWE champion.  Dang it.
Like many fans above the Spongebob-watching age, I groaned when Cena slipped the STF on Alberto Del Rio and won at the WWE Night of Champions.  The list of men whom I'd rather see in the title picture is a long one: Daniel Bryan, CM Punk, KENTA from Japan, etc.
However, John Cena as champ is good for WWE.
He gives seasoned fans someone to root against.  I haven't felt so passionate about seeing a wrestler lose since Hulk Hogan. 
Purists surely bemoaned the Hulkster's lumbering style just like we pick apart Cena's five moves of doom.
The same way that I can't help but tune into Yankees games to see them fail, anti-Cena fans should tune in to watch him get ground into the canvas.  Every Cena opponent becomes a possible savior.
Has there ever been a face who divided the crowd like Cena?  Giving fans someone to shout "you can't wrestle!" at is a powerful and engaging thing.  Having him—uniquely loved and hated—incite a crowd is great for WWE.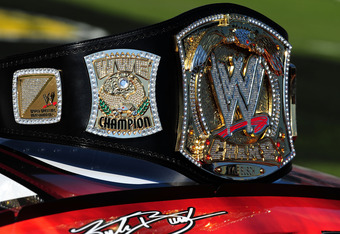 Robert Laberge/Getty Images
Of course, the crowd can chant whatever they want at him, even if he's just working dark matches, but they won't want to as badly.  The reason he draws the ire he does is mostly from his position. 
Unengaged fans don't care either way if someone wins or loses.  People definitely care about the results of Cena's matches.
For every person who punched a hole in the wall when Del Rio tapped out, there is a kid somewhere decked out in Cena gear.
When Cena lost to Wade Barrett and had to join Nexus at last year's Hell in the Cell, a large majority of the crowd had tears in their eyes.  The same thing probably happened to the little members of the Cena Nation when CM Punk won at Money in the Bank.
We have to come to terms with the fact that kids are a decent chunk of the wrestling audience.  The eight-year-olds at the school my wife teaches at alternate between John Cena and Spiderman shirts.
He's their hero.
And they shell out (their parents') money to support their hero.  John Cena shirts, hats and wristbands are consistently among WWE's bestselling merchandise. 
Of course, there are ways Cena can sell gear without being champion, but Vince McMahon may be hard to convince on that issue.  I understand his thought process, though.
Having Cena atop the WWE world allows kids to see their hero succeed.  Keeping them happy keeps them spending. 
For the fans that shudder every time Cena does the Five Knuckle Shuffle, we hold out hope that his next opponent will dethrone him and send him packing to the mid-card.  And while we wait to relish in that collapse, we continue to buy pay-per-views and set aside a few hours to watch Raw and Smackdown. 
Would I trade him for AJ Style , Samoa Joe or even Mickie James?  In a heartbeat, but I still recognize his value to the company. 
Besides, regardless of how loudly we gripe, it certainly looks like the champ will be here for the long run.