Georges St-Pierre: 3 Fighters Who Should've Avoided the Champ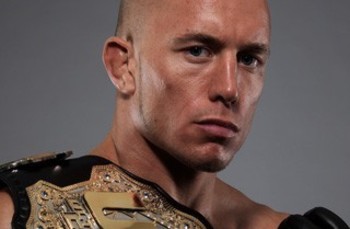 For four years Georges St-Pierre has been the supreme talent of the welterweight division.
St-Pierre has ruled it accordingly, but there are three combatants who have been mentally victimized by the champ.
The three major victims I'll get to later.
St-Pierre to date has had 22 career fights—he's only come up short twice, to Matt Hughes and Matt Serra. Those loses he would avenge in typical "Rush-esque" fashion.
St-Pierre is a world class MMA-ist in every sense of the word—Jiu-jitsu black belt, Gaidojutsu black belt, Kyokushin 3rd black belt, accomplished wrestler and he's also well versed in Muay-Thai and boxing, not to mention his core strength.
One phrase comes to mind—all rounder.
Of late St-Pierre seems to have failed to finish four of his last opponents—all ending in unanimous decision wins, but somehow, St-Pierre has been able to wreak both mental and physical havoc on said fighters psyche.
Josh Koscheck is not on the list but it's left to be seen whether he will suffer the same fate as the other three. He is set to throw down with Matt Hughes at UFC 135, that fight will give an indication on whether he too has succumbed to what I'd like to call "The GSP Fatigue".
Let's take a look at three casualties of "The GSP Fatigue:"
3. Jake Shields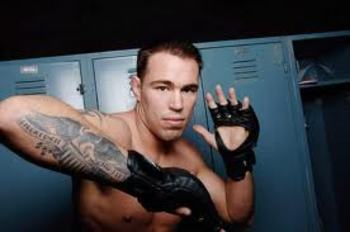 Jake Shields was on a mind boggling 15-fight win streak by the time he challenged St-Pierre for the UFC title.
For the St-Pierre vs. Shields promo for UFC 129, UFC color commentator Joe Rogan hypes up Shields with the famous words—"He beat Okami and Condit in one night."
The hype made no difference come fight night, St-Pierre dominated proceedings from the get go—backing Shields up with precision striking coupled with head kicks and finally taking him down.
St-Pierre suffered an accidental poke in the eye from Shields but was still able to pull off a unanimous decision win.
Next up for Shields was Jake "The Juggernaut" Ellenberger at UFC Fight Night 25. Ellenberger was to make quick work of the grieving Shields (his father had passed away three weeks prior to the bout) winning via TKO (knees and punches).
It's safe to say that Shields was not in the right frame of mind coming into the fight given his recent loss, and is thus commended his bravery and for not pulling out of the fight.
Shields record is now (0-2) since squaring off with St-Pierre.
"The GSP Fatigue"—Low Tier.
2. Thiago "Pitbull" Alves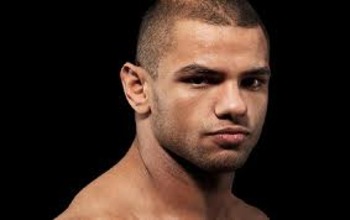 Prior to throwing leather with St-Pierre for the UFC title, Alves was on a seven-fight win streak and with his aggressive stand up he was given more than a fighting chance against St-Pierre.
That was not to be the case—at UFC 100 St-Pierre dominated Alves with his superior wrestling and his ground control and won a unanimous decision even though he'd pulled a groin muscle in the fourth round of their bout.
Alves had to twice pull out of his next fight with Jon Fitch due a knee injury and a brain abnormality—arteriovenous malformation. When the fight eventually took place Alves lost via unanimous decision.
In his next fight against John Howard he showed glimpses of his "Pitbull" breed—dominating Howard in both wrestling and striking and even scored a knock down en-route to a unanimous decision.
That was his last win—he lost a unanimous decision to Rick Story. His record since the St-Pierre defeat is (1-3) and he's next scheduled to fight Papy "Makambo" Abedi at UFC 138.
"The GSP Fatigue"—Mid Tier.
1. Dan "The Outlaw" Hardy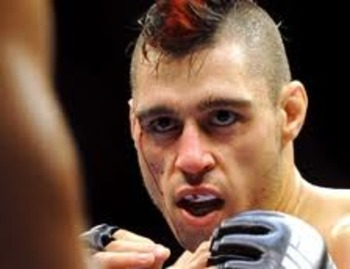 And finally the worst perpetrator of them all, well he really can't be called that but that's close enough.
Hardy was on a seven-fight win streak before throwing down with St-Pierre—defeating the likes of Mike "Quick" Swick albeit by unanimous decision.
On locking horns with St-Pierre at UFC 111, Hardy became the first British fighter in UFC history to be awarded a title shot.
He didn't or couldn't make the most of that opportunity as St-Pierre took him school—dominating Hardy in every aspect game—taking him down at will and implementing an efficacious ground and pound.
During the course of the bout St-Pierre locked in both and armbar and a kimura but Hardy vehemently refused to tap—he's got heart for sure.
But credit must be given to St-Pierre for releasing his grip on the kimura, thus saving Hardy from serious injury. Hardy was eventually to lose via unanimous decision.
After that loss the rot was about to set in for Hardy—he lost to welterweight No.1 contender Carlos Condit via knockout. His next loss was against Anthony "Rumble" Johnson where he put in a lacklustre performance—that was Hardy's three-peat.
His final loss was against the retiring Chris "Lights Out" Lytle who submitted him via guillotine choke.
Hardy's record now stands at (0-4) since tangling with St-Pierre.
"The GSP Fatigue"—Top Tier.
What are the chances of Lorenzo Fertitta tweeting: "Will not cut @danhardymma. I like guys that WAR!!!" if Hardy loses his next fight?
St-Pierre is slate to fight Carlos Condit at UFC 137.
Keep Reading