UFC 139: Mauricio Shogun Rua vs. Dan Henderson: Breaking Down the Fight
September 21, 2011
Dan "Hendo" Henderson brings his Strikeforce light heavyweight championship and explosive right hand back to the UFC when he faces the resurgent Mauricio "Shogun" Rua on November 19 at UFC 139" target="_blank">UFC 139.
At the young age of 41 years old, "Hendo" is coming off his biggest victory to date with a Round One knockout of the immortal Fedor Emelianenko in July.
Riding a current three-fight win streak with six victories in his last seven matchups, Henderson has a tremendous amount of momentum coming into this bout with Shogun.
After losing his UFC light heavyweight championship to Jon Jones in March, Rua destroyed fan-favorite Forrest Griffin at UFC 134 in front of his home country of Brazil.
Quieting the skeptics, including this writer, regarding his recent rash of knee injuries, Shogun's abilities inside the Octagon, like Henderson, seem to be at an all-time high.
Both fighters are well-known and their skill-sets have been dissected thoroughly over the years.
Rua's talents are grounded in his kick-boxing prowess and aggressiveness inside the cage. Outside of an injury, Shogun has always been relentless and vicious during his matchups.
Incorporating a variety of leg kicks and damage with vicious knees from the clinch, Shogun has defeated some of the greatest mixed martial artists in the world.
Equally aggressive, Henderson is known for his ability to take a solid punch and is more known for his lethal right hand which has knocked out 13 opponents during his hall-of-fame career.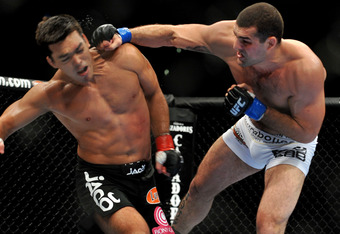 Jon Kopaloff/Getty Images
Not one to throw leg kicks or mix in a variety of knees, Henderson clinches his opponents to wear them down by utilizing his dirty boxing techniques that he and Randy Couture have made so famous over the years.
A world-class grappler, "Hendo" can also change levels and take the fight to the ground where he delivers brutal ground-and-pound inside his opponent's guard.
Taking Shogun to the ground may be a mistake for Henderson considering that Rua is a black belt in jiu-jitsu training out of the illustrious Chute Boxe Academy in Brazil.
On paper, the winner of this matchup will be the fighter who can impose their will.
Simplification aside, Shogun's keys to victory will be to maximize his distance during the stand-up affair and deliver damaging strikes while minimizing any punishment by Henderson's counters.
Attacking with all weapons from a wide variety of striking angles will provide Rua the opportunity to pick apart Henderson who is more of a pocket striker who limits his movement inside the Octagon.
Conversely, "Hendo" is definitely more of a stalker inside the cage. He waits for the moment to explode with that dynamite right hand and deliver a knockout punch. 
If Shogun stands and trades in the center of the Octagon with Henderson without keeping a distance from that lethal right hand, Rua's fate will be equal to that of Emelianenko.
Additionally, driving Shogun up against the cage fence and wearing the Brazilian down with tight punches and strikes from the inside will serve Henderson well in slowing down Rua during the stand-up exchanges.
Hands down, this battle between Shogun and Henderson will be an electrically charged striking exchange between two competitors at the top of their respective games.
Stay tuned to Bleacher Report for further analysis and predictions regarding this main event matchup on November 19.
This fight can't come soon enough!
I welcome your comments.
You can "Like" Todd Seyler on Facebook and Follow me on Twitter