San Diego Padres and Jed Hoyer in the Final Analysis
September 20, 2011
Darren McCollester/Getty Images
The 2010 Padres were the talk of the league. No, they didn't win the NL West as it turned out, but they surprised everyone by being the best team in that division for most of the season. Then, they began tearing it down more by trading Adrian Gonzalez to the Red Sox for Casey Kelly, Anthony Rizzo, Reymond Fuentes, and Eric Patterson. Of the four, Rizzo has made an appearances, but doesn't appear ready for prime time.
Of course, Adrian Gonzalez is solidifying himself as one of the best first baseman in baseball. During the season, the team paired it down further when they traded Ryan Ludwick and Mike Adams for prospects. Pundits believe Heath Bell is on his way out of town too as the club tears it all down to prepare for the future.
Key Statistics
Team Payroll: 45.9 million (27th)
Lineup: 20.4
Rotation: 17.6
Bullpen: 5.0
Composite Ranking: 14.3
Analysis Score: +12.7
Lineup
Simply put, this is a team without punch. Ludwick hasn't been on the team since the end of July and he still leads the team in home runs with 11. Unless a player or two goes on a huge tear in the last 10 games, he will still be the leader with 11. It is hard to imagine a team in this day and age having so little power in the lineup.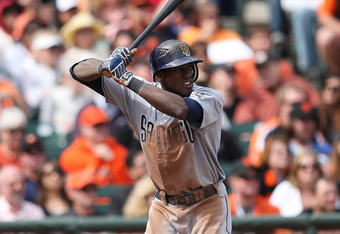 Tony Medina/Getty Images
Otherwise, they are okay. They have good team speed and they are typically disciplined at the plate. However, it is hard to imagine a team with this little punch being effective going forward. Hopefully, some of the young players coming up and can provide more punch.
Rotation
San Diego appears to be the place for pitchers go to resurrect their career. Jon Garland did it before he went to the Dodgers and got hurt. In 2011 it was Aaron Harang. One of the hallmarks of new age general managers is the ability to find value where others don't. Jed Hoyer is one of those guys.
Dustin Moseley and Mat Latos are legitimate starters and Tim Stauffer has surprised people as well. Seven pitchers made 10 or more starts in 2011 and six of them had ERAs under 4.00. You can definitely see the plan in action. He is building a team to suit the ballpark. If he can add a power bat somewhere along the line these pitchers will look even better.
Bullpen
Yes, the Padres have Heath Bell, but the strength of their bullpen is in its depth. Just like Aaron Harang, Hoyer took on another reclamation project in Chad Qualls. Sure enough, he looks like the reliever we knew in Houston. Mike Adams was brilliant, but he could be sacrificed in a trade because of the awesome depth.
Out of the nine pitchers with 20 or more games pitched this season, the highest ERA in the group was 4.01. Imagine that for a second, seven starters and nine relievers combine to have only one with an ERA over 4.01. That is absolutely remarkable no matter where your home games are played.
Analysis Score: +12.7 (2nd)
Final Analysis
We've said before and we'll say it again, the game is about wins and losses. So, being second in analysis is nice, but when you win fewer than 70 games that's kind of hollow. Of course, Jed Hoyer would tell you that the Padres are in the midst of a transition. Believe it or not, the Padres aren't even last in runs scored in the National League.
They are fifth in runs allowed, so it's easy to see where the next phase in growth needs to come. The regulars he has assembled are good at picking it. The club has a .700 DER which is also a tie for fifth. In this case it's easy, they just need more offense.