Pittsburgh Pirates and Neal Huntington in the Final Analysis
September 19, 2011
Jared Wickerham/Getty Images
Neal Huntington recently got an extension and there may not be a more deserved extension in baseball. The Pirates have finally turned the corner and appear to be the up and coming team in the NL Central. 2011 was a little early for them to compete as it turned out, but playing any kind of pressure baseball after the All-Star break will only help them in the future.
Pirates fans have to be excited after watching a penny pinching ownership group finally invest big bucks in the farm system and acquire some veterans at the deadline. The investment began a few years ago when they signed Pedro Alvarez to a huge bonus and has continued. The young kids will take over in the next couple of years.
Key Statistics
Team Payroll: $45.0 million (28th)
Lineup: 16.2
Rotation: 25.4
Bullpen: 26.7
Composite Score: 22.8
Analysis Score: +5.2
Lineup
This has been a huge undertaking in so many respects. The defensive efficiency rating is still an area of concern. They rank 14th in the National League with .684 DER. However, that represents an improvement and that improvement can be seen in the pitching. More importantly, they finally have some young hitters to build around. Andrew McCutchen could be the best all-around center fielder in the NL.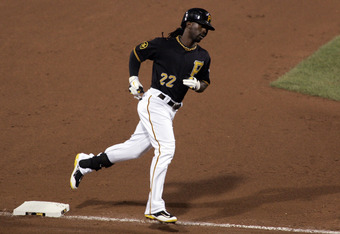 Justin K. Aller/Getty Images
McCutchen is joined by good young hitters like Neil Walker, Pedro Alvarez and Jose Tabata. There is still some work to do though. They are unsettled behind the plate despite the acquisition of Chris Snyder a year ago. Ronny Cedeno is okay at short, but they could use a long-term solution. The acquisition of Derrek Lee was seen as a playoff push, but he might be a solution in 2012 if they can work out a contract.
Rotation
The rating seems very low, but we have to remember we are basing these rankings on analysis indicators. The Pirates were fortunate this year that several pitchers stepped up and had some out of context seasons. Charlie Morton, Jeff Karstens and Paul Maholm all had better seasons than any expected. James McDonald has also been a big surprise.
Kevin Correia is a perfect example of where analysis comes in. He was unusually good in the first half, but came back to earth in the second half. However, they had a very stable rotation and that is the main reason for their surge. Unfortunately, the long-term prospects for these starters is not as good. Still, Huntington is doing something about it. He grabbed Garrett Cole in the first round and has more young arms on the way.
Bullpen
This is yet another area where analysis and performance divide. Joel Hanrahan has been nothing short of brilliant, but that is unlikely to continue. Daniel McCutchen has been solid and Chris Resop has as well. A few others have stepped up as well, but Huntington will likely have to do this all over again next season. That is what most general managers in his situation end up doing.
Analysis Score: +5.2 (7th)
Final Analysis
Neal Huntington gets it and that is the best news any Pirates fan can hear. Some players this year played over their head, but he has not gotten entangled in long-term contracts. Jose Tabata signed a very team friendly deal that will buy out his last few years of arbitration. Pedro Alvarez was awful and that likely won't happen again.
The most important thing is that the Pirates have been willing to invest in the farm system. They draft the best available talent and they sign it. This year's draft may have been the best draft other than the Tampa Bay Rays. The Pirates might not be a playoff team in 2012, but they will be better. Finally, the future looks bright in Pittsburgh.