Utah Football: Grading the Utes After the Blowout Win over BYU
September 19, 2011
The other day, while listening to one of our beloved local sports radio shows here in Utah, I couldn't help but chuckle as a Utah Utes fan called into a show, boastfully predicting that Utah would beat BYU in a blowout.  After watching both teams during the first two weeks of the season, I figured they were pretty even.
BYU was favored to win the 2011 edition of the Holy War by four points.  I, like most others, expected another razor-thin winning margin by the victors.  I imagined BYU would win by a small advantage, due entirely to home-field advantage, or that Utah could pull off another lucky, come-from-behind win like they did last year.
Besides that prophetic sports radio caller, I don't think anyone in the state, including the Utah football team, expect Utah to bulldoze the Cougars the way they did.
Let's take a look at the Utah grades:
Offense
Quarterback: B+
Quarterback Jordan Wynn still doesn't put much zip behind those short- to mid-range balls, but he played mostly mistake-free football.  He got the ball to playmakers in open space where they could make things happen after the catch (see Anderson touchdown catch).  He also took a big hit in the first half, but came back and led his team with poise.
Running Backs: A-
Running Back John White IV absolutely ripped the heart and soul out of the BYU defense in the second half.  I would have liked to see "Juan Blanco Cuatro" get things going a little earlier in the game (10 yards rushing in the first half), but he kept pushing and put the game away in in the second half.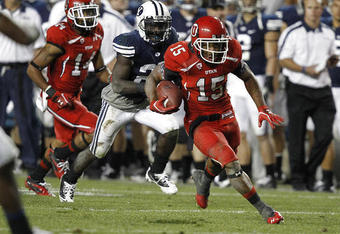 Receivers: A-
Wide receiver Dres Anderson and tight end Jake Murphy emerged as legitimate playmakers in this game.  Wide receiver Devonte Christopher showed incredible grit after taking three huge hits in the first half.  Were it not for his lack of ball protection when he fumbled in the first half, this grade would have been an A+.
Offensive Line: A
Besides a few hits Wynn took in the first half, this unit completely dominated the game.  My lovely 85-year-old grandmother could have gotten the ball to Utah's receivers with all the time Wynn had in the second half.  They also blew up BYU's front seven in the later in the game, putting more than a couple Cougar defenders on their backs when White was making his huge runs in the second half.  They thoroughly outplayed BYU's much-hyped offensive line.
Overall: A-
The only thing that is holding this offense back is Wynn's completion percentage.
Defense
Defensive Line: A+
Considering how little Utah actually blitzed in this game, the Ute defensive line was outstanding at getting pressure on BYU quarterback Jake Heaps.  It's also hard to be displeased with a defensive line that scores two touchdowns.
Linebackers: A
The few times that Utah blitzed, they were effective.  Backup outside linebacker Trevor Reilly probably deserves the game ball after forcing two BYU fumbles after hitting the quarterback.  BYU completely gave up on the run game, a testament to the discipline and speed of these 'backers.
Defensive Backs: A-
The defensive backs played a solid game, only giving up one big play, which was a beautiful, deep fade pass from Heaps to BYU wide receiver Ross Apo in the first half.  Heaps did have quite a few yards passing but that is expected when a team completely abandons the run game.
Overall: A+
Again, considering that Utah's defense outscored BYU's offense, there is little, if any to complain about.
Special Teams
Overall: B-
Kicker Coleman Peterson missed a PAT and a short field goal, but other than that the Utes were solid, getting good return yards, protecting the football and even recovering a BYU muffed kickoff reception.
OVERALL TEAM: A+ 
Great game Utes!