New York Yankees and Brian Cashman in the Final Analysis
September 19, 2011
Jim McIsaac/Getty Images
Brian Cashman has both the easiest and most difficult position in MLB. Yes, he can spend upwards of 250 million on a big league payroll. A drunken monkey could do that and win more games than they lose. Yet Cashman is a lot smarter than a drunken monkey. The problem is that he never gets credit for it because he gets to spend upwards of 250 million dollars.
When you spend the most, the most is expected, and, of course, all of your mistakes are magnified. There isn't a day that goes by when A.J. Burnett's name is not bandied about on the Internet or talk radio. Rafael Soriano and Joba Chamberlain are frequent topics too. Still, the Yankees have the second-best record in baseball and will be going to the playoffs again. We need to stop and remember that sometimes.
Key Statistics
Team Payroll: 202.7 (1st)
Lineup: 4.0
Rotation: 13.0
Bullpen: 5.1
Composite Rank: 7.5
Analysis Score: -6.5
Lineup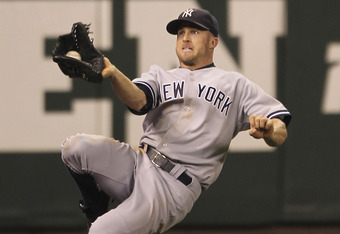 Otto Greule Jr/Getty Images
Brian Cashman can't help but have a negative analysis score. Yet, when you look at his lineup, you don't see any weaknesses. Mark Teixiera and Curtis Granderson are having MVP-type seasons. Robinson Cano has quietly become of the top 10 hitters in the league, and Brett Gardner is one of the best all-around left fielders in the game.
The elder statesmen (Derek Jeter, Alex Rodriguez and Jorge Posada) are beginning to show their age, but all of them have produced enough this season to be counted on in the postseason. Meanwhile. Nick Swisher and Russell Martin aren't world beaters either, but they hold down their positions well. Plus, the long-awaited debut of Jesus Montero finally arrived and he didn't disappoint. They are loaded and ready to go.
Rotation
The pitching rotation isn't in quite as good a shape as the offense, but this is where Cashman has earned his money. The development of Ivan Nova has been a godsend for this team. He teams with C.C. Sabathia to give them a solid one-two punch. A.J. Burnett and Phil Hughes have been anything but consistent, but Hughes is beginning to show signs of life.
Yet, it was Bartolo Colon and Freddy Garcia that held it together from beginning to end. Both have had the occasional rough start and the occasional missed start, but that was to be expected. They've combined for nearly 300 innings and both have sported ERAs under 4.00. That is remarkable, and they have been a lifesaver for Cashman and the Yankees.
Bullpen
I'm still not sure what possessed Cashman to sign Rafael Soriano. However, Soriano has been better than most people think. He got off to a horrible start and got hurt midway through the season, but since the All-Star break, he has been about as good as any setup man in the game. The trouble is that you don't pay setup men 10 million or more. In fact, most teams should avoid paying closers that much.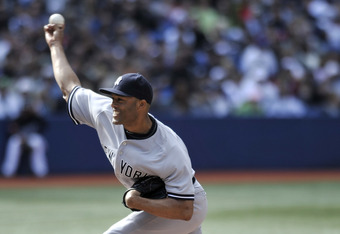 Brad White/Getty Images
David Robertson has been solid again and probably deserves a shot at the setup role. Joba Chamberlain would have been there, but he had Tommy John surgery midway through the season and won't be back until the 2012 season is under way. Funny, but it has been the unsung heroes that have gotten it done. Luis Ayala, Boone Logan and Cory Wade have all been very effective in middle relief. This makes the Yankee bullpen one of the strongest in baseball.
Analysis Score: -6.5 (24th)
Final Analysis
Brian Cashman could be the hardest general manager to grade. His best moves are the moves that other GMs love to make. He does a good job finding diamonds in the rough. The problem is that the Steinbrennerst don't want him dumpster diving. They want him going to Saks Fifth Avenue and Nieman Marcus. Funny, but he actually has more success at Dollar Tree.
The Yankees are all but certain to go to the ALCS at the very least yet again. From there it will be a toss-up depending on who they see. If only all of our teams could enjoy that level of success and still come out wanting more. Maybe it is time for Cashman to move into something more commensurate of his talents.