Hope in D.C.: Pitching Is Key If the Nationals Hope to Make the Playoffs in 2012
September 21, 2011
Greg Fiume/Getty Images
Dominant baseball teams are built on consistent starting pitching and a shutdown bullpen.  Offense is a thing of the past and either way, can offense really carry a team to a title?  Great players only put the ball in play about 30 percent of the time; is a team really willing to use those odds to make a run to the World Series?
In the new, pitcher-rich era of baseball we find ourselves in, dominant young arms are more important than ever for teams that want to turn into contenders.  That is the reason why the Washington Nationals have a chance to make the playoffs in the 2012 season.
For the Nationals, the first seven years of existence have been a struggle.  Their best record came in the inaugural season of 2005, an 81-81 finish that found them in last place in the N.L. East despite a 52-36 start in which they were three games back of the St. Louis Cardinals for the best record in the National League.
It's been downhill since then.  Toss in a couple of 100-plus loss seasons and it looked as though the Nationals would never climb out of the cellar.
But pitching, young pitching, and a commitment to building within the organization has created hope in D.C.  Just check out next year's possible starting rotation for the Nats (2011 stats shown):
1. Stephen Strasburg- (in 15 starts over the last two years) 5-3, 82.0 IP, 103 K, 1.00 WHIP, 2.63 ERA
2. Jordan Zimmermann- 8-11, 161.1 IP, 124 K, 1.15 WHIP, 3.18 ERA
3. John Lannan- 9-13, 173.2 IP, 99 K, 1.47 WHIP, 3.68 ERA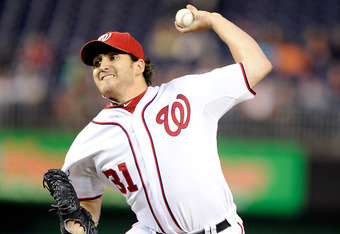 Greg Fiume/Getty Images
4. Ross Detwiler- 3-5, 60.0 IP, 37 K, 1.28 WHIP, 3.30 ERA
5. Tommy Milone- 1-0, 21.2 IP, 11 K, 1.11 WHIP, 3.32 ERA
Keep in mind that this is a predicted starting rotation.  Detwiler and Milone haven't played much this year but have shown excellent stuff on the mound in limited duty.  The Nats also have a wealth of pitching talent in the minor leagues, led by Brad Peacock and his 1.42 ERA in two games with the Nationals this season.
The numbers might not shock and amaze but there are a few things to consider.  One, nobody has an ERA over 3.68, and Lannan's ERA isn't indicative of how dominant he was for stretches this season.  Two, the rotation is good and incredibly young.  If the above five pitchers take the mound for Washington next season, the average age will be 24.6 years.  Peacock is only 23.  It's a luxury to have such quality young pitching.
Now, there are many factors that will go into how effective this rotation is.  First of all (and most importantly), it must remain healthy.  Strasburg's much-publicized Tommy John surgery seems to have done the job and Zimmermann is being kept on a strict innings limit.  Keeping the others healthy will be of utmost importance.
Another factor is simply how well the group performs with such inexperience.  The elder statesman of the group is Lannan at 26, and he's going to have to exert leadership over the young rotation.  Detwiler and Milone have shown flashes of absolute brilliance in their short careers, but will it translate over a full season?
The Nationals offense is growing but is still a work in progress.  The pitching will have to make up for a lot of offensive deficiencies, but if Strasburg and Co. can successfully pitch through the season, there's no telling what this young and exciting Nationals squad can do. 
2012 could be the year they finally break through and crash the playoff party.