Alabama Football: How Fares the Tide Without Julio Jones?
September 19, 2011
Kevin C. Cox/Getty Images
Even with all of Alabama's history and tradition, Julio Jones is still a once-in-a-lifetime kind of player. He was a prototypical receiver with the height, strength, speed and hands. He executed his routes well and gave defensive coordinators headaches during his three years at the Capstone.
Even with marginal stats in 2009, Jones was key to the Tide's championship run. So, how does a program replace someone of his caliber?
Jones' biggest (numerically) contributions came on deep passes. Marquis Maze has lately looked to fill that role. He's fast, but not as fast as Julio. He can often get the separation to haul in the deep ball, though. His shortcoming (pardon the pun) is his height. Julio is 6'4", while Maze is generously listed as 5'10", though many sources have him at 5'8". 
On more than one occasion this season, A.J. McCarron has overshot Maze on some deep passes, sailing the ball just out of reach of not only him, but the defensive back as well. Bad on A.J.'s part? Maybe. Those same passes would have been well within reach of Julio and he would have brought them to pay dirt more often than not. 
This is not a knock on Marquis Maze, just a simple observation. Maze is a great receiver, but even the greatest vertically challenged receivers, like Wes Welker, have feats they simply aren't capable of. 
Julio's other great quality was his ability to bring in the yards on screen passes. Once again, Maze and several others, including Kenny Bell against North Texas, have tried to fill in here. They have the quickness to get some yards, but they lack the strength and elusiveness of Julio Jones to break that first tackler when they need to. Can anyone really expect them to piggyback players like Julio did here?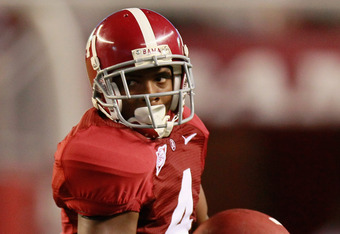 Kevin C. Cox/Getty Images
They will still get the first downs often enough, but don't expect them to go all Julio on them like he did here against LSU in 2009 or here against Michigan State in the 2010 Capital One Bowl. To be fair, Julio had some great blocks on those runs. 
As a blocker himself, Julio Jones excelled at it more than any Tide receiver in recent history. He had more than enough strength to throw a defensive back out of the way for someone, but he was just as capable of stopping a linebacker in his tracks. Darius Hanks has proven many times, especially against North Texas on Saturday, that he is more than adequate to fill this role. Hanks is a great football player, but he has a lot less to work with as a blocker than Julio did. 
The Tide looks to flourish this season with A.J. McCarron behind center, even with the absence of Julio Jones. Without Jones' arsenal of weaponry, however, adjustments have been made and more are coming. 
Most of all, the Tide needs a tall receiver to step up and be the guy that catches over the heads of the opposing defensive backs. Michael Bowman has the body for it, but is he ready to step on the field? Duron Carter could fill this role, but will he ever be cleared to play?
Something else worth mentioning is that the Tide has yet to really stretch the field. Long, incomplete passes won't be enough to deter SEC teams from loading the box. This can make things difficult for the running backs in the upcoming SEC grind. 
I can see another crystal football coming back to the Capstone at the end of the year, but the lack of Julio won't make it easy for a young quarterback.