The Formula One Times: 25th November: BBC Confirms Commentators
November 24, 2008
Welcome to the Formula One Times, 25th November edition.
With news a little thin on the ground, the F1 Times will not be published daily, as you may have noticed. Instead it will be published on busy news days such as today.


BBC confirm commentating team for F1
The BBC have confirmed that along with Martin Brundle, Jonathan Legard will partner the well respected F1 pundit. Along with Brundle and Legard, Jack Humphrey will anchor the show with David Coulthard, Eddie Jordan and Ted Kravitz employed as pundits.
This basically means Brundle will continue his current role, with Legard to replace the disliked James Allen. Jack Humphrey will replace Steve Rider, with David Coulthard and Eddie Jordan replacing Mark Blundell. Ted Kravitz will continue in his current role as Pit lane reporter.
I would personally like to thank the ITV team for the great job they did, including James Allen, who most disliked. I am sad to see Steve Rider, Mark Blundell and Louise Goodman leave our F1 screens.
In brighter news, Murray Walker will be writing for the new BBC F1 website.

Bourdais has no back-up plan.
With Toro Rosso currently testing numerous drivers including Sebastian Buemi and Takuma Sato, Bourdais' future looks uncertain.
The frenchman has stated "I don't know what I'll be doing next year" [if he isn't offered a seat at Toro Rosso]. Currently two seats are up for grabs at the Italian team with Vettel off to Red Bull. So who gets the seat? We will tell you as soon as we know.
Alan Webber: 'It was messy'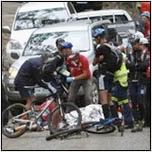 Mark Webber's father has relived the moment he arrived at the crash scene in which Mark collided head on with a Nissan X-Trail at 30mph after negotiating a tricky corner. The Ozzie Red Bull racer is expected to make a full recovery by the time the F1 crew turn up in Australia for the opening race of 2009.
Alan Webber said, "His upper body is hurt, but only superficially. His head, spine and pelvis are fine."
This is welcome news for Mark, who will have to spend another five to six days in hospital before being moved to either his own home in Melbourne or his parents near Canberra.
Lewis to be licked by millions?
Ever dreamt of licking Lewis Hamilton? No, didn't think so. However, you might just get the chance. The Times has reported that the Royal Mail are set to issue Lewis Hamilton stamps in the new year to celebrate the youngest world champion.
This would be an unusual move by the Royal Mail who have already issued their 2009 stamp designs and rarely issue stamps with pictures other than royalty on, unless its apart of a larger collection on stamps, such as Christmas stamps.
A Royal Mail spokesman couldn't confirm the decision but did say it is currently under consideration.
Coulthard becomes a father.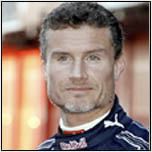 Karen Minier, David Coulthard's partner has given birth to their first child. The Belgium F1 reporter gave birth to a baby boy on Friday.
David Coulthard has also revealed he plans to marry Minier in the 'near future'.
We will reveal the name when we hear the news...
Race of the Champions list grows.
The race of champions which takes off at Wembley Stadium on December 14th has a new driver added to the list. Yvan Muller will be joining the already impressive list which includes Michael Schumacher, Sebastien Vettel, Jenson Button, David Coulthard, Lewis Hamilton, Chris Hoy, Sebastian Loeb and many more.
Starting December 1st, we will bring you all the news about the Race of Champions including the build-up, the concept, the drivers, the track, videos, pictures and the results.
Look out for the special editions coming soon.