WWE Night of Champions 2011 Results: What's Next for Ted DiBiase After His Loss?
September 19, 2011
Tonight at WWE's fifth annual Night of Champions pay-per-view event, Intercontinental Champion Cody Rhodes successfully defended his prestigious title against former Legacy member Ted DiBiase. In the end, DiBiase stripped Rhodes of his mask, but it was the cunning Rhodes who pulled out a cheated pin-fall by holding the tights.
Honestly, I found the crowd to be dead for this match, which usually means the audience doesn't care about the subsequent feud taking place. However, I can't blame tonight's Buffalo crowd merely due to the fact that this championship contest wasn't even made official until late Friday night.
Following the split of the Legacy faction last year, DiBiase was the one that most viewers expected to receive the rumored push, but Rhodes would occupy that spot over on SmackDown. Since being drafted this past April, DiBiase's role on the program was foreshadowed by Cody's actions, until just recently when the son of the Million Dollar Man severed ties with the Intercontinental Champion.
Rhode's fluke victory tonight over DiBiase was expected, but logical given that the highly anticipated rivalry must continue if either have a chance of making into the main event anytime soon. Given the fact that Rhodes has stated in the past that he plans on restoring prestige into the Intercontinental belt, I wouldn't be surprised to see him hold on to the strap a bit longer before dropping it to the former Million Dollar Champion, who desperately needs his first singles championship if he's going to able to reach his full potential.
As much as I enjoy DiBiase's current entrance music, Creative must consider changing it soon to coincide with his recent face turn. The crowd gave him minimal love when he made his way down to the ring tonight, but maybe changing his music to this unique choice might help him increase his fanfare.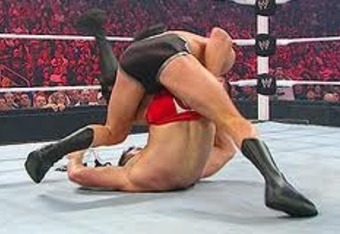 Nonetheless, Ted DiBiase's loss tonight was nothing more than a test to see how he can produce as a babyface. I'm loving his new-found aggression he's been displaying in the last few weeks, as it gives his stale character a new wrinkle as well as being taken seriously.
Although it was the masked maniacal Cody Rhodes who had his arm raised tonight, I fully expect Ted DiBiase to bounce right back and receive another shot at capturing the Intercontinental Championship. Make sure to voice your opinion's on tonight's IC title match as well as your thoughts on the future of DiBiase in the comment section below.
GSM out.
Visit my website at Next Era Wrestling and my WrestleRant video blog for more of GSM's thoughts and writings, along with WWE/TNA news, recaps and more. Follow me on Twitter @SAVE_US_GSM.