UFC Fight Night 25: Is Jake Ellenberger GSP's Biggest Nightmare?
September 18, 2011
In the ultra-competitive world of mixed martial arts, there are two types of competitors.
There are athletes that are content with playing it safe and winning on points and then there are fighters who are not satisfied until they have ruthlessly destroyed their opposition in every way imaginable.
UFC welterweight champion Georges St-Pierre is undeniably the best athlete in the sport today. St-Pierre has defended his championship six times since regaining the title in 2007.
With every defense, the champion has been dominant but, excluding B.J Penn's corner throwing in the towel for a TKO stoppage at UFC 94, St-Pierre has not finished any of his challengers.
St-Pierre is the epitome of a great athlete but he is not the most dangerous man in the welterweight division.
After tonight, that title rests firmly around the waist of Jake Ellenberger. Not the UFC title, not yet at least, but the title of the division's deadliest finisher.
At UFC Fight Night 25, it took Ellenberger a mere 53 seconds to do something that a 185-pound Dan Henderson couldn't even do with his trademark "H-Bomb" (the very same "H-Bomb" that took Fedor Emelianenko out) and that was finish Jake Shields.
Surely a case can be made that Shields was not in the right frame of mind heading into the fight. He had just lost his father two weeks prior to the bout and instead of dropping out of the fight like most would, the valiant competitor decided to soldier on.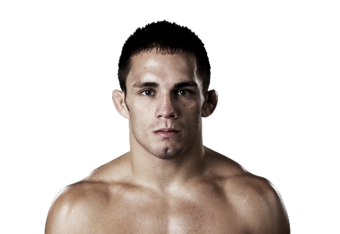 That, however, doesn't discredit what Ellenberger did tonight because Shields likely would have been victorious if he competed against any other fighter in the division apart from those ranked in the top five.
Ellenberger is a welterweight destroyer with heavyweight punching power. Since bursting onto the UFC scene in 2009, the Omaha, Neb. native has finished four out of six fights and has done so in vicious fashion.
His lone Octagon defeat was a somewhat controversial split decision loss to current No. 1 contender Carlos Condit at UFC Fight Night 19.
That fight was Ellenberger's Octagon debut and on numerous occasions he came close to adding Condit to his list of finished victims.
At UFC 137, Condit will challenge St-Pierre for the title and Ellenberger isn't far away from facing the winner. Condit is certainly a threat to the champion but Ellenberger is St-Pierre's true nightmare.
St-Pierre should, in all likelihood, be able to put Condit on his back and do what he has done in all of his recent title defenses, grind out a decision. He won't have the same luxury with Ellenberger and if you find that statement to be absurd you will be proven wrong soon enough.
In addition to his powerful striking arsenal, Ellenberger is also regarded for being one of the most explosive wrestlers in the entire sport.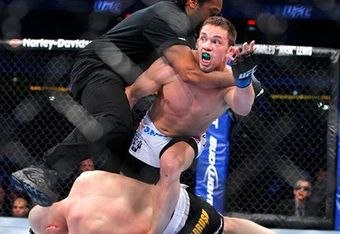 Of course, St-Pierre has out-wrestled fighters with far superior NCAA credentials than Ellenberger in the past, but that doesn't guarantee that Ellenberger will suffer the same fate.
Just the opposite is true because Ellenberger is much quicker than any wrestling-based fighter that St-Pierre has ever competed against.
Ellenberger is that frightening matchup for St-Pierre that was previously thought to be non-existent. In the video packages for St-Pierre's last few fights, the UFC has hyped his challengers as legitimate threats even though it was clear that they were outmatched even before the fights began.
This is a different circumstance. This isn't fight-hype, this is real. Ellenberger is a fighter that you can actually believe would hurt St-Pierre and put the untouchable champion in danger. If it took Ellenberger just 53 seconds to put Shields away, imagine what he would be able to do to St-Pierre in a 25 minute title fight.
A former United States Marine, Ellenberger comes to fight whereas St-Pierre just simply comes to win. There's nothing wrong with St-Pierre's approach, but in a kill or be killed environment, Ellenberger would survive where St-Pierre would falter.
St-Pierre excels at dictating the pace of his fights, but when he is unsuccessful at doing just that, he crumbles. It has been a very long time since we've seen St-Pierre hurt or even frustrated for that matter and it's very possible we will see him in both situations against Condit, but with Ellenberger it would be a guarantee.
No disrespect to Condit, but Ellenberger is the man to put an end to St-Pierre's dominant reign as welterweight champion. When St-Pierre tosses and turns in his sleep, he's thinking about Ellenberger's knockout power.
For his sake, hopefully the nightmare doesn't come true.
Mitch Ciccarelli is the sexiest columnist in MMA. In addition to being the longest running featured columnist in B/R MMA history and being the host of the edgy podcast MMA Mass Debation, Ciccarelli is also currently serving in the United States Air Force. Follow him on Twitter @mitchciccarelli.