Appointment with Death: Amy Winehouse, Matt Hardy and the Life of a WWE Wrestler
September 18, 2011
Gaye Gerard/Getty Images
As I sat this morning, musing over the pro-wrestling news, I came across an article about Matt Hardy being framed for his recent DUI offense. Whether this is true or not is irrelevant, but it made me think about the issue of an untimely death.
When we are young, we assume we are invincible. Life has no consequences. Time is our protector and our appointment with death is many years away. We, as human beings, do not necessarily appreciate the fragility of life, sometimes, until it's too late.
Our first experience of death is hard. The first instance of a young person dying hits us doubly hard. Life as a wrestling fan has provided more than its fair share of this kind of tragedy.
As one who has grown up with wrestling since 1996, I have seen almost an entire generation of wrestlers struck down before their time.
What makes many of these cases and that of musician Amy Winehouse particularly sad and tragic, is the inevitability of it all.
In the instance of Winehouse, life was blurred. Night after night, day after day, drugs and drink caused her performances on and off stage to become increasingly erratic. Her life was played out in the newspapers, and the decline was presented step by step.
We could see what was happening but were powerless to do anything.
In the wrestling world, the decline is much more unpredictable. Steroids, prescription drugs and the massive pressures placed on the human body through knocks and bumps, makes a wrestler's body a ticking time bomb.
What many thought was legitimate and acceptable has instead spread like a great plague, decimating a once strong and proud profession.
Think of a great name and more often than not, they are either dead, crippled or badly injured. Few get to live their life in retirement bliss. Its easy to forget sometimes just how many have died and when we watch "WWE Vintage" or one of our old DVDs, it reminds us just how many names we have lost.
Curt Hennig was only 44, Bam Bam Bigelow was 45, Ravishing Rick Rude - 41, Chris Benoit - 40, British Bulldog - 39, Eddie Guerrero - 38, Brian Pillman - 35, Test - just 33 and Lance Cade dying from a heart attack at the age of 29.
That is only a small number of names, and yet at the age when many are settling down and having families, these men who gave the lives to wrestling, are dead in the ground.
And yet how many of these could have been avoided?
It is basic fundamental biology that if we as human beings take something in excessive amounts, it will affect the quality of our life. Steroids are such an example. Suddenly promoting muscle growth weakens the heart and places our bodies under extreme pressure. Added to that, the life of a wrestler, and their bodies simply break down.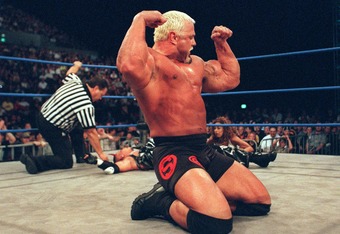 Scott Barbour/Getty Images
It is hard sometimes to watch wrestling without thinking just what some are doing in the name of this pseudo-cartoon sport. Scott Steiner of TNA remains the best example. Steiner is perhaps one of the luckier ones in making it to the age of 49, but I cannot help but think that given his conditioning, that he is only a second away from tragedy.
Seeing someone do that to their body, is akin to the Winehouse case, were we can see problems developing, spiraling and eventually taking over. We want to help, we want to intervene but we can not reach out.
In the name of wrestling, they make a sacrifice, and it is their life they are offering up.
I wonder how many in the WWE today are practicing "Micro-dosing". For those not familiar, it is a common practice amongst sport cheats were they inject small amounts of steroid into their system in minute amounts. The results do not show up on the tests so they are not caught. This can even take the form of blood transfusions that can help increase metabolism.
I have always been suspicious of the WWE's Wellness Program and I am greatly concerned that some wrestlers, even those at the very top, are still taking banned substances. Wrestlers who suddenly appear bloated, especially around the face, are paraded as being the epitome of health and power.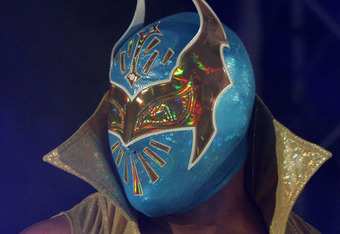 Gallo Images/Getty Images
New superstars coming through the ranks face pressures in the early stages of their career. Do they bulk up naturally or artificially? As the WWE has shown in recent times, there are rewards for those that are stronger and more muscular.
The life of a wrestler can however spiral out of control once they fall outside an organised federation.
The downfall of Matt Hardy is an example that makes many fans look on in fear. From the heights of wrestling superstardom to a faked suicide attempt in less than 10 years. Drink, Drugs, DUI charges and increasingly erratic behaviour has all the hallmarks of wrestling's dark tradition.
The ongoing tragedy of Scott Hall is Hardy in 10 years time. Who on watching his recent indie match did not feel for him? He had life in the palm of his hand and now it is a slow, lethargic mess. No-one can seemingly get inside his head to fix what is possibly broken.
The truth remains that if Scott was to succumb to drink or drugs, it would  surprise no-one. Nor would any death, if the underlying cause was drink, drugs or a cocktail of the two.
Life as a wrestler is just that unpredictable.
Just like Amy Winehouse, the signs are there. There are cries for help but no-one who hears them can offer the required assistance. We as wrestling fans pray that they hit rock bottom so that they might bounce back and recover. However, too many on that journey to the depths, never make it back up.
If my cynicism is wrong and that the Wellness Program is working hard and that superstars are not engaging in micro-dosing, then perhaps wrestling has a chance.
However the reality is that steroids and prescription drugs will continue to claim lives well into the next decade. Indie performers wanting to get noticed, seasoned veterans wishing to stay at the top, retired superstars who once took drugs to give them the edge...all will play the game of chance.
We as human beings are fragile creatures. We have no control over our eventual appointment with death but all too often, we take chances that brings the date forward.
No-one could help Amy Winehouse. She is dead. She chanced life too many times.
Wrestling has many such examples who are on this path towards self-destruction. If they are able to stop is dependent upon their own inner strength, but all too often, they can't.
It is hard to watch the inevitable.