Dale Earnhardt Jr and Junior Nation Excited About 2011 NASCAR Sprint Cup Chase
September 18, 2011
Geoff Burke/Getty Images
Dale Earnhardt Jr. has been absent from the NASCAR Sprint Cup Chase for two years. NASCAR and JR Nation are breathing a sigh of relief with Dale Jr clinching a 2011 Chase spot with his 16th place finish at Richmond.
Since Junior arrived at Hendrick Motorsports, there hasn't been much to cheer about. With only one win in this, his fourth full season with HMS, disappointment has been abundant. After having subpar success with Tony Eury Jr. or Lance McGrew as his crew chiefs, Rick Hendrick made a major change when he
switched the No. 88 National Guard/AMP team with the No. 24 Race for Hunger/Dupont team. With Steve Letarte as his crew chief the No. 88 team got off to a fast start. The second half of the 2011 season has been a disaster, with the exception of a sixth and ninth place finish at Pocono, Junior has not finished above 14th place.
Starting 10th in the Chase has given Junior Nation a renewed sense of hope. Only being 12 points behind, and a majority of tracks that he runs well at coming up in this years chase, The National Guard/AMP team has great expectations, focusing on good finishes and running up front. With any luck, if Junior runs well it can only help his teammates enjoy possibly the best combined Chase finish for HMS.
So its time to drop the green flag, sit back and enjoy this years battle with six Chevrolet's from Hendrick Motorsports, Stewart-Hass Racing and Richard Childress Racing, two Toyota's from Joe Gibbs Racing, two Ford's from Roush-Fenway Racing and two Dodge's from Penske Racing.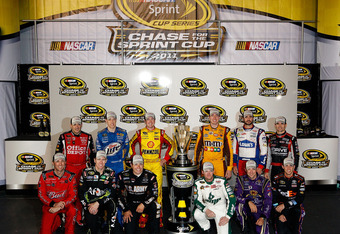 Tom Pennington/Getty Images
This is the parity and excitement that NASCAR was looking for when they change the format before the 2011 season started. To have Dale Jr back in the Chase along with all four car manufacturers and 12 of the top drivers in the sport, has renewed enthusiasm in NASCAR.
All is well in Junior Nation!