Oakland Athletics: Where Do September Call-Ups Fit in 2012 Roster Plans?
September 17, 2011
Ezra Shaw/Getty Images
Heading into Saturday's game against the Detroit Tigers, the Oakland A's made a few additional roster moves, promoting Chris Carter and Graham Godfrey as the most recent September call-ups to join the big league club.
Both players, who already have spent time in the majors this season, join Michael Taylor, Jai Miller, Adam Rosales, Landon Powell and Andrew Carignan as this year's version of September reinforcements.
The promotions of Taylor and Miller were highly anticipated moves by A's fans who had hoped to get a chance to see both players following strong seasons in Triple-A Sacramento this year.
Many fans were eager to see Taylor, in particular, since he represents the ultimate prize in the series of trades that saw Huston Street and Carlos Gonzalez (along with Greg Smith) head to Colorado for Matt Holliday.
Holliday, who was dealt midseason for Brett Wallace, who was then flipped to the Toronto Blue Jays for Michael Taylor, who had just been acquired by Toronto from Philadelphia in the Roy Halladay three-team trade. Wow, that was confusing, were you able to keep up with me?
After a disappointing 2010 season in which he saw his power disappear, Taylor rebounded nicely this year, hitting 16 homers and driving in 64 runs in 93 games for Sacramento.
Miller also did a good job building excitement and anticipation of his eventual call-up with his power outburst in Sacramento for the River Cats this season. He led the A's Triple-A affiliate with 32 homers and 88 RBIs while batting .276.
Add into the mix Brandon Allen who the A's acquired at the trade deadline from the Arizona Diamondbacks for Brad Ziegler, and Chris Carter, who has been up and down with the A's the past two seasons, playing 24 games in Oakland in 2010 and 10 games so far in 2011.
Carter has always shown good power throughout all levels of the minors, and you have the makings of a very powerful quartet of prospects currently occupying roster spots.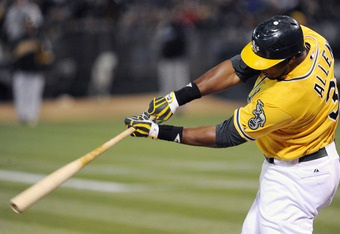 Thearon W. Henderson/Getty Images
The question is where do these guys fit in the 2012 plans?
Aside from Allen, who has received consistent playing time at first base since his arrival, the A's have struggled to find playing time for Carter, Miller and Taylor during their time in Oakland so far.
Their futures are all tied to Oakland's free agent plans this offseason it would seem.
Both Taylor and Miller are outfielders and the A's current outfield consists entirely of players that are set to be free agents at the conclusion of this season.
David DeJesus seems unlikely to return to the A's, opening up a spot in right field for either Taylor or Miller, although Ryan Sweeney remains under contract for 2012 as well and could occupy that position. After that, there are no guaranteed openings.
If Coco Crisp chooses to sign elsewhere next season rather than return to Oakland for a third season, center field could open up and would be a logical fit for either Sweeney or Miller.
The feeling is that the A's would gladly welcome Crisp back though if he is willing to re-sign.
Josh Willingham, the A's best player in 2011, could also depart for another team and a big pay day this offseason, freeing up left field.
Many people around the A's organization agree that re-signing Willingham this offseason should be the A's top priority, though. (Click Here to read my article on the importance of re-signing Willingham).
Hideki Matsui represents the final roadblock for an A's prospect at the designated hitter position.
Carter's iron glove has him best suited for the DH role at the major league level. Given his inability to hit major league pitching to this point in his career, though, there is no guarantee the A's are willing to take the chance on Carter and let Matsui walk after the season.
Manager Bob Melvin has said openly that he would like to have Matsui back next season.
The A's value Sweeney's defensive ability, making it very likely he will be back with the A's in 2012. If both Crisp and Willingham are retained, there would not appear to be an opening for at least one of the remaining outfielders, perhaps both.
Assuming that Willingham, Crisp and Matsui all return, the designated hitter role would likely become a platoon position between Willingham and Matsui with the opposite playing left field. In this scenario I would give the remaining roster spot to Miller as he represents the better defender in the field over Carter.
If either Willingham or Matsui leave for another team, Carter would likely become the team's primary designated hitter with the remaining free agent hold-over occasionally filling in at DH as well.
Carter has experience in the outfield as well, but the A's don't seem to trust his glove enough to give him the opportunities to give it another shot so far this season. His best defensive position is first base, a position Allen seems to have locked up.
It's possibly Carter could become the backup first baseman, fifth outfielder and occasional DH, although such a scenario seems unlikely.
Unless he makes the most of any opportunities, he is afforded over the next two weeks, Carter is looking like the odd man out for the 2012 roster if pitted against any of the other slugging prospects in a position battle.
David DeJesus, who projects as a Type-B free agent this offseason, could throw all of this speculation out the window by choosing to accept an arbitration offer and return to Oakland rather than a change of scenery with another team.
While the potential is there for all four of the A's power prospects to make the 2012 team and earn starting positions, the early appearance is that only Allen and Taylor have realistic shots at this point.
Carter and Miller are likely looking for backup and platoon roles unless free agency significantly changes the landscape in the A's outfield again, just as it did last offseason.
If nothing else, we are going to get a preview the final two weeks of the season of some interesting position battles that could materialize in spring training early next year.
We also have plenty of reasons to watch closely as the offseason roster decisions are made.