UFC 135 Fight Card: Jon Jones vs. Rampage Jackson, Head To Toe Breakdown
On Saturday, Jon Jones will make his first title defense of the UFC Light Heavyweight Championship. He will face a very dangerous competitor in Quinton "Rampage" Jackson. Jon Jones appears to be invincible; if he can run through Rampage the way that he has the rest of his competition, he could be poised to hold the title for a very long time.
Jon Jones is a physical freak who has some of the most exciting and unorthodox striking that MMA has ever seen.
Rampage Jackson has been a man on a mission trying to get his belt back after he lost to Forrest Griffin at UFC 86. His boxing is top-notch, and he can knock out any fighter in the blink of an eye.
This fight could be one of the best in UFC history; only one of these light heavyweight warriors can emerge victorious.
Begin Slideshow

»
Advantage: Jon Jones
At 6'4", Jon Jones is one of the tallest fighters in any division in the UFC. He will have a three-inch height advantage over the 6'1" Rampage Jackson.
Rampage is a powerful striker and has some of the best boxing in the UFC. Jones' height will be a very useful weapon in negating some of the power of Rampage's heavy hands.
Jon Jones will also have an incredible reach advantage in this fight. He has an 84.5-inch reach, which will be far superior to Jackson's 73-inch reach.
This will obviously be a huge advantage for Jones, and he will need to use it well if he wants to win the fight. He's usually very good at keeping distance, but Jackson has good footwork and is good at getting inside.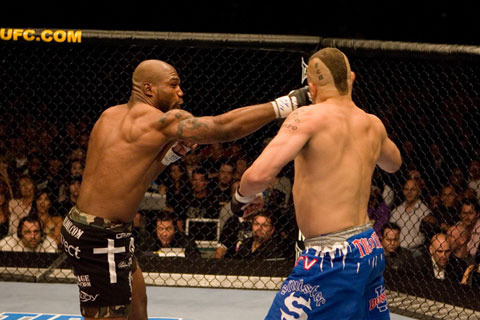 Advantage: Rampage Jackson
Rampage is a very good boxer. He has fast hands and has devastating knockout power in both of his hands. He has very good right and left hooks, and even one landed could spell disaster for Jones.
On top of his KO power and good combinations, Rampage has good boxing defense. He's good at slipping punches, and then he gets inside quickly and counters. He did this very well against Wanderlei Silva when he knocked him out.
I think that boxing is Rampage's X-factor; this is the area where he has to beat Jon Jones if he wants to become champion again. Jones will have to be very careful and use his range to avoid getting sent to the mat.
Advantage: Jon Jones
Jon Jones uses his size very well to rip a fighter's legs and body with gut-wrenching kicks. He can hit opponents from a great distance and is good at wearing fighters down. Rampage will need to stay away and check or block as many of these as he possibly can. When Jackson fought Forrest Griffin, leg kicks were his kryptonite.
Jones is also tremendously skilled on the inside with elbows and knees. He has good leverage in the Thai clinch and delivers powerful knees. His elbows are quick, sharp and even have KO power.
Jon Jones will have to use his sharp kickboxing skill when on the outside to keep Jackson at distance. On the inside he will have to use his stellar Muay Thai if he is going to negate Rampage's boxing.
Advantage: Jon Jones
Jon Jones is an absolute monster in the clinch game. He throws fighters around like rag-dolls and very rarely has his attempts stopped.
Simply put, Rampage can't end up in the clinch. He's a very strong guy and is a well-rounded fighter, but I've seen nothing that suggested Jones can be stopped in the clinch.
Jones' Greco, Judo and overall clinch control are things of beauty. He's now the gold standard in all of MMA in these disciplines.
Advantage: push
This is one part of the fight where I think either fighter can excel. Both have done serious damage to their opponents when in the guard or any other top position.
Jon Jones can quickly pass guards, get to mount and end his opponent's night. He appears to be unstoppable at this point in his career when he gets on top.
Rampage prefers to get into guard, gain control, posture up and hammer fighters with big shots. He drops bombs, and his one-punch KO power certainly translates to the ground game.
Rampage has a good two-leg takedown which he will likely use if he wants to get the fight to the ground. Jones will use his throws and trips in the clinch if he wants to get it to the mat.
While this is pretty even, Rampage does have a bit of an x-factor—the Powerbomb. Rampage will try to pick an opponent up above his head and slam him to the ground with a move that would make WWE fighters jealous. This fight-ending signature move is a sight to behold.
Advantage: N/A
Neither fighter really ever winds up on their back. Neither is much for throwing up a high-guard and going for submissions.
I don't expect Jiu-Jitsu to play a pivotal role in this fight. If someone gets taken down, they will try to get up instantly and avoid getting hit with big shots.
Top-game Jiu-Jitsu could be a factor, but I don't expect either fighter to go for many submissions, if any at all. These guys are going for a convincing win with a KO.
Greg Jackson, Jones' trainer
Advantage: Jon Jones
Jon Jones is a calculated fighter that tries to methodically break down opponents. He has a good corner and will have a plan of attack coming into this fight. Look for him to come out with many leg kicks and break Rampage down with body attacks.
Rampage doesn't really game plan too much. He either tries to take an opponent down and knock him out or stand up and knock him out. Simple, but effective.
The edge still goes to the champ here.
Advantage: Rampage Jackson
Rampage is a guy that fights with a lot of emotion and intensity. He routinely makes fights personal and looks to hurt and punish opponents. He will come out with guns blazing, looking to tear Jones' head off.
Advantage: Jon Jones
This wouldn't be a category if Jon Jones weren't in this fight. He has some of the most unpredictable striking around and uses it as a regular part of his style. He throws spinning back elbows, fists and kicks. He tries to kick fighters in the head with a variety of kicks routinely.
I don't believe that there is a proper way to prepare for this aspect of the champion's game. Rampage will have to read, react and hope that he's skilled enough to negate this incredible array of attacks.
Jon Jones wins this fight on paper. He has multiple skills that Rampage could only dream of. His physical prowess is almost unfair and will be a big advantage in this fight.
Never count out Rampage though. He's as tough as anyone to ever lace up the gloves and step into the cage. He will make a fight out of it.
I'm extremely excited to watch this fight; fans could get to see a piece of UFC and MMA history on Saturday night.