NFL Odds Week 2: 3 Favorites That Will Comfortably Cover the Spread
September 17, 2011
Mike Ehrmann/Getty Images
NFL games are, by nature, close contests. The talent difference between any two teams isn't that big and one play can change the complexion of a game.
Because of this, the betting lines set by sportsbooks are often relatively small. More often than not, the numbers are right on, but there are always favorites that blow the line out of the water. The following are three favorites that will do just that in Week 2.
All lines have been posted at FoxSports.com, but are courtesy of Bodog.
Kansas City (+9) at Detroit
It's weird to see the Lions favored big in any game, but it's right on the money in this game.
Detroit is coming off a sound victory over the Buccaneers and the Chiefs seem to be falling apart at the seams.
The game being in Detroit will make it easier on the Lions to cover this spread. Their fans are excited about the possibility of their team being a playoff team and they will be ready to make their voices heard in a big way.
Green Bay (-11) at Carolina
The bookmakers are giving the Panthers way too much credit because Cam Newton played well last week and the game is at home.
The Packers look like a well-oiled machine already and the Panthers are still trying to figure out who they are.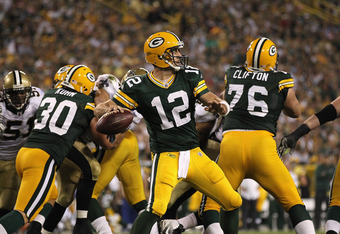 Jonathan Daniel/Getty Images
The Packers will easily win by the spread of 11 points, but it won't end there. I wouldn't be shocked to see the Pack win by 20 or more.
Houston (-2.5) at Miami
The Texans finally look like a team ready to be a real contender in the AFC and Miami will have to fight to stay out of the AFC East cellar.
The game being in Miami will benefit the Dolphins a little, but not enough to keep the Texans from covering the spread with ease.
Houston will force Chad Henne into the turnovers that he is famous for and the Texans' offense will again be in top form, leading to a big win.