L.A. Dodgers and Ned Colletti in the Final Analysis
September 15, 2011
Hannah Foslien/Getty Images
One has to feel sorry for every Los Angeles Dodgers employee right now. Working for the Dodgers used to be the same source of pride that being a New York Yankee, Los Angeles Laker or Dallas Cowboys employee was. Sure, you may have some down years, but you come away knowing you are one of the marquee brands in all of professional sports.
When Frank McCourt bought the Dodgers, there was a new ray of hope. He was the guy that signed off on the Manny Ramirez trade and agreed to bring him back. Joe Torre led the team to two consecutive NLCS appearances. Everything seemed to be going great. Then, the divorce happened. Nothing has ever been the same in La La Land, and it likely won't ever be the same.
Key Statistics
Team Payroll: 104.2 million (12th)
Lineup: 12.0
Rotation: 6.9
Bullpen: 13.6
Composite Ranking: 10.8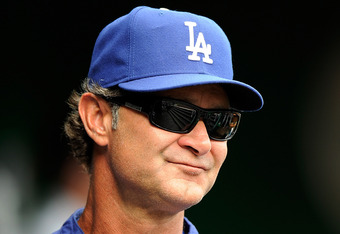 Greg Fiume/Getty Images
Analysis Score: +1.2
Lineup
Unfortunately, few sites do a good job of accurately accounting for deferred money when calculating team payrolls. The Dodgers still owe money to Manny Ramirez, Andruw Jones and even Marquis Grissom. Of course, Ned Colletti cannot take credit for Grissom, but he was intimately involved in the first two.
Naturally, deferring money is seen as a good thing at the time. It allows you to spend more on that year's team, and most teams just write it off as an accounting issue. When you suddenly declare bankruptcy and tell people like Orel Hershiser and Vin Scully that they have to wait for their money, then it becomes a big issue.
Colletti has done a good job of developing some talent. Matt Kemp and Andre Either are a terrific one-two combination. Unfortunately, James Loney has not provided the same punch they thought he would. There are also some new kids coming up that look promising (Dee Gordon). Unfortunately, the Dodgers exist in no-man's land because of their money situation.
Rotation
Clayton Kershaw is flat out filthy. He could be this year's Cy Young award if we can distract the voters long enough to look away from the Philadelphia Phillies rotation. Chad Billingsley has been solid, but he hasn't exploded the same way Kershaw has. Then, Hiroki Kuroda has performed about as well as could be expected. The combination of these three starters has kept the Dodgers legitimate on the field even if the organization is struggling off of it.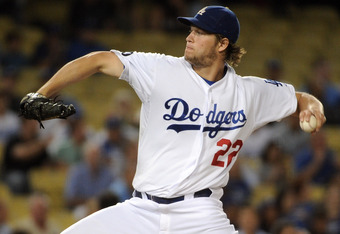 Harry How/Getty Images
Additionally, Colletti brought in Jon Garland to provide depth at the end of the rotation. Garland is a fly-ball pitcher and Dodger Stadium is spacious, so the move made some sense. Garland went down with an injury early on and may be done for his career. This left Colletti to mix and match to finish out the rotation. With better luck, they may have had one of the better rotations in baseball.
Bullpen
Jonathan Broxton went down early in the season and when that happened, Colletti and manager Don Mattingly had to scramble as best they could. As it turned out, Javy Guerra ended up being up for the job. I attended a game in Dodger Stadium at the SABR conference. Guerra came on in the ninth inning and proceeded to load the bases with no outs. Then he found a way to get out of the jam.
The outing seemingly has defined his season. He has gotten the job done nominally, but no one feels particularly good about his closing prospects long-term. Yet, if Broxton comes back 100 percent in 2012, it won't matter. Otherwise, the bullpen is made up of mostly journeymen and young pitchers trying to catch on.
Response to Crisis
It is hard to imagine a crisis as big as this. Lose 120 games and at least you know you are getting paid. Heck, get fired and you know you are getting that paycheck. The Dodgers had to sweat payroll a few times this summer. So, for Ned Colletti, we have to grade on a curve. His charge was slashing payroll as much as possible.
To that end, he was able to find a taker for Rafael Furcal. Hiroki Kuroda turned down a deal to the Dbacks. He flirted with trading Jamey Carroll as well. Unfortunately, there was not a whole lot to deal. Some contracts will clear off the books, so the Dodgers should be in better shape this offseason.
Analysis Score: +1.2 (13th)
Final Analysis
I'm pretty comfortable with this ranking for Ned Colletti. He isn't master of his domain or a village idiot. He ranks somewhere in the middle. He deserves extra credit for dealing with this mess, but the payroll isn't accurate either. Those things cancel each other out in the end. The kings of snark should ask themselves if they could do better with the same restraints and the constant worry about whether you will get paid.