San Francisco Giants: Who Is Larry Baer, and Will He Push for Pujols, Fielder?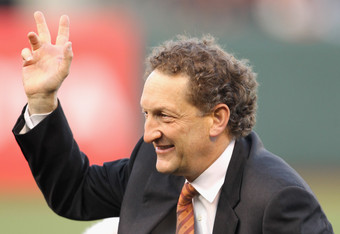 Ezra Shaw/Getty Images
When news broke Wednesday afternoon that Giants CEO Bill Neukom was stepping down from his post just three years after he took the helm, it was thought that one of the main reasons he was being pushed out by the franchise's executive ownership committee was because of disagreements over how to spend in the wake of record revenues following the team's World Series championship of 2010.
According to the San Francisco Chronicle's Henry Schulman, however, this may not be the case. In Schulman's article for the Chronicle Thursday, he states that "The major partners were not upset over how Neukom spent the money, but rather that he did so without their consent."
This contradicts the report from the man who broke the story, Mark Purdy of the San Jose Mercury News. According to Purdy, the executive committee wanted to put the windfall revenues from the world championship into a "rainy day fund" to use in more difficult economic times for the franchise that will surely come someday.
Schulman tweeted Thursday morning that "Many assume spending will slow under Baer. Remember, he's Mr. Marketing. Behind Bonds strategy. Could mean bigger push for Pujols, Prince."
So Who Has Got the Story Right? Will the Giants Spend or "Save for a Rainy Day"?
Outside of actually speaking with members of the San Francisco Giants' executive ownership committee, there's no way to tell what their intentions are for this offseason, which could prove to be a very critical one for the team's near-term future.
With the Giants bringing back virtually their entire world championship team in 2011, save for Edgar Renteria and Juan Uribe, management's strategy was to try to repeat with the same personnel who had such great chemistry and such great heart in 2010.
But it wasn't to be, as injuries to key players like Buster Posey and Freddy Sanchez, as well as underwhelming performances by key 2010 contributors Andres Torres, Aubrey Huff and Cody Ross, derailed San Francisco's hopes for a second consecutive title.
While Posey and Sanchez are expecting to return by spring training 2012, the fact that so many other players that were so integral to success in 2010 have proven to be inconsistent means the Giants may have to look elsewhere for help offensively, namely, the free-agent market.
Who Is Larry Baer, and What Will He Do?
Larry Baer, currently the president and chief operating officer for the Giants, will take over as general managing partner and CEO on January 1, 2012 after Neukom officially steps down.
As the Chronicle's Schulman suggests, studying his past may shed light on how he may behave going forward.
Baer has quite a resume. After graduating from the University of California in 1980, he worked with the Giants for three years as the franchise's marketing director. He left the Giants in 1983 to attend Harvard Business School. Following Harvard, Baer served as special assistant to the chairman of CBS, Inc.
In December 1992, he rejoined the Giants after a group of investors, including Peter Magowan, purchased the team from Bob Lurie, preventing a potential move of the franchise to Florida.
Over the past 19 years, Baer has been instrumental in the club's day-to-day baseball operations. Some of the major achievements he has played key roles in include the signing of free-agent Barry Bonds in 1993, the marketing, fundraising and construction of AT&T Park in downtown San Francisco and the awarding of the 2007 MLB All-Star Game.
The fact that Baer was an integral part of the effort to sign Barry Bonds, as well as his extensive marketing background, suggests that the idea of the Giants signing a big free-agent slugger like Albert Pujols or Prince Fielder this winter is not far-fetched.
Much may depend on whether the executive ownership committee's philosophy on spending is geared toward spending to upgrade the offense or to save for the future.
Only time will tell, but this offseason will be one of the most intriguing in recent memory for the Giants.
This article is
What is the duplicate article?
Why is this article offensive?
Where is this article plagiarized from?
Why is this article poorly edited?

San Francisco Giants: Like this team?