WWE/TNA: Justin Gabriel and the Top 5 450 Splash Masters of All Time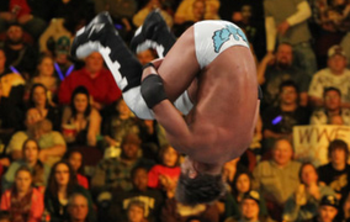 Source: http://4.bp.blogspot.com/_dNeQ8Obr1X0/S48_yNJuXzI/AAAAAAAADek/eTWqyVIQaGU/s320/ervgrq.PNG
After some requests, I decided to continue the saga of great aerial masters with the 450 Splash.
The 450 Splash is a move that is breathtaking to watch because the athlete involved must flip over for a full 450° while still in midair.
The flip is incredible to watch and can look incredibly impactful in the right hands.
Not many men can pull this move off, as it takes incredible athleticism to even fathom an attempt at the move.
The 450 Splash is a great move that dates back to 1987 and has been banned at times from ring action, as it can cause serious problems in the wrong hands.
Following are some of the greatest athletes in WWE and TNA history who are part of the select few who can really fly.
Honorable Mentions
Scott Steiner: Steiner could do the move. In fact, he has been credited by some as the creator of the move, though that has never been officially confirmed. However, whether he invented the move or not, I know of no record of him ever hitting the move. Above, it shows him decide to try and hit it from the other side of the ring with an obvious miss. Still he is one of the first men to even try the move.
Jeff Hardy: Hardy could really fly when he wanted to. His 450 Splash was not something he used a lot, but he knew how to hit the move well. The reason he is not in the top 5 is simple. The other guys following just hit it better.
Paul London: One of the great high fliers and tag team wrestlers, London could do many things in the ring and in the air. The 450 was one of his best moves. An underrated talent, London definitely deserves to be in a major promotion today.
5. Juventud Guerrera
Juventud Guerrera was one of best cruiserweights from WCW.
When he came to WWE re-packaged for the Mexicools, it was just not the same.
Juventud was at his best when he was wrestling with that mask on his face.
Maybe it is Jericho's fault for winning a mask vs. title match against Guerrera.
No, it is probably just because WWE was missing the boat on what is cool and what is stupid.
Anyway, Guerrera could hit the 450 Splash with panache.
He hit it well and made sure his fall left an impact.
4. Justin Gabriel
Lately, all 450 Splash talk goes to one man: Justin Gabriel.
He has used it to make an impact.
He has used the move as the final execution of Nexus.
He has even used the move just to please the crowd.
No matter what, Gabriel is a great, young talent who makes this move look like a work of art.
3. Austin Aries
In TNA, I have not seen him try the move yet, but it would be an instant hit if he did.
Aries, in the video on the left, hits it with great impact and momentum.
He is a great talent who should reinvigorate the X Division.
Especially if he uses this move. Regularly. Please.
2. 2 Cold Scorpio
Maybe Steiner created the move. Maybe he didn't.
The truth is it does not matter because the true original master of the 450 was 2 Cold Scorpio.
This man is a great talent. An amazingly athletic competitor.
He barely got any recognition for his athleticism over the years, but 2 Cold wrestled for years in ECW, WCW, and WWF/E.
He made the 450 Splash resonate as he seemed to finish his rotation easily and make it feel that he could do even more.
Watch him place the move just perfectly above.
1. AJ Styles
Seriously, have you seen him perform this?
Styles needs absolutely no turnbuckle. Ever!
His 450 Splash is actually a springboard splash where he manages to do that complete flip still without any need to prepare. He just leaps off that rope and flies.
For most people, that would be impossible and incredibly dangerous. Not Styles.
Styles' ability and impact on the move are perfect. No one can beat Styles in hitting the 450.
Seriously, watch above.
Truly Breathtaking!

A 450 balancing on a ladder.

This move is great to watch, especially remembering the athleticism involved in executing the move.
The fact that so many people in the WWE and TNA have been able to execute the move is crazy.
I leave you with Gabriel's 450 off a ladder. The ladder under him bounces like crazy, making the move seem more unstable and scary to think about performing.
Did I leave out someone? Is the 450 Splash as awesome as it looks?
Comment!
Keep Reading