Stanford vs. Arizona: TV Schedule, Live Streaming, Radio, Game Time and More
September 14, 2011
Ezra Shaw/Getty Images
On Saturday night, the Stanford Cardinal and Arizona Wildcats will meet for the first time as members of the re-christened Pac-12 Conference. Stanford enters the game 2-0 and ranked No. 6 in the nation, while Arizona is 1-1 and unranked.
Stanford has wiped out two cupcakes in San Jose State and Duke in short order thus far. Quarterback and Heisman Trophy favorite Andrew Luck will lead the Cardinal into Tucson while an underrated defense will star as well.
Arizona is coming off a 37-14 loss to Oklahoma State and enters its game against Stanford as a 10.5-point underdog. Quarterback Nick Foles leads the nation in a number of passing statistics and is one of the country's more underrated passers.
While many expect Stanford to wipe the floor with Arizona, the Wildcats have plenty of firepower on offense in their own right. The game will come down to the defense's ability to slow down Luck and the Stanford offense.
Where: Arizona Stadium in Tucson, Az.
When: Saturday Sept. 17 at 10:45 p.m. ET
Watch: ESPN/ESPN3 at 10:45 p.m. ET
Listen: KNBR 1050 AM (Stanford) and KCUB 1290 AM (Arizona); XM Satellite Radio (Pac-12 channels 193, 194, 195)
Betting Line: Stanford (-10.5)
Who Might Not Play for Stanford: No Injuries To Report
It is quite rare that a team is injury-free, even this early in the season, but that appears to be the case for Stanford. Although there are surely a few players with bumps and bruises, the Cardinal did not officially report any injuries.
This should give Stanford a big advantage over an Arizona squad that has several key players who are currently hobbled. It isn't likely that this stroke of good luck can continue too much longer for Stanford, though, so they had better be wary of looming injuries.
Who Might Not Play for Arizona: WR Juron Criner
Senior wide receiver Juron Criner, who led Arizona in receptions (82), receiving yardage (1,233) and receiving touchdowns (11) last season, is considered doubtful after undergoing an emergency appendectomy on Sept. 8. Criner played in Arizona's opener and racked up 151 yards, but he missed last week's game against Oklahoma State.
Criner's absence was certainly apparent last week as Arizona moved the ball, but struggled to reach the end zone. Without Criner Arizona will certainly have a difficult time against the heavily favored Cardinal, but that may have been the case anyway. The Wildcats will need him as Pac-12 play continues.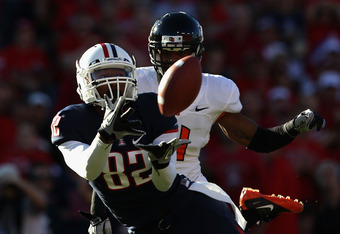 Christian Petersen/Getty Images
Key Storyline: Andrew Luck's March Toward Heisman
There may be no more talked-about player in college football today than Stanford quarterback Andrew Luck. He was expected to enter the NFL draft following last season when he completed over 70 percent of his passes for 3,338 yards and 32 touchdowns. Instead, Luck decided to return for his senior season in pursuit of a National Championship and Heisman Trophy.
Luck was certainly the favorite for the Heisman entering the season, and he still may be, but he has yet to face legitimate competition. Luck has been excellent in games against inferior competition like San Jose State and Duke so far this season, but Arizona will represent his first true test.
Luck has thrown for 461 yards, six touchdowns and just one interception thus far, and he will look to pad those stats against an Arizona defense that was exposed by Oklahoma State last week. If Luck and Stanford play as well as expected, then he will remain the Heisman favorite as we get ever closer to the month of October. 
BCS/Top 25 Poll Implications
After a 37-14 thrashing at the hands of the Oklahoma State Cowboys last week, the Arizona Wildcats aren't really anywhere near the Top 25, but an upset over Stanford would certainly change that. Already having one loss, the Wildcats would probably ascend to somewhere around the No. 25 spot in the unlikely event of an upset.
Stanford is currently ranked No. 6 in the nation and is squarely in the middle of the National Championship hunt. A win over Arizona wouldn't move them up the ranks significantly, but they would probably move up at least one spot since two Top Five teams in Oklahoma and Florida State are playing each other this week.
Stanford would certainly pay dearly for a loss and would drop quite a few spots in the rankings. A loss to a flawed Arizona squad would also all but end Stanford's hopes of winning a national title. It would also hamper Luck's Heisman chances as well.
What They're Saying
According to Jon Wilner of the San Jose Mercury News, one major concern of the Stanford coaching and training staffs is keeping players hydrated. Despite the fact that the game is being played at 7:45 PT, the on-field temperature is still expected to be above 90 degrees.
"It was 83 degrees with moderate humidity at Duke, and at least two players suffered heat-related problems.

Linebacker Chase Thomas said he missed a series because of cramps and threw up at halftime because of dehydration.

Safety Delano Howell also left the game for a period of time with severe cramping but later returned. He is expected to play this week.

To combat the heat—not to mention Arizona's no-huddle offense—Shaw plans to substitute liberally throughout the defense."
Ryan Finley of the Arizona Daily Star wrote a feature on Arizona quarterback Nick Foles. In it, he highlights the fact that Foles leads the nation in passing yards, completions and completion percentage. While Andrew Luck will receive all the publicity heading into Saturday's game, Foles is among the nation's best signal-callers as well.
Foles is "extremely underrated," Stanford coach David Shaw said Tuesday.

"His name never gets brought up when they talk about some of the best quarterbacks in the nation," Shaw said. "But when you talk about numbers, he's up there.'"
Stanford Player To Watch: QB Andrew Luck
As the most hyped player in the nation, there is no question that Andrew Luck will be Stanford's player to watch in this one. Tabbed as the likely first overall pick in the next NFL draft regardless of who picks first due to his incredible potential, Luck is regarded as college football's best player. As Luck goes, so go the Stanford Cardinal, so his play will likely be a direct reflection of how Stanford fares against Arizona.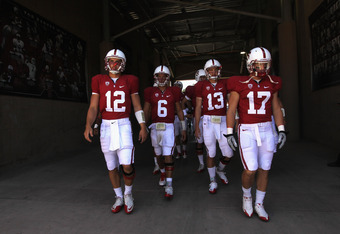 Ezra Shaw/Getty Images
There may be no more complete quarterback in the game than Luck, so he is sure to give Arizona fits. If the Wildcats can somehow slow down Luck, then they stand a chance, but few teams have been able to do that over the past couple seasons. I wouldn't expect a defensively challenged Arizona squad to be one of them.
Arizona Player To Watch: QB Nick Foles
Much like Andrew Luck is to Stanford, quarterback Nick Foles is the key to Arizona's offense. Foles has actually outplayed Luck to this point in the season, throwing for over 800 yards while completing over three-quarters of his passes. He has also thrown for six touchdowns and no interceptions. Provided one of those games was against Northern Arizona, his numbers are still incredibly impressive.
If Arizona is to have any prayer of knocking off Stanford, then Foles is going to have to have the game of his life. Foles is certainly capable of turning in a huge performance as he is among the nation's best quarterbacks, but it won't be easy. Foles will be without his favorite target in Juron Criner, so he will have to spread the wealth if the Wildcats are going to succeed.
Key Matchup: Andrew Luck vs. Arizona Secondary
Brett Deering/Getty Images
The Arizona Wildcats secondary faced a huge test against one of the nation's premier pass offenses in Oklahoma State last week. Unfortunately for Arizona, they failed miserably and allowed Oklahoma State quarterback Brandon Weeden to pass for 397 yards and two scores while the Cowboys scored 37 points in all.
Things won't get any easier this week against Luck and Stanford. Luck is incredibly adept at spreading the ball around and will surely make life miserable for the Arizona secondary. It would be tough to fault the Arizona secondary if it performed poorly against two of the nation's best quarterbacks in back-to-back weeks, but such is life for a BCS-qualifying team.
Prediction: Andrew Luck and the Stanford passing game light up Arizona just like Oklahoma State and Brandon Weeden did last week. Stanford wins 45-31.