Utah vs. BYU: TV Schedule, Live Streaming, Radio, Game Time and More
September 14, 2011
Erich Schlegel/Getty Images
If you are a fan of old school, smash mouth, low-scoring, defensive football, then the matchup between BYU and Utah on Saturday night will be the game for you.
Utah failed its first real test of the season, and its first test as a member of the new Pac-12, by losing to USC last week. The Utes only victory this season came against Montana State on September 1. It has been a year of transition for the Utes and that transition has not gone smoothly thus far.
BYU has had a sluggish start to the season. It started with a 14-13 victory over Mississippi in Week 1, but the success was short-lived as they were beaten, 17-16, in an ugly game at Texas last week. The offense is still trying to find its rhythm, but the defense has held its own against quality competition.
Where: LaVell Edwards Stadium in Provo, Utah
When: Saturday, September 17 at 9:15 p.m. EST
Watch: ESPN 2, ESPN3.com
Listen: ESPN Radio 700 (Utah); KSL 102.7 FM/1160 AM (BYU); Sirius Channel 143 (BYU)
Betting Line: BYU (-4) 
What's At Stake?
Utah can't afford a second consecutive loss if it hopes to contend in the Pac-12. This is not a conference game, but another loss would ruin the confidence for this team at it heads into the heart of conference play in two weeks.
BYU is playing its third straight game against a BCS school, and it has a chance to get out of this part of the schedule with a 2-1 record. That would be a major coup for this team as it moves into the softer part of its schedule.
Utah Injury Report
Running back Tauni Vakapuna (ankle), offensive lineman Isaac Asiata (ankle) and defensive end Lei Talamaivao (foot) are all questionable for this week's game.
Quarterback Sam Brenner is out indefinitely after suffering an elbow injury last week vs. USC.
BYU Injury Report
Linebackers Jordan Pendleton (ankle) and Brandon Ogletree (concussion) are probable heading into the game against Utah.
Wide receiver Jordan Smith (tailbone) is questionable for this week's game after sitting out last week vs. Texas.
Offensive lineman Ryker Mathews is out for the season after undergoing foot surgery last week.
BCS/Top 25 Poll Implications
The Utes started the season just outside the top 25, and, after two lackluster performances, they did not receive one vote for the rankings this week. But hope is not lost because BYU is a solid team and a road victory always stands out in the eyes of the voters.
BYU has caught the eyes of the voters because the team actually received some votes in the AP and Coaches Poll this week. The Cougars have to win this week to keep that momentum going, and one or two upsets this weekend could put them at No. 24 or 25.
What They Are Saying
Utah head coach Kyle Whittingham said during his weekly press conference that BYU's defense has been critical to the success of that team so far this year.
They've been playing good defense, particularly against the run. They are stout up front, their linebackers are active and make a lot of plays for them. Through two games, they have been very stingy.
BYU head coach Bronco Mendenhall said that he sees a lot of similarities between his team and Utah heading into this game.
If you were to make an analogy right now, both defenses are playing fairly solid and both offenses are working into their own identity. Not having analyzed them enough yet it appears there could be some similarities.
Utah Player To Watch
Quarterback Jordan Wynn has regressed this season compared to where he was at last season. He is only averaging 4.91 yards per attempt and is completing just 55 percent of his passes through two games this season. The offense has been sluggish thus far, and Wynn's performance is a big reason why.
BYU Player To Watch
Running back JJ Di Luigi has looked like a shell of his former self so far this season. After averaging 5.2 yards per carry in 2010, he is down to 3.8 yards per game this season. He ran for eight touchdowns last season, but has zero so far this season. This offense needs to run the ball to be effective and efficient, and so far this year they have not been able to do it.
Key Matchup
Jordan Wynn vs. BYU's Secondary
The Utes have struggled to score points this season, and the biggest reason for that is because Wynn has struggled to find a rhythm with his receivers. He will have to average more than the five yards per attempt that he is averaging so far this season for his team to win.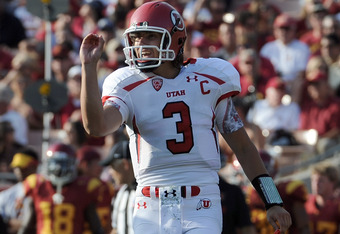 Harry How/Getty Images
BYU's secondary has yet to create a turnover, but it has kept opposing quarterbacks at bay in its first two games. If it plays like it did against Texas last week, BYU will find itself with a 2-1 record in three games against BCS teams.
Prediction
Funny things tend to happen in rivalry games, but, so far this season, BYU has been the better team and they will prove that this week in front of a raucous (but hopefully cordial) home crowd.
BYU 21, Utah 20