WWE Night of Champions 2011: Why Cody Rhodes vs. Ted DiBiase Would Be a Disaster
September 14, 2011
WWE Night of Champions 2011 is fast approaching, and I feel like it's time to look back a couple of years.
Two years ago, Legacy were the hottest stable in professional wrestling, and Ted DiBiase and Cody Rhodes were rubbing shoulders with some of the best in the business—Randy Orton, Shawn Michaels, Triple H.
Fans were begging for DiBiase and Rhodes to erupt into the spotlight.
These fans were disappointed.
Rhodes and DiBiase went from being two of the most promising young superstars to irrelevance in the blink of an eye.  
Support for the two has continued, and now Rhodes has reached the highest point of his career so far. A win over World Heavyweight Champion Randy Orton this week on Raw represents a major step up, and it all seems to be going right for Rhodes.
But it isn't.
Cody Rhodes, who has promised to bring the Intercontinental Title back to greatness, still has no announced opponent for WWE Night of Champions.
I—along with many others—am expecting Ted DiBiase to be announced as Cody Rhodes' challenger, after DiBiase was attacked by Rhodes a few weeks ago. Fans have been heralding the feud between Rhodes and DiBiase as the step for both men to reach the upper echelon of the WWE.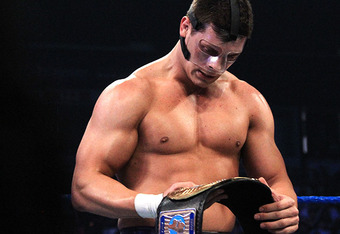 If this match goes ahead at Night of Champions, it won't make either man's career—but it could kill Ted DiBiase's.
The feud between these two had a fantastic basis. The protégé-versus-mentor storyline is always a good starting point. You only have to look at Alex Riley's breakout feud against The Miz to see that.
A good basis, however, will not guarantee a good feud. Alex Riley's enormous victory over The Miz at Capitol Punishment was only so enormous because of the build. The Miz and Riley were major players in every edition of Raw leading up to Capitol Punishment.
On the other hand, can anyone remember the last time DiBiase was on television with Rhodes? Can anyone remember the last time there was any build towards a feud between them?
August 26th. Almost three weeks.
Yet I wouldn't be surprised if the WWE crams some rushed angle onto SmackDown this week, desperately trying to find some way to make people care about a match between these two competitors.
The bottom line is that, while some people might care, most are just going to sigh and regret such a missed opportunity.
Here's what should happen.
Rhodes should open SmackDown, cutting a promo about defeating Orton on Raw. DiBiase's name should get dropped at some point, before Teddy Long comes out, making a match between Sheamus and Christian for the chance to face Rhodes for the title at Night of Champions.
While it may seem a big step down for either of those men, it should be seen as a big step up for Rhodes and a big step up for the Intercontinental Championship.
Sheamus should emerge victorious in a hard-fought match and follow it up with a stellar performance against Rhodes at Night of Champions. Rhodes should retain through some underhanded means, perhaps from interference by Christian (to continue his feud with Sheamus).
After the match, Christian and Rhodes continue to beat down Sheamus, when DiBiase comes out to make the save for Sheamus.
Immediately, Ted DiBiase is over as a face for saving one of the most popular superstars on SmackDown, and he's immediately inserted into a high-profile feud with three of SmackDown's top guys.
Sure, it would work best to separate the two feuds out again further down the line, but DiBiase teaming with Sheamus against Rhodes and Christian could be a huge rub for him.
DiBiase should be given time to develop a character, giving the fans a reason to continue to cheer him. Stretch the feud out with a few cheap wins or disqualifications for Rhodes and build to a huge match at Survivor Series. DiBiase should prevail in a hard-fought match, and voila.
Not only can Rhodes move on to bigger and better things, but DiBiase is majorly over as a face and can continue to bring prestige to the Intercontinental Title, before he, too, manages to move up the card.
Now, is it just me, or does that sound much more appealing than a dead end, last-minute match thrown together?