UEFA Champions League: Borussia Dortmund 1-1 Arsenal
September 14, 2011
Ian Walton/Getty Images
This was progress in Arsenal's very special way, a draw against a formidably effervescent Borussia Dortmund team that neither incited bravado nor inspired dismissal of their future prospects. A serene finish from Robin van Persie in the shadow of halftime had given Arsenal an unlikely lead after enduring an intense assault at the hands of the German champions. The equalizer arrived with a few minutes remaining from the Croatian substitute Ivan Perišić, both majestic in its execution and blackly comic in its circumstances.
A side that can be demolished 8-2 just weeks ago and yet remain expansive on such a demanding away sojourn must warrant a bizarre sort of admiration and predictably, Arsenal offered enough chances for a dozen victories. Dortmund's composure was found wanting until a late chance arrived that wasn't even a chance.
It seemed that Arsenal had successfully negotiated the latest of many Dortmund corners but the ball looped towards Perišić who, with remarkable clarity, languidly swung his left foot through the line of the ball to volley into the top corner from 20 yards. Having survived their own defending for so long, Arsenal were pegged back through a goal which could only be watched with admiration like the rest of the audience.
Dortmund had produced a charming short film to welcome Arsenal to the Westfalenstadion for their first Champions League game in nine years but their vibrant opening spoke of ambush. They produced a formulaic performance in the face of Hertha Berlin's expert counter-attacking at the resumption of the league season but looked revitalized on their big night, particularly in light of the return of Mario Götze, the beguiling 19-year-old midfielder.
He seemed to enliven the crowd as well, who had expressed their disillusionment with their team's defeat at the weekend. There is a shift in symphony when he receives the ball, acknowledgement of the countless possibilities he offers to Dortmund. It is understandable when you see him in command of the ball, manipulating it almost unconsciously as if football was as natural as walking.
It was a counter-attack of Dortmund's making that brought the first test of the Arsenal defense. The imperious Mats Hummels blocked Gervinho's shot with sublime timing and Dortmund went road running. Robert Lewandowski surged at the heart of the Arsenal defense and his pass could only be pushed into the path of Kevin Groβkreutz by Laurent Koscielny. The wide forward set the tone for the night, blazing over the bar to cap a thrilling move naively.
Hummels was to the fore again minutes later, delivering a long ball to Shinji Kagawa who found himself one-on-one in an instant, only to snatch at his shot and deliver an unedifying finale. It was Götze's turn soon as he scurried through and poked a perfectly measured pass into the path of Lewandowski who rounded Wojciech Szczęsny. The shot was accurate on this occasion but Bacary Sagna cleared athletically off the line.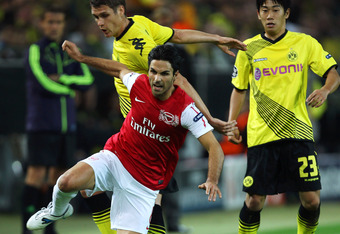 Ian Walton/Getty Images
Respite was brief. Götze picked up the ball on the edge of his own box and teased Gervinho, showing him the ball and taking it the opposite direction in an instant and setting Groβkreutz free while the Ivorian grasped for something that was no longer there. Groβkreutz surged down the left before cutting inside and once more shooting wildly.
Arsenal had little answer to such a forceful opening, stoically maintaining a high line while failing to earn the possession that would have protected it somewhat. However, Dortmund's pace had to drop and after half an hour, Arsenal began to feel a little more comfortable. Mikel Arteta and Yossi Benayoun, lost in Dortmund's intensity, began to assert themselves. Benayoun set van Persie free with an audacious first-time ball but the Dutchman matched his opponents for profligacy, shooting into the side netting when one-on-one.
He did not err with his next opportunity. Relentless exposure of Arsenal's failings had not brought Dortmund reward but a mistake of their own, specifically Sebastien Kehl, was catastrophic. The midfielder misplaced a pass and van Persie intercepted, rising from his slide to latch on to Theo Walcott's through ball and finish past Roman Weidenfeller.
Dortmund emerged for the second half with nothing like the impetus they had. Indeed, Arsenal might have stretched their lead on the hour mark when Gervinho surged through on goal but the ball did not quite fall for him when a scoring opportunity looked certain. From that point, it was quite clear that survival was the priority even for these cavalier visitors.
Arsenal were finding escape an increasing struggle and Dortmund were able to settle into an attacking rhythm for the final stages and a final surge. To their credit, Arteta and Alexandre Song remained combative while substitute Emmanuel Frimpong again displayed his potential for destruction. An unlikely victory looked ever likelier until Dortmund earned one more corner and summer acquisition Perišić levelled a game that chastened both sides but will offer encouragement for the rest of the group stage.