Houston Astros: Ed Wade's Final Analysis
September 13, 2011
Bob Levey/Getty Images
Adam Ant was one of the many artist in the 1980's to produce a one-hit wonder. He has spent the past two decades coasting on that one hit and getting in trouble with the law. That one hit was called "Goody Two Shoes" and had the memorable line, "don't drink, don't smoke, what do you do?"
While that exact line cannot be applied to General Manager Ed Wade and his Astros, the sentiment is the same. They don't hit. They don't pitch. They don't field. They don't run the bases particularly well. So, what exactly do they do?
The Astros are unique in a lot of ways in the analysis series. They are the only bottom-half payroll team to be significantly below par in analysis. They are also the only team in baseball not to rank in the top 20 in any particular category. Ownership is supposed to be turning over soon, but that keeps getting delayed. Watching that delay for Ed Wade must be like watching the grim reaper try to negotiate the lock on the door. You know its only a matter of time.
Key Statistics
Team Payroll: 70.7 (20th)
Lineup: 26.8
Rotation: 21.1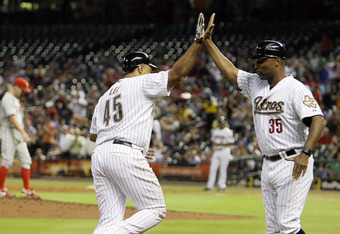 Bob Levey/Getty Images
Bullpen: 22.7
Composite Ranking: 23.5
Analysis Score: -3.5
Lineup
To be perfectly fair to Wade, the biggest mistake the Houston Astros made was paying Carlos Lee 100 million dollars over six years. That mistake was on Tim Purpura and Drayton McLane. It was also their fault when they decided to let the farm system turn into garbage.
Ed Wade has slowly but surely put in more talent into the farm system, but five years later, they still rank in the bottom five, according to most sources.
The problem in the lineup is easy to see. When Jason Castro went on the shelf, there was no one left in the lineup who drew walks in even 10 percent of their plate appearances. It was almost as if patience was the bubonic plague and free swinging was the cure.
Add to that zero power outside of Carlos Lee and Hunter Pence and a lack of speed (outside of Michael Bourn), and you had the makings of an absolutely abysmal offense. If one were to draw up a blueprint on how not to create runs, they ask Ed Wade to do the drawings.
Rotation
The rotation is better simply because Wandy Rodriguez and Bud Norris are there to make sure that things don't go completely off the tracks. However, Brett Myers and J.A. Happ are studies in inattention to the facts of batting average on balls in play (BABIP).
Brett Myers had a 2010 season that screamed "CAREER YEAR, CAREER YEAR, CAREER YEAR!", but Wade ignored that and decided that he had somehow turned a corner. His value was never higher, and teams were even offering Grade-A prospects for him. Wade wasn't having any of that. Instead, Myers was signed to an extension that was an overpay the minute Myers signed it.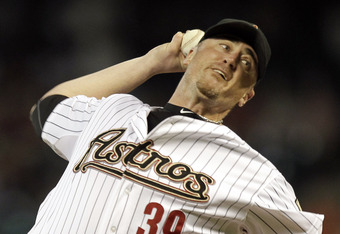 Bob Levey/Getty Images
As for Happ, that was a screw-up in reverse. Happ was pitching over his head in Philadelphia, so instead of insisting on another good prospect, Wade wanted Happ. Happ continued to pitch well last season, so Wade felt vindicated.
2011 has been a disaster for Happ in a fall from grace that everyone but the Astros' front office saw coming. Yet these are foils that happen to an organization that doesn't pay attention to numbers. They insist that they do, but do we believe their words, or our eyes?
Bullpen
Ed Wade started a series of snark that hasn't stopped when he inked Brandon Lyon to a three-year, $15 million contract. Heck, year one of the deal was well worth the money when Lyon took over as the closer. Still, Lyon is another study in the stability of certain statistics. His Fielding independent pitching (FIP) numbers over the past five seasons (not counting 2011) read like this: 4.08, 3.44, 3.84, 4.06, 3.34. That is remarkably consistent, and not the kind of numbers for which you give out $15 million.
Lyon went down with an elbow injury midway through the season, and it actually returned the Astros to the one strength Ed Wade possesses: he is good at building a bullpen on the cheap.
Mark Melancon, Wilton Lopez, Sergio Escalona and Fernando Rodriguez combined to give the Astros a decent group of relievers. The trick is in realizing that you probably won't be able to count on any of them in the long run.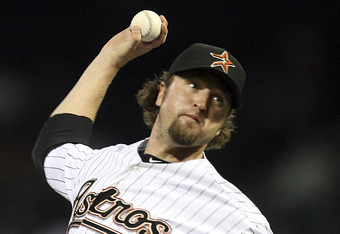 Bob Levey/Getty Images
Response to Crisis
I've tried to avoid being snarky and have probably failed, so I'll try to provide some balance. Ed Wade did a credible job of trading three regulars for prospects. He also did a good job of recognizing he wasn't going to get good value for Wandy Rodriguez right now.
Of the prospects he gained, Jonathan Singleton and Jarred Cosart have the most promise. However, some, like Henry Sosa, Jordan Schafer and Juan Abreu, are paying some dividends this year.
The only really questionable trade was the one involving Michael Bourn. He did not get any high-profile prospects for the best leadoff hitter in the National League. He did get a couple of end-of-the-rotation prospects in Paul Clemens and Brett Oberholtzer to accompany Schafer and Abreu.
Abreu should end up being a middle reliever at the very least. Schafer should be the everyday center fielder next year. Oberholtzer and Clemens both pitched well at Corpus Christi after the trade and should be promoted to AAA Oklahoma City next year.
Analysis Score: -3.5 (21st)
Final Analysis
There is no way Ed Wade ranks as high as this. He is the only GM of a bottom-half team to have an analysis score significantly below zero. Most have scores well in the positive range. Moreover, you would think he would have a ranking in one of the three key areas higher than 21st based on luck alone. In essence, you have to try to be this bad.
Whether he will claim the bottom spot or not remains to be seen. Based on the results at the big league level (97 losses and counting) and the minor league level (lowest collective winning percentage in baseball), you would be hard-pressed not to tab him for No. 30.