College Football Picks Week 3: ACC Football
September 16, 2011
Kevin C. Cox/Getty Images
Week 3 is here. In terms of non-conference matchups and statement games, it is one of, if not the most important week, for ACC football this season. Clemson, Maryland, Miami and Florida State are all hosting Top 25 teams. If the ACC can pull off wins in these games, it would be a big step for the conference towards national relevance.
No. 21 Auburn vs. Clemson
Clemson lost to Auburn in an overtime thriller last season, but both squads are largely different this year. After last week's near disaster against Wofford, this is a season defining game for Clemson. With a win, they establish the Wofford game as a fluke and build momentum for the faceoff with Virginia Tech on October 1. However, with a young quarterback at the helm,  I expect Clemson to keep it close, but lose in the end to a stronger, confident Auburn team coming off a huge statement win against Mississippi State in Week 2.
Edge: Auburn
No. 18 West Virginia vs. Maryland
Rob Carr/Getty Images
In Maryland's debut versus Miami, the Terps' flashy Under Armour jerseys received more press than the impressive showing on the field. A popular sleeper pick in the Atlantic Division, the Terrapins look to establish themselves as a contender by defeating the marquee team out of the Big East. West Virginia has looked good so far this season, albeit against largely weaker opponents. While the Florida State and Miami games are garnering all the hype this weekend, the matchup between the Mountaineers and Terrapins deserves more attention. Look for Danny O'Brien to lead the Terps to victory in a shootout thriller.
Edge: Maryland
Arkansas State vs. No. 13 Virginia Tech
After surviving another early season scare last week against ECU, Logan Thomas and the Hokies look to right the ship and continue improving with a win over Arkansas State. David Wilson has looked like an elite back thus far, and that should be enough for the Hokies to win. Watch for Virginia Tech to run the ball early to build a cushion, opening the field up for Thomas to work on his downfield accuracy and decision making. Expect a result that bears resemblance to the blowout win over Appalachian State rather than the 17-10 dogfight win against ECU.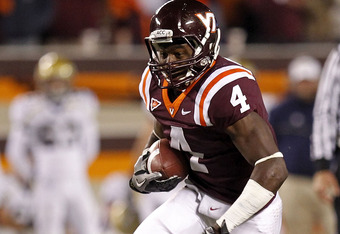 Geoff Burke/Getty Images
Edge: Virginia Tech
Kansas vs. Georgia Tech
The Yellow Jackets have hit the ground running this fall, and they look to continue the impressive offensive production this week against Kansas. Both teams have given up over 20 points per game, but each has scored over 40 points per game. Sounds like the recipe for a high octane shootout game. Georgia Tech has looked dominant thus far while Kansas has let weaker teams hang with them.
Edge: Georgia Tech
Duke vs. Boston College
The matchup between the Eagles and Blue Devils this week is a battle of early season disappointments. BC led off the year with a loss to Northwestern, and Duke once again lost to Richmond of the FCS. Duke showed signs of life last week versus Stanford, shutting down the powerhouse Cardinal offense in the first half. As the season moves on, watch for David Cutcliffe's Duke squad to be a formidable opponent in the ACC. They may not win any titles, but they will pull off some upsets this year. Watch for Renfree to have a solid game against a tough BC defense.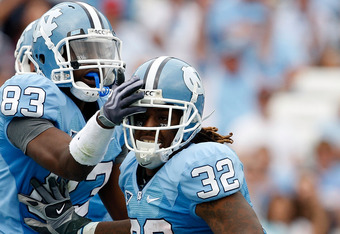 Streeter Lecka/Getty Images
Edge: Duke
Virginia vs. North Carolina
The Cavaliers and Tar Heels are both coming off nail-biting victories against lesser opponents. UVA gave up a large lead to Indiana, but was able to comeback and win. UNC held off a determined Rutgers squad. North Carolina will be a tough team to beat this year and should dominate both sides of the line in this matchup. This matchup is the first real test of the young careers of Bryn Renner and Michael Rocco. Renner will be the better signal caller, and the Tar Heels will come out on top.
Edge: North Carolina
South Alabama vs. NC State
After a disappointing loss to Wake Forest in Week 2, the Wolfpack need a rebound victory. They will easily get it this week and move to 2-1.
Edge: NC State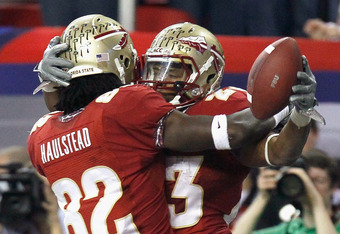 Kevin C. Cox/Getty Images
Gardner-Webb vs. Wake Forest
The Demon Deacons look like a new squad compared to last year, bringing Syracuse to overtime in Week 1 and beating NC State this past week. Surprisingly, Wake will start the season 2-1.
Edge: Wake Forest
No. 17 Ohio State vs. Miami(FL)
The battle of programs in turmoil. Both squads are reeling from huge NCAA violations from this offseason. Miami had a poor performance in its Week 1 loss to Maryland, and Ohio State barely survived against Toledo last week, barely stopping the Rockets' final drive in the waning seconds of the game. Although Ohio State has been hit hard by the violations, they are still more consistent and productive than the Hurricanes.
Edge: Ohio State
No. 1 Oklahoma vs. No. 5 Florida State
The marquee matchup of the ACC non-conference schedule is finally here. The 'Noles have had this game circled on their calendars ever since they were blown out last year by the Sooners. This year, the result will be much different. The FSU defense is vastly improved and highly experienced. Landry Jones exploited Greg Reid last year, but Reid's coverage skills have improved largely since last fall. EJ Manuel will impress on a national stage, thanks to a great receiving core and the explosive back that is Chris Thompson. Needless to say, Oklahoma is a fantastic team. Jones and Broyles will be a tough task to stop for the Noles' defense, but FSU should be able to keep up. Watch for the Seminoles to stay within 10 points for most of the game and vault ahead late in the fourth quarter and pull off the upset in Tallahassee. 
Edge: Florida State