Jake Ellenberger Ready for Jake Shields, Thinks He's All Hype
September 13, 2011
Jake "The Juggernaut" Ellenberger will square off against welterweight competitor Jake Shields this Saturday, September 17 at the Ernest N. Morial Convention Center in New Orleans, La.
Confident in his abilities, Ellenberger had his eyes set on a matchup with Shields when the jiu-jitsu ace was first signed by the UFC.
Never believing the hype-train surrounding Shields and his arrival to the UFC, Ellenberger told MMA Radio, "I just never really believed it. Jake Shields is the best middleweight in the world, the best welterweight in the world, like I never believed it."
Always humble, "The Juggernaut" did not take a shot at Shields personally. His thoughts on his opponent are just business.
"He has beat some very tough opponents, but it's nothing personal against him; he's probably a great guy. I'm sure we could be friends afterwards, but I was just never sold on him." Ellenberger said.
Providing credit to Shields for his success in the past, Ellenberger feels that his victories are a result of control, not dominance inside the cage.
"He is really good at what he does; he's a control guy. He's not real dangerous. He's definitely a top-level grappler, but when I saw him fight Dan Henderson, Jason 'Mayhem' Miller, there's a lot of holes in his game.  He does what he needs to win," said Ellenberger.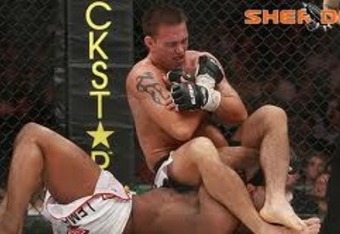 Focusing on his strengths, Ellenberger is un-phased by Shields' strengths in the grappling department.
"I've never been one to worry about what my opponents are going to do. I'm worried about how I'm going to execute. For me, being able to control where this fight goes is going to be a big factor on this fight, and I have complete confidence that I'm going to be able to do that," Ellenberger stated.
Primed on defeating Shields and claiming a top-five ranking within the welterweight division, Ellenberger knows how important a victory over Shields would be for his career.
"This is a very selfish sport and I want to be at the top," said Ellenberger. "To be honest, at the time, he was where I wanted to be. That's just a guy I want to take out, and I get to prove it this weekend."
UFC Fight Night 25 will either propel "The Juggernaut" into the top-five of the division with a victory or keep the Omaha native on the outside looking in at the top 170-pound fighters within the UFC with a loss.
Enjoy the fights.
You can "Like" Todd Seyler on Facebook and follow me on Twitter.