Rugby World Cup 2011: Previews and Predictions for Wednesday, September 14
September 13, 2011
Sandra Mu/Getty Images
In day four of the 2011 Rugby World Cup, a few of the tournament's "minnows" will be hitting the field in search of a win, while a couple of the lower ranking powers get set to battle for a spot in the quarter finals. Though heavy favorites like New Zealand and Australia have the day off, tomorrows matches could be a preview for shocking upsets to come.
Samoa V. Namibia
After a win two months ago over an Australian team which ranks second in the world, Samoa is confident about their chances at the quarter finals, and are eager to hit shoulders with Namibia. Samoa ranks 10th in the world and are the last of the worlds top 10 teams to begin competition. Expect Samoa to come out hard, and with something to prove, spreading the field and upping the match's tempo.
Meanwhile, Namibia will look to control the ball and limit Samoa's chances at a try. In a World Cup tournament that has thus far been won or lost by the foot, the kicking of back Theuns Kotze could prove invaluable. In Namibia's loss last week to Fiji, Kotze scored 15 of his team's 25 points off of two penalty goals and three drop goals. If Namibia is defeated once again, their chances at advancing will be severely limited, especially with an upcoming match with defending World Cup champion South Africa. So while Samoa will be playing with something to prove, Namibia will be playing with nothing to lose.
Prediction: In the end, the athleticism and intensity of Samoa is too much for Namibia to handle, and the Somoans win 32-10.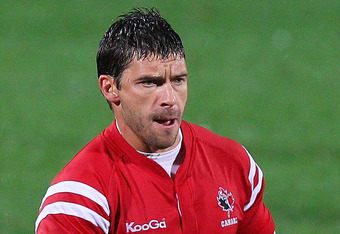 Chris Hyde/Getty Images
Tonga V. Canada
After New Zealand beat Tonga 41-10 in the tournament opener, I was at a party with a Kiwi who must have weighed close to 400 pounds. When I asked him his thoughts on the match, he said of Tonga, "Some big boys on that team, eh?"
The answer is yes, Tonga has some big boys and they are not afraid to use their bodies. Though Tonga lost big to New Zealand, they played the world's No. 1 team nearly equal in the second half, and even injured a few All Blacks for good measure. But after such a physical game, and playing on only five days rest, Tonga has opted to sit 11 players against Canada. Will fresh muscle provide a spark? Or will turning to reserves prove a disadvantage?
The Canadians will not be intimidated by the size of Tonga. A talented back row could enable Canada to control the scrum, neutralising Tonga's size and physicality. Historically speaking, Canada has disposed of the Tongans as easily as old newspaper, even beating them in the 2003 World Cup.
Prediction: These teams are almost neck and neck in the rankings, Tonga at No. 12 in the world and Canada at No. 14, which should lead to a tight match. In the end however, a mix of Canuck pride and Tonga exhaustion will lead to a 14--7 win for the Maple Leafs.
Scotland V. Georgia
Scotland is feeling embarrassed after being brought to the wire by Romania last week, and they are ready to vent their frustrations on Georgia. Scotland is a well-conditioned team who will try to control the matches tempo and avoid facing Georgia in the scrum. If Scotland can do that, and literally run circles around Georgia, they should be OK.
But weather conditions can wash away rankings, meaning seventh ranked Scotland and sixteenth ranked Georgia could be made equals on the field. The wet ball and the strong tackles of Georgia could lead to a slower game, which plays against the Scottish.
Prediction: Pool B, with three of the worlds top 10 teams (England, Scotland, Argentina) has been bracing for an upset, and that cloud will burst tomorrow. Just as the United States was able to play Ireland tough on a wet field, Georgia will reap the advantages of a New Zealand drizzle to a 10-6 victory.