Minnesota Vikings' Loss Proves They Need to Sign a Receiver—Quickly
June 2, 2016
Kevin C. Cox/Getty Images
The Minnesota Vikings kicked off the 2011 season in style when Percy Harvin returned the opening kickoff 103 yards for a touchdown.
After that, it was all downhill and the absence of Sidney Rice was felt.
Despite posting a lead over the San Diego Chargers, 17-7, by halftime, the team let the win slip away, mostly due to the inability to score in the second half.
The Vikings' receivers combined for a total of seven receptions and a total of the 39 yards that Donovan McNabb was able to accumulate.
Bernard Berrian was a non-factor in the entire game, as he didn't catch a ball.
There is going to be severe problems with this offense if this is any premonition of things to come.
I doubt McNabb will have another game like this ever again, but there is only going to be so much he can do if the receiving corp doesn't step it up.
Out of the two starting receivers, Harvin and Berrian, only Harvin caught a pass the whole game. Harvin finished the game with two receptions and seven total receiving yards.
If the Vikings are going to commit to these two, the season will be long and difficult, as they showed they could not produce against a defense that is talented. But after the performance, any team's defense may pose a challenge.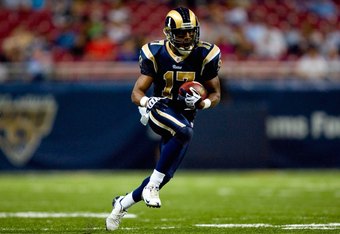 Dilip Vishwanat/Getty Images
Minnesota was obviously concerned, as it fed the ball to Adrian Peterson 16 times for 98 yards.
The excuse of it being Week 1 is paper thin, as this team has had four preseason games to get on the same page, and when it counted, they played as if it was their first time on the field.
The Vikings are in desperate need of a receiver that can navigate defenses and make plays.  At this point, the only candidate to be a solid option for McNabb is Harvin—and defenses know this.
Minnesota lacks a big-play receiver, which is going to haunt them in 2011, and have an under-average group with Harvin and Berrian.
Despite the negativity and issues that accompany players like Terrell Owens and Randy Moss, the Vikings may have to eat some crow if they want to make a run for the playoffs.
The Week 1 loss opened up a whole new world of concerns, and Minnesota needs to address them before it's too late. 
If the receiving corp can't get it together and the Vikings wait too long, there will be no season to salvage, as they face teams with formidable defenses in the upcoming weeks.
Ahead on the schedule, things are only going to get harder as they face Detroit, Chicago and Green Bay before the bye in Week 9.
I don't see the Vikings combination of Harvin and Berrian working, and they must make a move via free-agent signing or trade at some point—or face the consequences.
There is a strong possibility that Minnesota could be sitting at 2-5 at that point and after the bye, it'll be tough sledding as well.