Nate Kaeding Injury: Who Do Chargers Turn to with Kicker out for Year?
September 12, 2011
Christian Petersen/Getty Images
San Diego Chargers kicker Nate Kaeding is out for the season, suffering a torn ACL in the opening kickoff of Sunday's game against the Minnesota Vikings.
While punter Mike Scifres handled punting and kicking duties in the game, and made his first-ever NFL field goal, a 40-yarder, the team is actively looking for a replacement for Kaeding, one of the most accurate kickers in the league.
While no announcement is expected before Tuesday, here are a few free-agent kickers that the Chargers may consider as a replacement for Kaeding this season.
Shayne Graham
Graham, an eleven-year veteran most recently with the Dallas Cowboys, hasn't had a field-goal completion percentage below 80 percent since his 2002 season with the Carolina Panthers when he made 13-of-18 attempts.
He's only missed two extra points in his career, but he has a low percentage of touchbacks, with returns averaging over 20 yards for most of his career.
This, of course, will be augmented this season by the new kickoff rules. Graham would provide a veteran presence for a team that has relied on a consistent kicker for eight seasons.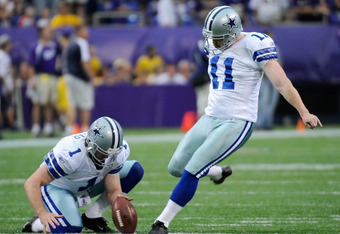 Hannah Foslien/Getty Images
Dave Rayner
Rayner is another veteran kicker cut by the Dallas Cowboys this year, after having five kickers in training camp. A journeyman, he has played with seven teams in his six seasons in the league, including a one-game stint with the Chargers in 2007 that saw him only work kickoffs.
Rayner is a long-shot to replace Kaeding. His stats are extremely inconsistent, and his kickoffs have yielded greater returns on average than Graham.
If another target for the Chargers takes a pass on their offer, only then would Rayner be a legitimate option for the team.
Jeff Reed
Another long-shot option for the Chargers, late of the Seattle Seahawks, San Francisco 49ers and Pittsburgh Steelers.
Reed was cut by the Seahawks after the preseason, and he spent just one season with the Niners after nine inconsistent seasons with the Steelers that also saw him embroiled in a number of off-field incidents.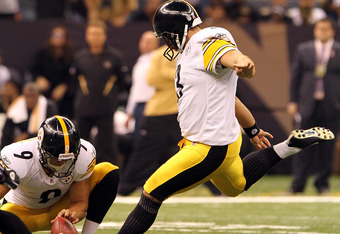 Matthew Sharpe/Getty Images
These are huge liabilities for a team looking to replace one of the most accurate—and beloved—kickers in the NFL.
Reed's field-goal percentage has varied wildly, from the low-70s to the low-90s for seemingly no reason. His touchback percentage is historically low, but this won't matter as much with the new rule.
But, again, Reed will only get the call if someone the Chargers wants denies their request.
Joe Nedney
Nedney, who would be entering his 16th season in the NFL should he join the Chargers, is also a journeyman of sorts, having played for eight teams.
He also suffers from inconsistency at the position, but has improved on that end in his most recent tenure with the San Francisco 49ers, never making fewer than 81 percent, and as many as 92 percent of his field goals.
In 16 years, he's missed only two extra points, and his kickoff averages have been steadily increasing as time goes on.
If Graham is not an option for the Chargers, Nedney is clearly the better choice than either Rayner or Reed.