Danny Amendola Injury: Who Are Best Replacement Options for Injured Rams WR?
September 12, 2011
Jeff Curry/Getty Images
No team was hit by injuries harder in Week 1 than the St. Louis Rams, who saw important offensive players such as quarterback Sam Bradford and running back Steven Jackson leave the field in their 31-13 loss to the Philadelphia Eagles.
While Bradford and Jackson get most of the attention, and rightfully so, the Rams also lost Danny Amendola, the team's leading receiver from a year ago, to a dislocated elbow that could put him out for the rest of the season.
Amendola caught 85 passes in 2010—42 more than the Rams' next leading receiver (Brandon Gibson).
It's an overused stereotype, but Amendola's game is very similar to that of Wes Welker in New England. Like Welker, Amendola is an underneath, slot-type receiver who can be a quarterback's safety blanket.
With him out for at least eight to 10 weeks, as ESPN's John Clayton has reported, the Rams will be missing a big part of their offense. Others, such as Mike Florio of ProFootballTalk, have reported that Amendola will likely miss the season and could be put on IR as soon as this week (as he said on Football Night in America). Either way, it's clear that his injury will sideline him for the majority of the year. 
Now, the Rams have some decisions to make. If Amendola has to go on IR, is there a receiver available for St. Louis to bring in? Is a trade an option? Or are the current players good enough to fill the gap?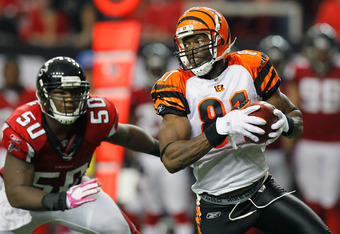 Kevin C. Cox/Getty Images
Let's run down the options (not in any order):
1. Sign Brandon Stokley
If the Rams want a natural replacement for Amendola, Stokley looks like a solid option. At 35 years old, he's past the prime of his career. However, he knows the slot position as well as anyone available in free agency and could still help Bradford and Co. move the football. He's a free agent and likely wouldn't cost much to acquire either. 
2. Sign Terrell Owens
The Rams flirted with this option last offseason before Owens signed in Cincinnati. He's still recovering from a torn ACL, but Owens keeps himself in such elite physical condition that he should be ready to contribute immediately once his knee is healed.
While that's still weeks down the road, Owens has to be an attractive option if the Rams are still in the playoff hunt by the time he's ready. If you're St. Louis, why wouldn't you entertain the idea of bringing in Owens?
3. Trade for James Jones
The Packers signed Jones to a three-year deal this offseason, but he's getting lost in the shuffle of a stacked deck of receivers in Green Bay. Jones had just one catch and one target against the Saints to open the season.
It's far from certain if Jones is even available for a trade, but he'd likely be an upgrade for a team that needs playmakers at receiver. Jones can be that guy if given the opportunity. 
4. Rely on What's Left
 There is no doubt that the Rams receivers had a disastrous start to their season. Far too many passes that should have been caught hit the turf at the Edwards Jones Dome on Sunday. However, it's just a one-game sample.
The Rams have guys like Mike Sims-Walker and Greg Salas, who they've put their trust in early in the season. Neither can truly replace or replicate the kind of receiver Amendola is, however.
A guy that really needs to step up in Amendola's absence is rookie tight end Lance Kendricks. He has the talent to be Bradford's new underneath safety blanket and he made some big plays in the preseason. Like most of the other Rams receivers, however, Kendricks didn't have a promising start catching the football on Sunday.