Cincinnati Reds and Walt Jocketty in the Final Analysis
September 12, 2011
Hunter Martin/Getty Images
The Reds came into the 2011 MLB season expecting to compete for the NL Central crown. They came seemingly out of nowhere to win the division in 2010. They did it on the strength of talented young position players and a strong rotation.
Unfortunately, the rotation has fallen on hard times. The outcome seemed to surprise most pundits, but if you follow history then it makes a lot of sense. For one, playoff teams tend to have a hangover. The other portion has a little something to do with Dusty Baker.
Walt Jocketty has done a good job of making the Reds a lean machine without much waste. Young stars like Joey Votto, Brandon Phillips and Jay Bruce lead the way.
One good outcome from this season has been a transfer of other positions to younger players. Edgar Renteria was signed in the offseason to be the shortstop, but Paul Janish has taken over the position. Jonny Gomes was a relatively inexpensive option in left field at the beginning of the season, but he has since been traded. Now Chris Heisey and Yonder Alonso have taken over. Add Ryan Hanigan behind the dish, and you see the makings of a good young lineup.
Key Statistics
Team Payroll: 75.9 million (19th)
Lineup: 13.8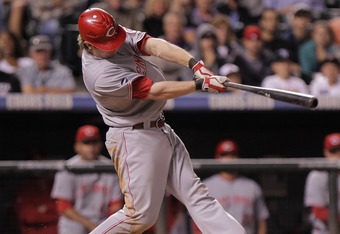 Doug Pensinger/Getty Images
Rotation: 22.0
Bullpen: 12.9
Composite Ranking: 16.2
Analysis Score: plus-2.8 
Lineup
Joey Votto might not be winning the MVP again, but he is every bit as good as he was a year ago. Meanwhile, Jay Bruce may have finally turned the corner and come on the other side as a productive hitter. Also, Brandon Phillips has turned in another solid campaign at second.
The problem for the Reds this season was the injuries and ineffectiveness of Scott Rolen and Jonny Gomes. Jocketty recovered easily from Gomes with the onslaught of Chris Heisey and development of Yonder Alonso.
The key to the Reds' future will be the continued development of Alonso, Drew Stubbs and Paul Janish. If these players can be productive, they will join the big three to form one of the more formidable lineups in the league. If they can't produce, then the Reds will be stuck in the middle of the pack again. Finding a long-term solution at third would also be a good idea.
Rotation
I know some people grow tired of numbers, but they are really helpful when we are dealing with long-held beliefs. For instance, there is a belief around sabermetrics circles that Dusty Baker is murder on a young pitching staff. They say that because they saw what happened to Jason Schmidt and Russ Ortiz in San Francisco, Mark Prior and Kerry Wood in Chicago, and what happened to Edinson Volquez. Yet, it is irresponsible to levy such a claim without doing the research.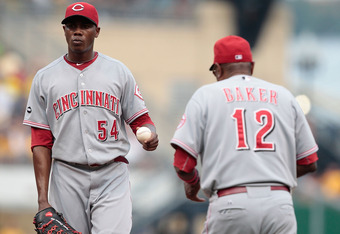 Jared Wickerham/Getty Images
Dusty Baker has stewarded three playoff teams, but he has never made it in back-to-back seasons (the Giants did in 2003, but did so with Felipe Alou at the helm).
Some in baseball loathe pitch counts, but they are still the best indication we have of how taxed a pitcher is. So, below you will see an accounting of the average pitch counts and ERAs for Dusty Baker-coached teams during their playoff campaign and the subsequent two seasons.
| | | | |
| --- | --- | --- | --- |
|   |     PPS   | LG AVG |    ERA     |
| 2002SF |    101.0 |     93.0 |    3.54 |
| 2003SF |      94.0 |     94.0 |    3.73 |
| 2004SF |      98.0 |     95.0 |    4.33 |
| 2003CHC |    104.0 |     94.0 |    3.83 |
| 2004CHC |      99.0 |     94.0 |    3.81  |
| 2005CHC |      98.0 |     95.0 |    4.19 |
| 2010CIN |      98.0 |     96.0 |    4.01    |
| 2010CIN |      97.0 |     96.0 |    4.13 |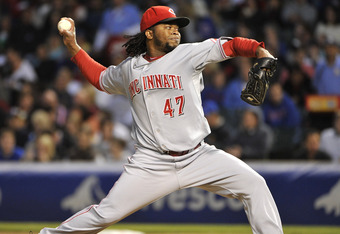 Brian Kersey/Getty Images
While we can't blame Walt Jocketty for overworking the pitchers, we can blame him for keeping around Dusty Baker. At first glance, it would appear as if he is changing his stripes but a quick look at the ERAs will show that the pitchers are being less effective. So, we have to look at the most effective pitchers to see how they are being used. 
Johnny Cueto is No. 1 this season with a 2.35 ERA and 102 pitches per start. He was the best last season as well and also averaged 101 pitches per start. Cueto is only 24 years old, and he has averaged 99 pitches per start in his career (better than the 96 league average). While that may not seem like much, when you average as many as five or more pitches more than the league average, you are pitching the equivalent of two extra starts a season. This is doubly bad for a pitcher at such an early age.
Edinson Volquez looked brilliant in his first full season. He won 17 games and seemed to come out of nowhere. Unfortunately, he averaged 105 pitches per start and went down with injury the next season. He hasn't been the same since.
This kind of work load is fine for a pitcher in his prime, but young pitchers should be protected. I wouldn't let Dusty Baker anywhere near my pitching staff. According to historical trends, 2012 will get worse before it gets better. 
Bullpen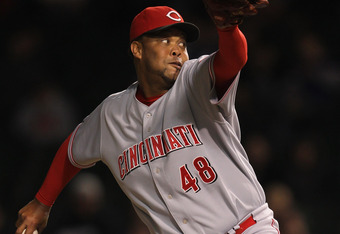 Jonathan Daniel/Getty Images
Sometimes when you are a general manager you get saddled with the mistakes from your predecessor. This was the case when Jocketty came into town and saw Francisco Cordero signed for four years and $46 million. To his credit, Cordero has been about as productive as a closer could be for four years. All closers have periods of shaky performance, but Cordero has been solid overall. The problem is that mid-market teams shouldn't pay closers upwards of $12 million per season.
Jocketty did take a chance on Cuban defector Aroldis Chapman, and that gamble has seen mixed results. Chapman is effective in his role, but he was signed to be either a starter or closer, and he is neither of those right now. He still has three years left on his deal, so the Reds can afford to bring him along slowly. Since Cordero is in the last season of his contract, the future might come as soon as 2012 for Chapman.
Response to Crisis
The real crisis is chewing on the toothpick in the dugout. The Reds once had a promising rotation, and Baker has systematically destroyed it. I'd expect Johnny Cueto to have arm troubles next season. We've already seen some injury concerns with him. Edinson Volquez seems lost, and Mike Leake apparently needs some t-shirts. Bronson Arroyo went from solid to gas can in the span of a year.
At the end of the day, it really isn't fair to heap all of the blame on Baker. His strategy works in the short term. If teams are prepared to use him for two or three seasons, they probably will get a playoff appearance out of him. After that he needs to go back to saying idiotic things on Baseball Tonight.
Analysis Score: plus-2.8 (10th)
Final Analysis
This ranking is pretty appropriate for Jocketty. He rests comfortably in the top half of the GM population, but he won't ever get confused for a Billy Beane or Andrew Friedman. He'd fare better with a better manager, but that is on him at this point. Dusty Baker is like the college coach that gets caught cheating three or four times. After a while you can't claim ignorance anymore.