Triathlon
Ironman 70.3 World Championships 2011: Alexander Wins, Symonds Shakes Up Worlds
"Crowie" after his first-place finish
September 12, 2011
Two familiar faces from Australia took home top honors, but 25-year-old Canadian triathlete Jeff Symonds was the surprise of the day, running his way to a third-place finish in the men's division at the Ironman 70.3 World Championships at Lake Las Vegas in Henderson, Nev., on Sunday.
In the men's division, 38-year-old Craig "Crowie" Alexander of Australia carried the race's fastest running split (71:50) to a first-place finish, pulling ahead of American Chris Lieto, who entered the run with a 4-minute lead on the field, but finished in second place, three minutes behind Alexander.
Symonds, Michael Weiss, and Joe Gambles rounded out the men's top five, all finishing the race within the four-hour mark. Few pre-race observers anticipated anyone breaking the four-hour mark, so it was a very impressive race for the entire men's field.
In the women's field, pre-race favorite Melissa Rollison of Australia pulled off a dominant victory, with a 4:20:55 total that was nearly six minutes ahead of Switzerland's Karin Theurig. Americans Linsey Corbin and Heather Jackson, and Joanna Lawn of New Zealand completed the top five.
Rollison, a relative newcomer to the 70.3 distance, has been a phenom in the division over the past year, winning three 70.3 events prior to Sunday. The former steeplechase runner was 3:30 behind the leader after the bicycle portion, and used the 13.1-mile run to carve out an impressive gap between herself and the rest of the field.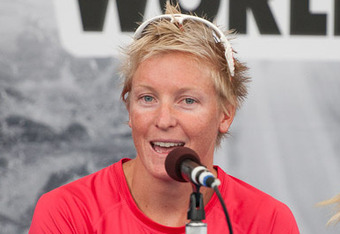 Melissa Rollison in a post-match interview
Exceptional running splits also decided the men's side of the field, in which Alexander gained 7 minutes on Lieto, and Symonds' second-best run split of 1:13:33 allowed him to climb from 10th to third. Fourth place finisher Weiss had the next-best run, completing that leg in 1:14:09.
But the surprise stories of the event were Symonds' success, a wealth of successful Australian performances, and a plethora of drafting penalties and mishaps during the men's bicycle portion, which changed the nature of the event considerably.
After finishing the bike portion in 11th, Symonds continued to gain on the field, much to the surprise of race observers who were unfamiliar with the Penticton, B.C., native. Symonds entered the race ranked 13th among men's professionals, but his age (he turns 26 on Oct. 1) made him the second-youngest male pro in the entire field, obviously lacking the marketing clout of more experienced racers.
That could turn around after this exceptional performance.
Symonds ("rhymes with diamonds," as he said) appeared to even surprise himself. In an Ironman Live interview after the race, he was asked if he expected a podium finish, and he replied "Absolutely not!" He stated that he kept pushing all the way through the end of the run because he couldn't believe that he wasn't going to be overtaken in the final stretch.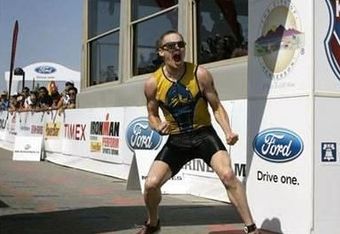 Jeff Symonds crosses the finish line
A clearly elated Symonds let out an enthusiastic scream and struck an excited pose after crossing the finish line, which made it into a post-race highlight video. He then gave a well-received post-race interview, thanking his hometown fans and family, as well as his coach and support staff.
The Canadian seems to have already won the hearts of many race fans, and he considers the result at Worlds a game-changer for his career.
The 2011 Worlds event (the first time the world championship was held outside of Clearwater, Fla., in its history) was considered a success by organizers, who touted the 97-percent finish rate as an exceptional success, and the race was well-organized.
Though the bike portion saw a few penalties and mishaps on the men's side, resulting in the somewhat disappointing finishes of American favorite Andy Potts (11th), and several other top stars being penalized, the run and swim were accomplished successfully, and the estimated 2,000 volunteers ensured a smooth race.
Overall, the new race venue was successful, and a series of strong run performances by Craig Alexander, Melissa Rollison, and Jeff Symonds allowed three professionals to see their stock rise considerably at the 2011 Marines Ironman 70.3 World Championships.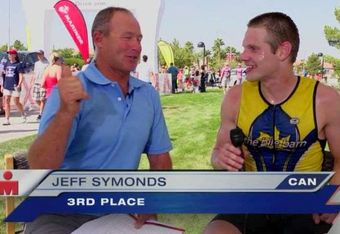 Top 10 men
1. Craig Alexander (Australia) 3:54:48
2. Chris Lieto (USA) 3:58:03
3. Jeff Symonds (Canada) 3:58:42
4. Michael Weiss (Austria) 3:59:11
5. Joe Gambles (Australia) 4:00:00
6. Paul Matthews (Australia) 4:00:26
7. Raynard Tissink (Russia) 4:00:53
8. Tim Berkel (Australia) 4:02:01
9. Luke Bell (Australia) 4:04:03
10. Alessandro Degasperi (Italy) 4:05:09
Top 10 women
1. Melissa Rollison (Australia) 4:20:55
2. Karin Thuerig (Switzerland) 4:26:52
3. Linsey Corbin (USA) 4:29:25
4. Heather Jackson (USA) 4:30:21
5. Joanna Lawn (New Zealand) 4:33:08
6. Leanda Cave (Great Britain) 4:33:57
7. Heather Wurtele (Canada) 4:35:36
8. Emma-Kate Lidbury (Great Britain) 4:36:14
9. Christie Sym (Australia) 4:36:52
10. Michelle Wu (Australia) 4:37:03
Like the new article format? Send us feedback!