Australia Cricket
Australian Cricket: What Mike Hussey Said, Really Meant and Definitely Did Not
Michael Hussey
Hamish Blair/Getty Images
September 11, 2011
Mike Hussey Is Lost For the Right Words
What he said
"I was starting to stiffen up already."
Michael Hussey is not a wordsmith. The veteran Australian batsman describes his relief at being taken off after bagging his third Test wicket snaring Kumara Sangakkara.
Hussey said,
"I think it was disbelief initially. I couldn't believe Michael Clarke was going to give me a bowl, when he said that he did sort of say he wouldn't mind giving me a couple of overs because with a little bit less pace they might be able to chip one out to cover and obviously he was spot on the money. Particularly about the lack of pace and chipping it up to cover."
"I was pretty shocked but obviously it was a very valuable wicket for the team and I'll take it any day of the week because he's obviously one of the of the best players in the world and they had a pretty good partnership going. To be able to break that and then give the guys a chance with the ball reversing a little bit was very fortuitous."
On skipper Michael Clark's decision to give him the ball
"Yeah, well I think there was method to his madness. It wasn't just about let's just give anyone a go, it was about trying to bowl a little bit slower. The pitch was slow and it was a little bit hard to drive and Sangakkara probably showed that throughout his innings."
"It was quite hard to force the ball down the ground, hard to time the ball. Try someone who can take the pace off a little bit more and you never know, he might be able to creat (sic) something and yeah, he was right. He's certainly a thinking captain and yeah, he had the golden hand today."
What Hussey really meant
"I'm not as limber as I used to be."
What Hussey definitely didn't
"I'm Mr. Fantastic."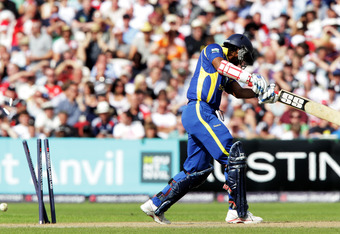 Kumara Sangakkara: Hussey's Third Test scalp
David Rogers/Getty Images
Like the new article format? Send us feedback!