Bellator 49 Results: Luis Santos vs. Dan Hornbuckle
April 6, 2017
Luis "Sapo" Santos vs. Dan Hornbuckle is a quarterfinal matchup that features two up-and-comers who are trying to make a name for themselves in MMA. Dan "The Handler" Hornbuckle (strong name) is a veteran of Bellator, looking to win his first tournament in the welterweight division.
Round 1

Hornbuckle started the round feeling Santos out and the two exchanged leg kicks early on. Hornbuckle threw and missed with a few jabs, but was then able to land a nice left hook.
Hornbuckle, who claims to have a "Black Belt in Intensity," is stalking "Sapo" and turned up the pace late in the round. "Sapo" landed a few leg kicks on "The Handler" at the end of the round. A very close round probably went to Santos. 
Round 2

"The Handler" opened the round by missing with more jabs. Santos landed a few more kicks to the left leg of Hornbuckle and then tried for a double-leg takedown. Santos continued to throw kicks at Hornbuckle's head, but most of them were blocked. Hornbuckle again turned up the pace at the end of the round but Santos was able to block most of his aggression. The round ended in the clinch against the cage. Another close round could have gone either way.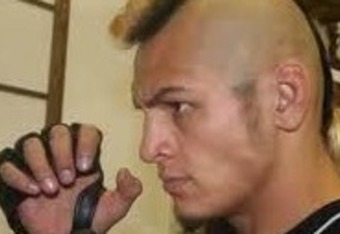 Round 3

Hornbuckle came out aggressive in Round 3, probably thinking he needed to win the round to take the fight. "The Handler" wasn't able to take advantage of an early "Sapo" slip. Santos got on top but was unable to do anything against the rubber guard of Hornbuckle, so the ref stood them up. 
The two exchanged some more punches and kicks, then backed off, much to the displeasure of the crowd. Santos landed a big head kick near the end of the fight that may have sealed the deal for him.
Official result: All three judges—Ricardo Almeida, Jeff Blatnick and Romulo Bittencourt—score the fight for the winner by unanimous decision, and advancing to the tournament semifinals is Luis "Sapo" Santos.
This is a big setback for Hornbuckle, who was hoping to take home the championship in Bellator's fifth season.