Will Longhorns' Equal Revenue Sharing Offer Foil Baylor Roadblock?
September 11, 2011
Brian Bahr/Getty Images
Beware Greeks bearing gifts.
Per Chip Brown of Orangebloods.com, The University of Texas has suddenly had a chance of heart and is now benevolently suggesting that "tier 1" TV revenue in the Big 12 should be shared equally.  This follows ESPN's Thursday's report than the Big 12 member schools who had not waived their rights to sue Texas A&M and the Southeastern Conference might do so if The University of Oklahoma agrees to stay in the Big 12.
Looking at both ideas together, they stink of being UT escape plans.
UT with a guaranteed $15 Million+ coming in from the Longhorn Network, can afford to see their tier 1 payout drop say $5 Million to keep the Big 12 sheep from straying and to offer a more attractive revenue sharing model to replacement schools. 
The other members (all Big 12 "have nots") have predictably agreed to the idea in principle.
The problem is none of the replacements offer as much value as the trio of UT, A&M, and OU.
You have to consider the costs
OU and A&M, the other haves, would likely not enjoy this idea. They don't have their own money machine national network to offset shrinking shares.  This idea would likely make them even more anxious to leave.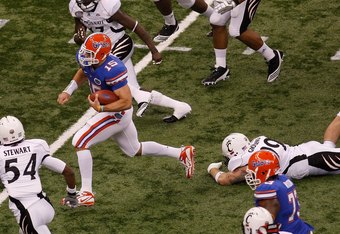 Chris Graythen/Getty Images
UT argues that as a university they cannot afford to concede the Longhorn network because Texas's Aggie Governor Rick Perry has slashed state spending and the LHN replaces some of those funds.
They say UT uses $5 Million of the LHN revenue for academic purposes to cover the shortfall in state funding.
Well...Let's follow that logic.  If UT is feeling those cuts as the most powerful university in the state, isn't it logical that A&M as the state's second most powerful school would feel similar pressures?
Assuming you could keep the Aggies, how exactly does A&M surrendering another $5 Million or so of revenue to the Big 12 work for the Aggies?
This is UT trying to create additional pressure to push the other power schools out the door because as we covered yesterday if A&M is allowed to leave on their own, it creates a precedent in the state for UT to leave on their own next year...or next month...or even next week.
A&M leaving frees up the PAC-12 to poach OU.  (The latest from Orangebloods suggests that the PAC-12 has gone beyond the ambivalence towards expansion that they have mentioned to other media outlets in the wake of the Baylor roadblock to actually telling OU they are not expanding now.  This doesn't seem sincere.  Certainly if they were prepared to offer OU and OSU slots once A&M destabilized the Conference by leaving,  that suggests that if A&M left the offers would reappear...)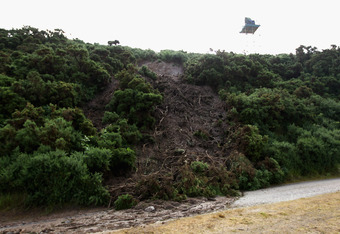 Warren Little/Getty Images
If OU were to get an offer from the PAC-12 and leave, the Big 12 would look unstable and unaffiliated Texans will not take a strong position against UT leaving.  UT's powerful alumni base will definitely be able to intimidate and mute the legislature as UT walks out the door.
The Big 12 have nots --- every school that isn't guaranteed a membership into the two research consortium athletic conferences, the Big 10 or PAC-12  (so Iowa State, Kansas State, Missouri, Kansas, Baylor, and Texas Tech) --- are likely being sold shiny beads with this offer.
This is the wrong moment to push for this goal.
Secure A&M first.  Show the Aggies exactly how they are being UT's pawn and sell A&M on staying to frustrate UT.  Figure out a way to make it worth it to A&M.  It is possible.  It sounds extremely tough, but there are levers to be pulled.  Plus if the have nots maintain the checkmate they probably have a year to sway the Aggies.
Then expand in order to have the votes to out vote UT and control UT athletic director DeLoss Dodd's tactics.
The legislative roadblock of A&M is an elegant temporary solution to ending the erosion of the Big 12.  The have nots should absolutely not concede their right to sue over A&M's departure in any way, shape, or form without a better plan to secure conference cohesion long term.
What might such a plan be? Stay turned for my next Bleacher Report editorial which will present a nuts and bolts plan to save the Big 12 as a top 4 BCS conference starring the current membership.