Green Bay Packers: 5 Key Observations from Thursday's Game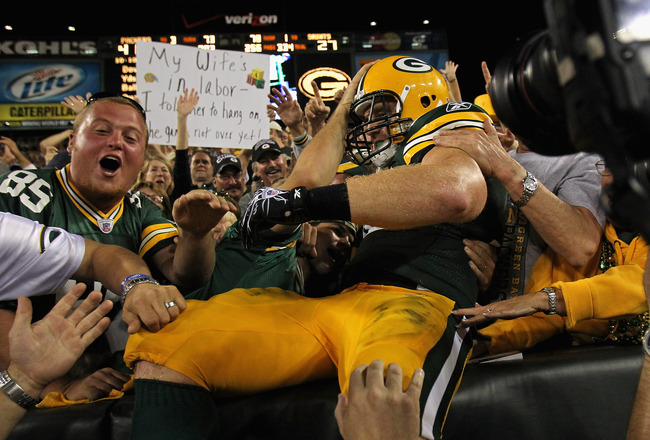 There were plenty of Lambeau leaps on Thursday night in the Packers win over the Saints.
Jonathan Daniel/Getty Images
The Green Bay Packers beat the New Orleans Saints Thursday night in a thriller, 42-34 at Lambeau Field.
This was the perfect way to start the NFL season. The game featured high-scoring, big plays and it came down to the last second.
Here are five key observations from the Packers win over the Saints last Thursday.
1. Aaron Rodgers Was Cool, Calm, and Confident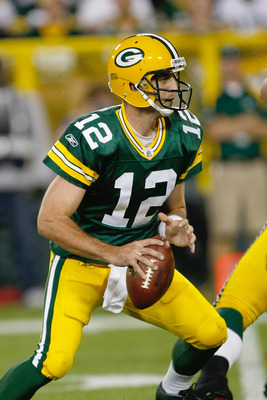 Aaron Rodgers was just about perfect in Thursday's game.
Scott Boehm/Getty Images
Aaron Rodgers looked relaxed in the pocket more than ever in Thursday's win and didn't suffer from the dreaded Super Bowl hangover.
Rodgers threw three touchdowns in the first quarter, and we all thought he could have had 12 by the end of the game.
Rodgers was 27-for-35 for 312 yards and three touchdowns. No interceptions were thrown either. His quarterback rating was an astounding 132.1.
Rodgers hit nine different receivers in action as well. His best throw was when he hit Randall Cobb, who ran the wrong route, then saw him open and hit the rookie, who caught it and ran it in for a touchdown.
Rodgers looked as calm, cool and confident as ever in Week 1.
2. Randall Cobb Lived Up to the Hype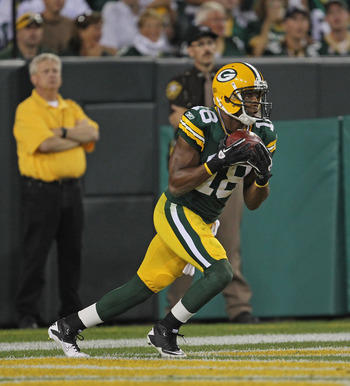 Randall Cobb was spectacular.
Jonathan Daniel/Getty Images
Randall Cobb is the first player born in the 1990s to play in the NFL, and he lived up to the hype. How Cobb fell to Packers in the second round we won't know, but Ted Thompson sure knows how to draft talent.
Cobb had two catches for 35 yards and a touchdown, as well as an NFL-record 108-yard kick return for a touchdown.
Cobb wasn't even supposed to return the kick, but he brought it out with his speed, almost fell, barrel rolled a defender and then did not look back for a moment before he was in the end zone.
3. Morgan Burnett looked great after missing most of last season.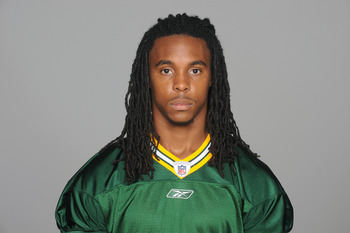 Morgan Burnett led the team in tackles in their 42-34 win over the Saints.
Handout/Getty Images
After missing 12 regular season games and the postseason, Morgan Burnett is starting again for the Packers.
Burnett made his mark on the game Thursday night against the Saints. He led the Packers in tackles with 14 total. Seven were solo tackles.
His best play was when he and Clay Matthews stopped Mark Ingram at the goal line to win the game.
4. The Defense Looked Shaky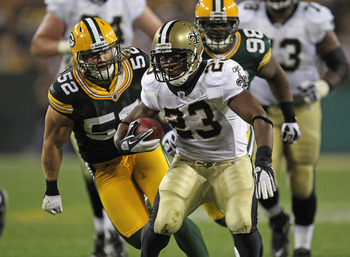 The Packers defense gave up 34 points and 477 total yards to the Saints.
Jonathan Daniel/Getty Images
Dom Capers is going to have some work to do, as the Saints had 477 yards of total offense.
Drew Brees picked apart the Packers defense, going 32-for-49 for 419 yards and three touchdowns. Brees had a 112.5 quarterback rating.
Plus, starting cornerback Tramon Williams, who has a bruised shoulder, will likely miss next week against Carolina. Charles Woodson and Sam Shields should be able to pick up the slack in Williams absence.
Desmond Bishop continues to make Packer fans forget about Nick Barnett. Bishop had 12 total tackles, eight of which were solo.
The defensive line got a little pressure on Brees, but not much. They had just one sack, where the rest came from linebackers A.J. Hawk, Erik Walden and cornerback Jarrett Bush.
Missing Cullen Jenkins is big, but if the Packers can get back Mike Neal soon, it will help.
Perhaps the biggest mistake was when the Packers got called for pass interference and then the ball was placed at the 1-yard line. It appeared Hawk just swatted the ball and didn't touch him. Luckily, Burnett and Matthews tackled Ingram before he could get into the end zone.
Clay Matthews had a decent game, only recording four tackles with no sacks.
5. James Starks Outperforms Ryan Grant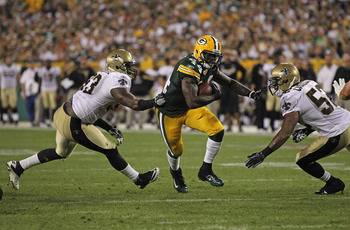 James Starks was the better running back on Thursday night.
Jonathan Daniel/Getty Images
James Starks was better than Ryan Grant, even though Grant started the game.
Starks looks bigger and stronger, and it made a difference. He had 12 carries for 57 yards and a touchdown. Grant had nine carries for 40 yards.
Is there a running back controversy? It appears so. It's up to Mike McCarthy now.
Keep Reading

Green Bay Packers: Like this team?