Dalton or McCoy: Which Young Quarterback Will Reach the Playoffs First?
September 10, 2011
Handout/Getty Images
The AFC North is the home to two highly touted young quarterbacks that both have the reins of their teams and both trying to accomplish the same goals.
Outside of winning a Super Bowl, the first step is to make the playoffs, something that Cincinnati and Cleveland are both trying to accomplish.
Both young quarterbacks are on teams that have been "rebuilding" for some time now and despite Cincinnati's 2005 and 2009 appearance, the playoffs have been something they usually have watched on television.
For the Browns, the last time they made the playoffs was nearly a decade ago where they lost to the Pittsburgh Steelers.
Since then, both teams have been stuck in neutral and have seen countless changes in personnel and philosophies which all have led to the same ending.
Now, there is hope that two young quarterbacks, Andy Dalton and Colt McCoy, can lead there teams back into NFL relevancy and into the forgotten art of winning.
Looking at the offense only, here is a review of both quarterbacks and teams.
With Dalton, there is still a lot to be proven as he is fresh from college and only has the preseason's games under his belt.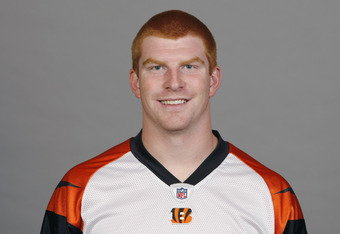 Handout/Getty Images
Dalton is a sizable passer, standing at 6'3" and weighing in at 225 pounds.
What Dalton is thought of as a smart quarterback, who isn't the most mobile of passers, but can avoid the rush and make a majority of the throws he attempts.
Dalton had won 42 games for his college team, TCU, and also compiled an impressive 66 percent completion rating in his final year there. 
Dalton is now the Bengals' quarterback and has very capable receivers at his disposal and a ground game that can support him when throwing is challenging.
Taking a trip to Cleveland is where you meet Colt McCoy.
Unlike Dalton, McCoy has had NFL experience as he had started the latter half of the season for the Browns.
McCoy threw for close to 1,600 yards in eight games for the Browns and held a passer rating of around 75.
McCoy does not have the arm strength that of Dalton's but he is just as, if not more accurate than Dalton.  McCoy hasn't had the ability to step into a winning situation last year, and if not for the running of Peyton Hillis, might have had a worse outing than he did.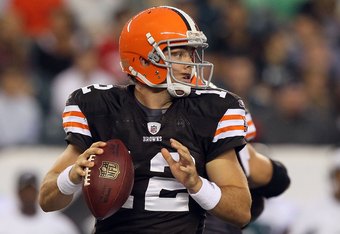 Jim McIsaac/Getty Images
McCoy spent his time during the lockout consulting with NFL legend Brett Favre and learned how to manage the game in the West Coast Offense and in the preseason of 2011 it seemed that it paid great dividends as McCoy has looked very impressive thus far.
McCoy's greatest ability is the accuracy of his throws and his mental approach to the game.  With the Cleveland Browns' continued search for a reliable No. 1 receiver, that should help him avoid costly mistakes.
Outside of the abilities of Dalton and McCoy are the variables that will ultimately answer this question and that is which team has the supporting cast in place to get to the playoffs.
At the current time, the odds are that it would be the Cleveland Browns.
The Browns have a younger running back in Peyton Hillis, and Hillis has shown that he can be a dominant factor for years to come. 
Although Cincinnati's Cedric Benson is a formidable back, he has more tread on the tires, and for a running back approaching 30, that is when teams start looking for younger talent.
Both teams have capable receivers, and both teams have young players at the position.  At this point I would have to say, until we see which team's receivers will establish themselves, they are even.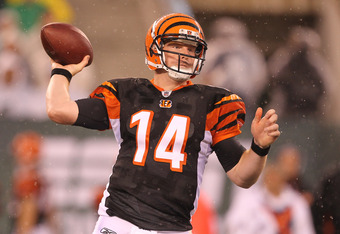 Al Bello/Getty Images
The edge to the Browns goes to the tight end tandem of Watson and Moore as they are far superior to Cincinnati's Gresham and Cochart.  This is where you start to see the Browns pull away.
Overall, I think that both of these young quarterbacks will help re-establish the identity of the AFC North and reshape how the division is viewed.
Andy Dalton has the ability to become a great NFL quarterback, as does McCoy, but right now they are running on even ground until someone starts to make their case.
Who will reach the playoffs first remains to be seen, however, if I had to choose, I would choose McCoy.
The Browns are in a better position as a team to reach the playoffs first, but in the NFL nothing is certain.
What I do know is that Dalton versus McCoy will be a great rivalry to watch for some time to come.