BJ Penn Versus Nick Diaz: Will This Be Penn's Last Fight?
September 16, 2011
After BJ Penn's second straight loss to Frankie Edgar at UFC 118, retirement was on the mind of "The Prodigy" during his flight home to Hawaii.
"I was flying home [after UFC 118], and I was kind of like, 'Maybe I don't want to do this anymore; I don't know what's wrong. If I'm going to go out there and perform like that, maybe this isn't something worth doing,'" Penn told MMAJunkie.
Re-framing his mindset, Penn remained motivated to compete in the UFC and moved up in weight class to battle long-time nemesis Matt Hughes in the welterweight division.
Knocking out the hall-of-fame Hughes in just 21 seconds of Round 1, Penn resurrected his career within the 170-pound division and sent a lightning bolt of determination through his own veins.
Once again driven to be the best in the world at 170 pounds, Penn was disappointed when he fought Jon Fitch to a majority draw at UFC 127.
Non-committal regarding his future within the division during the post-fight press conference after his bout with Fitch, Penn is now slated to challenge the enigmatic Nick Diaz at UFC 137.
Motivation for "The Prodigy" has been an Achilles heel for the two-division champion in the past. When Penn is driven, focused, and on top of his game, "The Prodigy" is lethal inside the Octagon.
However, when Penn is beleaguered, distracted, or without purpose, "The Prodigy" arrives at fight time out of shape, without passion, and as a shell of his former championship self.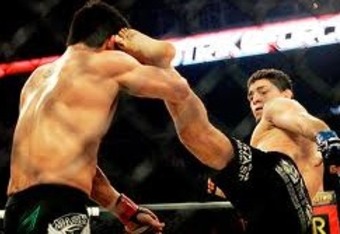 Fast forward to October 29 when Penn faces Diaz for the UFC welterweight eliminator.
Understanding the spoils provided to the victor, "The Prodigy" will challenge Diaz with the heart and soul of his former championship self.
Throughout the years, one constant has remained with respect to BJ Penn's personality. And that constant is that he wants to be the best; his ego perpetuates that intention, permeating into his psyche. 
With a victory over Diaz, Penn will be in line to challenge the victor of Carlos Condit and Georges St-Pierre in their championship bout on the same evening as Penn's fight with Diaz.
Assuming that GSP retains the belt, Penn will be awarded the opportunity to compete for the title in their trilogy match-up.
Driven by ego and a desire to be the best, a victory over Diaz will serve as the catalyst for Penn to make one more run at the championship and once again claim welterweight gold.
Is the match-up with Diaz Penn's last fight under the UFC banner? Absolutely not.
I welcome your comments.
You can "Like" Todd Seyler on Facebook and Follow me on Twitter