Fantasy Football: Derrick Ward a Good Addition in Light of Arian Foster Injury
September 9, 2011
Al Bello/Getty Images
If you are one of the many Arian Foster owners watching the news about your stud running back's hamstring; or if you are an owner that needs a back for your roster that will provide something to your lineup, Derrick Ward may be your answer.
With the uncertainty of Foster's status coming out of the Texans camp, the worst case scenario is that he misses the first week or, minimally, sees limited action against the Colts Sunday.
Despite the earlier threads from around the web advising us about Foster's frolicks, the reality is the Texans may be without their workhorse come Sunday.
The concerning issue here for Foster owners is, who do you use to fill his shoes, and for the owner that is looking for a RB 3 or Flex option, who is out there that will give the most bang for the buck.
Derrick Ward is that option.
There are two intriguing things that make this forgotten player a very valuable addition in light of the Arian Foster drama.
Derrick Ward is a capable back, worthy of starting elsewhere, but stuck behind a phenom in Houston.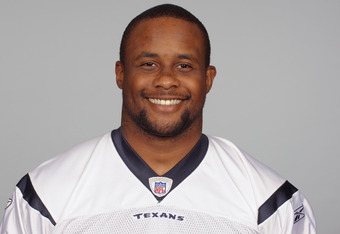 Handout/Getty Images
Ward averaged a little over six yards per carry last season in his 50 attempts for the Texans and would have seen more provided Foster wasn't as effective as he was.
Ward is a former 1,000 yard rusher that has the ability to step in and make an impact for the Houston running game, and if Foster is held back for welfare or is sidelined due to his injury, Ward will easily step in to handle the workload.
Facing an Indianapolis team that has one of the worst run defenses in the NFL Ward should have plenty of opportunities to showcase his ability to pound the ball for considerable yardage.
Running against a Colts defense that has consistently yielded the most points to fantasy running backs, the Texans will not be shy about feeding the ball to Ward.
Ward may see at least 15 carries and upwards from that number if he rushes as well as expected against the Colts.
Don't expect Ward to give you those long haul bonus runs of over 40 yards like Foster, but he isn't a longshot as the Colts defense is that porous.
Ward's presence will also keep the Texans from relying too much on Andre Johnson and Owen Daniels which will allow them to have their respective fantasy outing as well since the Colts will have to respect the ground game.
In the event that Foster's hamstring is going to effect him for several weeks, Ward is a perfect pick up for your team and is expendable once Foster returns.
There is absolutely no risk in his acquisition and at this point, you'd be smart to claim him now until you know for certain where Foster's status will end up.
Derrick Ward is zero risk and all reward, get him now before another owner steals him from you!