Detroit Lions: Is Jahvid Best a Legitimate Featured Back?
September 8, 2011
Gregory Shamus/Getty Images
With high expectations accompanying the Lions as they enter the 2011 NFL season, Detroit is faced will a real possibility of another season with limited run production.
The concern is based around running back Jahvid Best, as there are more concerns regarding his health and durability when he is set to return to action.
Best suffered a concussion in a preseason game against the Cleveland Browns, but is expected to play the season opener against the Tampa Bay Buccaneers.
Although he is scheduled to start, there are still some concerns surrounding Best as this is the second concussion he has suffered in his time as a football player.
Best's first concussion came when playing for his college team California in 2009, which ended his collegiate career.
Concussions in professional sports have had a trend in limiting players' abilities and sometimes leading to the downfall of a professional career.
Although different sports demand different aspects of play, one thing remains consistent and that is contact.
For example, two very notable athletes in the NHL, Eric Lindros and Scott Stevens, both saw their careers end due to the effects of concussions.
An NFL player who comes to mind is Jamal Lewis. 
Lewis played on a Cleveland Browns team with current Lions running back Jerome Harrison.  Harrison knows all too well the effects and the difficulties that accompany concussions, as he saw first hand what could happen.
Another NFL player, former New York Jet's receiver Wayne Chrebet, is another example of a career effected by concussions.
It isn't to say that just because a player suffers a concussion his career will be over, but it is safe to say that it will affect it.
Another concern with Best is his turf toe injuries that have limited him to only showing a brief flash of his full ability for the Lions.
The fact that Best did appear in all of the Lions' games last year is promising, but despite battling through these injuries his production was average at best.
The Lions had the foresight to draft Mikel LeShoure, but an ACL injury has helped create another season of rushing woes for Detroit.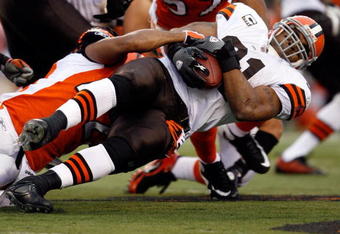 Andy Lyons/Getty Images
The addition of Jerome Harrison and Keiland Williams helps the Lions in depth at the position, and it seems that Maurice Morris is healthy enough to play, but despite all of this it still leaves the team without a premiere back in the event that Best is felled.
Only time will tell if rookie draft pick LeShoure will become the back that the Lions hope he will be, or if he will become another victim of the paradox in Detroit.
I certainly wish Best well, but fear that if he has another mediocre year as the featured back in Detroit, the team may be forced to look at other options as they wait for LeShoure to work his way into the playbooks.
The saving grace for Best is the fact that the Lions are a pass-happy team, which will help lighten the load of expectations on his shoulders.
The unfortunate thing is that the Lions have not had a secure running attack since Barry Sanders roamed the field, and the way things are shaping up, it seems that it will remain that way.
If Best cannot be relied upon to carry the ball over 200 times in a year, and if he struggles to produce, it may be cause for the Lions to review their intentions for Best.
This team is set to succeed and is attempting to move toward winning seasons, but given the current state of the ground game, having a featured back who is durable is something that Detroit will have to seriously consider if they plan on taking the next step.