MMA Interview: Paul Daley on Radev, UKMMA, BAMMA, Marquardt, Zuffa, Dana and Kos
September 8, 2011
Breaking News: Simply become a fan of the BAMMA Facebook fanpage and catch the BAMMA 7 prelims and main card for free this Saturday, 10th September
Today I was afforded the chance to catch up with one of MMA's most candid and charismatic characters, Paul Daley, to discuss a miscellany of topics, ranging from the UK MMA landscape to his current relationship with Zuffa. "Semtex" pulled no punches in detailing his typically frank opinions, rendering him one of the most direct interviewees I've ever conversed with.
JS: Afternoon Paul, cheers for speaking today….In terms of your wrestling, most people observed that there has been a marked improvement during the time between fighting Koscheck and Woodley. This must instil a lot of confidence heading into a bout against a decorated wrestler like Radev?
PD: Yes, definitely," Daley recently told BleacherReport.com. "I think it's styles as well, there are different styles of wrestling, and I believe Radev's wrestling is slightly easier to deal with than a Koscheck or a Woodley's. There are differences between freestyle wrestling, and American collegiate wrestling, with distinct entrances to the shots, different tie-ups up top. However, Radev presents a lot of different problems in that he possesses heavy hands and appears much more willing to trade in order to set his shots up. Koscheck and Woodley were both making their shots off the back foot, because they were scared to trade, whereas I think Radev will punch his way into a clinch or a shot.
JS: Ok, as you continue to improve your defensive wrestling, is it likely we'll see you begin to incorporate some of your own offensive wrestling into your game?
PD: I have offensive wrestling, but I only employ it when necessary. I never enter the cage with the intention of wrestling someone, no matter who it is. Striking will always be what I attempt to perform first. I have utilised wrestling in previous fights, for example I took Jorge Masvidal down to the mat, and the same with John Alessio, even in the first round. So, there are fights when I've shot in and completed a double-leg takedown, against Ross Mason and Sol Gilbert to name but a couple, but it's just not my bread and butter. I'll always come out to stand and trade.
JS: Ultimately, does the buzz of delivering a KO outweigh any other aspect of the MMA game for you?
PD: For me, striking is more interesting. Wrestling is a great sport which requires a lot of strength and power, and there can be some beauty to it, but for me personally, I believe striking and BJJ, would you believe, has a lot more art to it. I know if you look deep into wrestling, you'll see throw-behinds and arm-drags, and there are plenty of technicalities, but I just believe the artform of striking and BJJ is just more aesthetically pleasing to the casual viewer.
JS: Absolutely. Ok, how come you've never followed the Dan Hardy path of relocating to the US to train?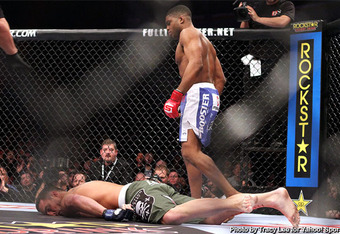 PD: No, I don't see the benefit of training in the US. There are a bunch of fighters I've beaten that have lived and trained permanently in the US, and conversely, there are a bunch of guys I've lost to that have never trained in the US. I don't think the US is the hub it used to be back in the day when I went over to American Top Team. I'm just happy to train where I can ensure the best sparring and instruction, and also where I feel the most comfortable. And for me, that isn't in the US right now. Though, I do fly my American wrestling coach over to the UK because I'd much prefer to hold my training camps over here.
JS: Ok, I recently spoke to Tom Watson and he alluded to the better quality of training that one can progressively find in the UK. Aside from your own comfortableness and convenience, does the increasing calibre of training partners warrant remaining here?
PD: I think the overall standard is constantly improving in the UK so there are great guys to train with. Generally, the calibre is certainly improving in the UK, but that's not the main cause for me basing myself here. Sometimes, I'll fly guys over here to train, and I do travel to get different looks, but not necessarily to the US. I often point out to my fellow British fighters that America isn't the hub it used to be. There's great training to be found in the UK, Europe and elsewhere.
JS: Ok, as a British MMA fan, that's encouraging to hear. I've heard you claim in the past that it's a bad idea to step inside the cage with you. Is it an even worse proposition for Radev in light of his 15-month layoff?
PD: Each fighter is an individual. He's trained in Holland and his mentality will be pretty much the same as mine. He's a fighter's fighter who loves to fight. He's going to come out and bring it. 15 months layoff or not, he's a born fighter. Let me put it this way, if you're walking down the street and some guy starts trying to touch up your girlfriend, you aren't going to think to yourself, well I can't smash this guy up because I haven't trained for 15 months. You know, a fight's a fight. That's the mentality I convey to my fans, and it fuels the way I fight. That's why I admire guys like Nick Diaz, Chris Lytle and Dan Henderson, who just get in there and willing to mix it up. For me that's the most entertaining aspect of the sport, and it's why the fans particularly love to see these kind of fighters perform.
JS: Obviously, we've heard British fighters complain before when wrestlers have just stifled them inside the cage to eke out a marginal victory. Will you begrudge Radev if he inflicts this style on you come Saturday night?
PD: Well. I've lost to wrestlers before. I'm always out there to fight. To me, wrestling is more of a transitional tool than a fighting technique. There are no real finishes in wrestling, like there are in striking and BJJ. If somebody wants to defeat me via a transitional tool, then that's their prerogative, but I guarantee I'll have more people asking for my autograph as I leave the arena for the flying knees, spinning elbows or headkicks that I've showcased. I'm an entertaining fighter, that's what I do. I'm not a transitional fighter that turns up to score points. I turn up to knock motherf*ckers out, and that's what I'll do this weekend.
JS: Sounds ominous for Radev. Ok, in terms of your career since leaving the UFC, you have successively fought a spate of top-quality fighters, and that trend doesn't appear to be relenting towards the end of 2011, with Radev, Fioravanti, and potentially Nate Marquardt lined up. Are you someone who exemplifies that there is life outside the UFC for MMA fighters?
PD: There always has been, and guys before me have proven this. People just buy into the UFC spin. Guys like Jeremy Horn who has had over 100 fights, guys like Travis Fulton who has had over 250 fights, guys like Jeff Monson, Ricco Rodriguez and Andrei Arlovski all still competing outside of the UFC. It's a myth that there's no life outside of the UFC. Don't get me wrong, the UFC title is like the WBC title of MMA, but when Muhammad Ali or Ricky Hatton lose that title, they don't just necessarily hang up their gloves. They continue to fight and earn their money, because it's the sport that funds and drives them, not the UFC, and not Zuffa. And that's what these budding MMA fighters must remember, the UFC doesn't encapsulate all of MMA, and there are opportunities out there to make money in the sport outside of it. I'm a good example.
JS: Ok, and given the quality of opponent against whom you're competing in BAMMA, do you think it will arrive to a point where holding the BAMMA title is even more highly-respected within the world of MMA?
PD: It's nice to have belts in the trophy cabinet, but for me the significance lies in fighting top competition. That needs to be the driving force behind the sport, just putting on good fights. And due to the competition from MMA, the boxers are realising this. At the end of the day, fight fans love to watch good fights, irrespective of what title is on the line. Everyone loved the Micky Ward vs Arturro Gatti fights, those kind of wars that people remember for years and that go down in history. Who really enjoyed the Audley Harrison vs David Haye debacle? Or seeing Klitschko jab David Haye to death? No, they remembered the epic fights. It's not the titles that are on the line, it's the two people in there putting it on the line.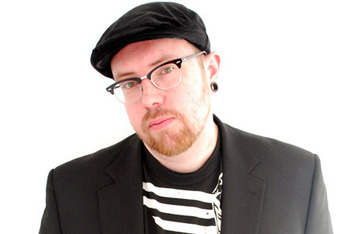 JS: Ok, but what are your thoughts generally on fighting for BAMMA?
PD: BAMMA is a great promotion doing great things, and it is growing to the stage where it's receiving enough coverage in the press and TV that it is going to be widely recognised. Most people in the UK will soon be aware of the promotion, and it'll become a household name. For the up-and-coming UK fighters, or for foreign fighters that are looking for good money, exposure and competition, then BAMMA can provide that. My managers mainly deal with Head of Business Development Liam Fisher, who is evidently doing a great job with BAMMA, and is a cool, approachable guy, like all the employees that represent the promotion.
JS: Great. Ok, it was predicted that it could get a bit heated between yourself and Nate Marquardt at today's press conference. How's the situation there?
PD: Yeah, he's right next to me. We haven't really said anything much to each other, but the press conference is about to commence so we shall see what happens. There was no issue really with Nate. I just stated that I didn't agree with his use of banned substances, which he attributed to a testosterone deficiency, but he has previously been caught out with PEDs. He's obviously using TRT as a performance enhancer, so he just should own up to it, admit it, and then move on.
JS: Ok, as you have alluded to, BAMMA does have the ability to attract top talent from around the globe. Given this, are there any other welterweights in particular that you have an issue with, or that you would like to fight?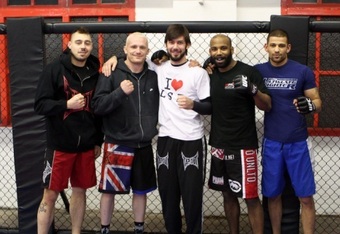 PD: Not particularly. I just fight to fight the top guys. I'll always fight the toughest guys, and most matchmakers will attest to this. Generally, when I get offered fights, I'll be given a list of guys' names, and I'll pick the toughest of the bunch. I don't go for the one with the highest profile, or the one that appears the easiest adversary on paper, I'll simply pick the toughest, irrespective of whether they're established or rising through the ranks.
JS: That's a refreshing mentality these days. I caught an interview with you earlier during the week in which you allude to your current frequency of fighting. There's the distinctive stat that since your fight with Koscheck, he has fought once, whereas this will be your seventh visit to the cage. Can you earn as much money fighting regularly outside the UFC as fighting 3 times annually in the UFC?
PD: Yes possibly, or maybe even more. It depends on the promotion, it depends on your sponsors and how loyal they are, and the budget they're willing to dedicate to you, which is usually relative to the amount of publicity a fight can garner. It depends, I've received purses that are less than I could earn fighting for the UFC, and I've received purses that match or exceed what I could earn fighting for the UFC.
JS: Ok, you've stated on numerous occasions you love fighting in front of your beloved UK fans. It must also be great to be fighting alongside your Team Rough House boys this weekend, including Andre Winner, Jimmy Wallhead and Dean Amasinger?
PD: Absolutely. We haven't fought together on the same show for a long time. I'm particularly happy for Jimmy. He's someone that helps us all out getting prepared during camps, whilst not receiving as much exposure himself, so it's nice that Jimmy is the main event on the card. When I accepted this fight, I was adamant that Jimmy's bout with Trigg remains as the main event. Jimmy deserves a lot of credit for his role in helping other fighters get ready for their matchups, and he's a tough guy who doesn't get enough recognition. It's going to be a Team Rough House clean sweep, just like the old days when we were all on the rise within MMA.
JS: Good man. I recently interviewed Rob "C-4" Sinclair, BAMMA lightweight champion who is taking on Leonardo Santos at BAMMA 7. He spoke in length about his admiration for you, and that he in fact based his nickname on yours, with "C-4" being another type of plastic explosive. That must be flattering? 
PD: Oh yes. I actually read that on his pre-BAMMA 7 blog, and I was surprised and happy to hear that, especially from a talented fighter like Rob. It's nice to hear anything positive about yourself in the press, especially when it comes from another athlete. It's really a testament to my team. And best of luck to Rob on Saturday.
JS: You must be proud to be one of the original pioneers and current spearheads of UK MMA? That's something that people will remember forever.
PD: Yes, it is something that I do think about, and I think it'll be strange that people will look back upon my fights in a decade's time and view them as classics, but it's really cool, and I do appreciate and understand my responsibility of trying to advance MMA within this country.
JS: Ok, I'm curious as to why you aren't on Twitter? You'd be great on there
PD: Ah, I don't do Twitter, I just stick to Facebook. It has more content, and a billion users, and it has just hit China so it could be the way forward. If it ever dries up, I'll move across to Twitter. A lot of people say it'd be a great tool for me, and that I'd get a lot of followers, and I will eventually make an official Twitter account, and I'll inform everybody at the time on Semtex TV (http://semtex.tv/). It's not my PR man advising me against it in case I put my foot in it, it's purely out of choice.
JS: Ok, cool. What's your current situation with Strikeforce, Zuffa and Dana White?
PD: Well, my Strikeforce contract has just been renewed til January 2013. I'm actually signed to "Forza", which is a subsidiary of Zuffa. I'm in the family somewhere along the line.
JS: And how come you've managed to secure a non-exclusive contract with Strikeforce?
PD: I don't think there'll be any more non-exclusive contracts being signed with Strikeforce from now on. Obviously, I signed with Strikeforce before the Zuffa buyout, and they have to uphold all contracts. I got lucky, and it will now stand right up to 2013. It's nice to know that I'm still signed to the organisation, even though they can kick me out at any time they want, so it is a little precarious.
JS: Does this also infer that Dana White is more tolerant towards you now?
PD: I don't know to be honest. I don't speak to Dana. I think Lorenzo Fertitta likes me. He always makes time for me, and he's a cool guy. I think Lorenzo plays a significant role in mediating between Dana and a lot of the guys within the organisation, including Overeem. I always hear good things about Lorenzo across the board, including from my fellow fighters, whereas you're more likely to hear a few negative remarks about Dana. There's an element of good cop-bad cop in terms of the role that they both play.
JS: You and Dana are evidently both headstrong characters, so do you think a clash was inevitable at some juncture? It's almost ironic that the trait which initially appealed to Dana, your aggression, ultimately lead to you butting heads.
PD: I don't think so necessarily. Even before the Koscheck incident, Dana had hinted that he didn't like my attitude. The thing with Dana is that he's such a fight-fan, and he always appreciates a good fight, regardless of who takes part in it. I think his love for fighting has almost merged into his character. Personally, I don't think that he's much of a fighter really, but he does love watching a good fight.
JS: Do you think that your "bad boy" outward public image has been overhyped? Are there times you have used it to your advantage? Do you sometimes thrive on it?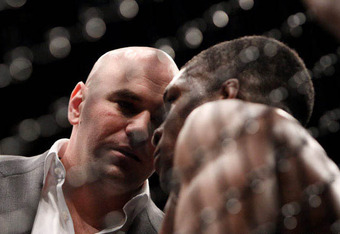 PD: Yeah, I do think a lot of it is overhyped. I'm very direct, and certain people construe my honesty in different ways. I say what I feel, and I speak the truth as I see it. You can either interpret my words on face value, or twist them into something else. Some people like me for it, others don't, like "Marmite" I guess. Sometimes I may use it to my advantage. I like to hype things up at a weigh-in. But generally, it's just the way I am. I think things can sound different in the written and spoken word. People may read this interview, and feel that half the interview is too blunt, but if people heard me then they'd probably interpret me differently. A lot of the interviews written about me sound bad, but in recorded interviews I tend to convey myself well. 
JS: Ok, to end on a question which you must get asked during virtually every single interview. I'm sure you've already guessed it. With the benefit of hindsight do you feel any regret at all for Koscheck incident? Cantona said he didn't regret hitting Simmons. Obviously, you possess one punch KO power, so were you not punching to KO him?
PD: haha, yeah I guessed it. Everything happens for a reason, and I'm happy to be where I'm at now. And maybe my UFC career would have imploded in some other way had I stayed there. Even though it wasn't planned, my departure turned out pretty well for me, as it made me quite infamous with the US fans. Overall, I'm happy with my short-lived UFC run. I went in there, I blasted out two guys, lost a boring fight, but made it exciting in the end, so I left how I entered.
JS: It kind of reminds me a little of the Eric Cantona controversy, when he Kung-Fu kicked the fan. To this day, he claims he doesn't regret the incident. Now, you're a man renowned for one-punch KO power, so…
PD: Oh, am I upset I didn't knock him out. Mike Passenier and Melvin Manhoef both rang me after the fight and said "What you doing, you idiot? You're out of the UFC. Paul you're embarrassing, you're supposed to be my understudy, and you didn't knock him out." They were Melvin's words and I just laughed. It's not something I really consider. I don't wish I had knocked him out with the punch after the bell, it was dumb. The punch landed how it was supposed to land, and it's all over now so it's all good.
JS: Ok cool, cheers for your time today.
PD: No worries dude.
Follow me on Twitter @jonathanshrager