San Francisco Giants: Orlando Cabrera Should Not Be Playing
September 8, 2011
Christian Petersen/Getty Images
San Francisco Giants manager Bruce Bochy knows more about baseball than I ever could in several lifetimes. "Boch" gave us our first World Series championship that many of us thought we'd never see and sadly, many Giants fans didn't. He gets a free pass for just about everything, just about forever from me, but I cannot understand the logic behind Orlando Cabrera.
The Giants traded for Cabrera supposedly to be this year's Edgar Renteria. He is a veteran, he has played in the postseason seemingly every year since his birth and he would anchor the middle of the infield.

These were my thoughts as soon as I heard about the trade. Do I like Brandon Crawford? Yes, but I could understand why the team would want to put a seasoned veteran out there every day in a pennant drive. I figured that Crawford could benefit from some AAA time. 
I also assumed that Cabrera and Crawford were basically a wash offensively and that while Crawford made the spectacular plays at shortstop, he had made several errors on routine, thinking type of plays. With the lack of scoring, coupled with the stellar pitching, the Giants needed steady defense, especially up the middle and I guessed that they were banking on Cabrera being more consistent, under pressure than Crawford; understandable.
Then we all started watching Cabrera play. The only thing that has been consistent with him on routine plays is that he routinely boots easy plays. Since joining the Giants, Cabrera has had 128 chances at shortstop and has made four errors for a .969 fielding percentage. That doesn't tell the whole story, though.
I can think of no fewer than three plays where Cabrera took throws from right field on doubles where the runner was either out or the play was very close except that Cabrera simply dropped the throw. I also remember at least three plays where Cabrera dropped throws from the catcher on steal attempts on close plays—simply dropped!
Brandon Crawford had 196 chances at shortstop with seven errors for a .964 fielding percentage. On its face, you may look at this and think that I am crazy to try to make a case for Crawford to be playing over Cabrera. If their batting stats are a wash and their fielding stats are a wash, then why not play the veteran? On the surface, you would be right, but going just a little bit below the surface shows why Crawford should be playing.
Brandon Crawford did indeed make some poor throws when he first came up, particularly when turning a double play. He was dipping too low in order to force the runner to slide and throwing more sidearm than he usually does, causing the ball to tail down the first base line toward home plate. He worked on it, fixed it and stopped making those throws.
Cabrera has slowed and clearly does not have the range that Crawford has. I'm not suggesting that some of Crawford's errors are because he got to balls that Cabrera wouldn't get to.

I am suggesting, for example, that late in a game when the team needs a ball at the very least knocked down to save a run, Crawford has a much better chance of doing that than Cabrera.  Crawford most likely catches the little, soft popups to short that have inexplicably proven to be a bit difficult for Cabrera.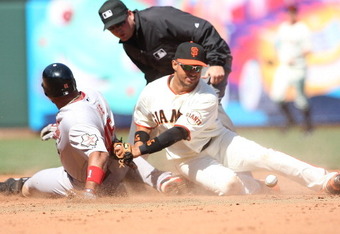 Tony Medina/Getty Images
With the Giants, Cabrera is hitting .223 with an on base percentage of .239 and a slugging percentage of .252 in 109 plate appearances. He has walked three times and struck out 13 times. When you are slugging, batting and getting on base at about the same rate and that rate is in the low to mid .200s, it's not very good.
Brandon Crawford is hitting .192 with an on base percentage of .276 while slugging .263 in 175 plate appearances. He has walked 18 times and struck out 25 times. Again, as was the case with the defensive numbers, the batting numbers are pretty similar.
Comparing these numbers seems so ridiculous because the numbers are so bad. When you find yourself, as an organization with these as your two options and it is quickly becoming the middle of September and your team is still seven games back and the team that you are chasing simply will not lose, I think you have to play the guy who represents the possible future at the position for your team.
I appreciate Bochy's preference for the veterans, and as I said, he gets a pass on most things from me and always will. But I just don't understand what the Giants gain as an organization by continuing to run Cabrera out to shortstop.