Georges St- Pierre: Nick Diaz Did This to Himself
September 8, 2011
Jeff Zelevansky/Getty Images
If there is one thing I hate about the UFC, it is the combination of stupidity and misplaced machismo displayed by some of the fighters. This marriage describes Nick Diaz perfectly. He is never shy about talking trash, telling everyone how tough he is and explaining how he is "disrespected" and "underpaid" etc. 
His polar opposite is GSP, a professional athlete in the truest sense, who rises above the sillier parts of the sport and just takes care of business in the cage. That's why it wasn't surprising when a somewhat stunned GSP didn't take shots at Diaz after finding out that Diaz was being replaced in their upcoming fight. Even though his agitation is clear, GSP once again took the high road when asked if he felt personally disrespected by Diaz.
GSP's reply was simply, "He closed the door for himself, it's himself that he penalized the most. For me it's just a new guy."
Diaz, on the other hand, seemingly too stupid or stubborn or both to realize how much he screwed up, took to YouTube. He went on another whiny rant, cleverly titled "Looks like someone don't want me to win," which illustrates again just how much Diaz doesn't get it. It's his usual nonsense about how it is everyone else's fault and how he is "ready to fight."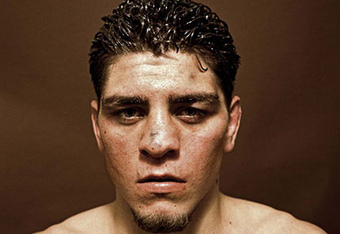 Are you, Nick? 
Showing up for press conferences, as mind-numbing as they may be, is part of your job—even if it is just a "beauty pageant."
Just like with Josh Koscheck, GSP sat by silently listening to Diaz talk trash, waiting for his chance to get revenge in the octagon. But unlike Koscheck, GSP won't get to fill Diaz's loud mouth with Superman punches.
If there is one thing I know about bullies, it is that their biggest fear is being embarrassed in front of a crowd. We saw it on TUF 8 with Junie Browning, who appeared to be trying to get kicked out of the house rather than take on a fight he might lose. This allows him to save face and continue the broader narrative that the "world is against me."
This seems to be what Diaz has done, walking away from a fight instead of possibly being beaten and embarrassed.
I am sure in the next few days that we will hear a variety of excuses out of the Diaz camp. But the truth is, you got your shot, you got your respect and you got a chance at your precious payday, but you didn't show up. 
Diaz once again let his 10-cent brain get in the way of his million dollar talent.