Floyd Mayweather vs. Victor Ortiz: Is Money May Preparing for Manny Pacquiao?
September 7, 2011
Scott Heavey/Getty Images
September 17th will be the return of Floyd Mayweather to the boxing world. He will be fighting a hard-hitting southpaw, but his name is not Manny Pacquiao. Victor Ortiz is a quality opponent for Floyd to fight, but fans are wondering whether this will finally be the tune-up fight before the boxing world gets the showdown of a lifetime.
It's such a rarity in combat sports for there to be two top guys that annihilate everybody that they fight. At one point or another, the fighters get in the ring and settle the debate of who's the best. This is usually the case, but not for Floyd Mayweather and Manny Pacquiao.
Floyd Mayweather announced his retirement in 2007 after knocking out Ricky Hatton, and at the time left the sport as the number one pound-for-pound fighter.
In the meantime, Manny Pacquiao set out on a warpath, destroying everybody put in front of him. The boxing world crowned a new pound-for-pound king.
In 2009, Floyd decided to start a comeback run, and returned to fight Juan Manuel Marquez. He beat Marquez, and the Pacquiao negotiations heated up. They ultimately fell through amidst a lot of drama, and even a lawsuit. Mayweather then signed to fight Shane Mosley, and beat him convincingly.
Boxing fans continue to wonder if this will finally be the tune-up fight that leads to the fight of the century.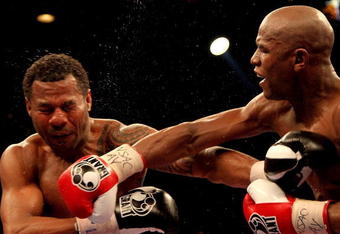 Jed Jacobsohn/Getty Images
I believe the Victor Ortiz fight is the last time we'll see Floyd Mayweather in the ring before he steps in against the Pac-Man.
The last time Floyd Mayweather fought a southpaw was in 2006, against Zab Judah. Ortiz fights southpaw like Pacquiao. Preparing for a southpaw is much more difficult, as there are less training partners and quality opponents to face.
Before Victor Ortiz beat Andre Berto, there was no southpaw of substance for Mayweather to step into the ring against. Now he has that opportunity, against the guy who could be the lead-up to a showdown with Pacquiao.
Manny Pacquiao is a lot more than a boxer now. Fans and fighters have to wonder where his head's at lately. He's a singer, actor, boxer, politician in the Philippines and who knows what else. That's an impressive resume, but suggests that he could be distracted.
All that Floyd Mayeather focuses on is boxing. His only real extra-curricular activities are lawsuits. They're obviously distracting as well, but Floyd clearly won't fight Pacquiao until he is 100 percent ready.
Mayweather doesn't talk to the media about Pacquiao; he claims he doesn't think or care what Manny does or says. That's a lie. Floyd Mayweather wants to be No. 1.
He's put a lot of thought into a fight against Pacquiao, and undoubtedly wants to fight him to solidify his place among the all-time greats.
There will be an asterisk beside Floyd Mayweather's name if he never fights Pacquiao. He will be excluded from top 10 lists for that reason alone.
Floyd has said before this fight that he is fighting for his legacy. His legacy is at stake without a Pacquiao fight, and he knows it. Manny Pacquiao vs. Floyd Mayweather will happen; Victor Ortiz could very likely be Mayweather's last opponent before the top two pound-for-pound fighters finally step into the ring.