Lights, Camera, Action: Michigan & Notre Dame Square Off in Prime Time Saturday
September 7, 2011
All the way back in 1887, the Michigan Wolverines gave Notre Dame an important gift: the gift of football.
Michigan had already established a good program in the past decade, playing the likes of Harvard, Yale, and the rest of the east coast football elite, when the team taught a group of Notre Dame students how to play the game, then "took them to school," handing the Irish its first loss.
It would be another twenty years before the Irish would gain its first victory in the series (1909) and in the years after become a national football power under Knute Rockne.
Now, one-hundred and fourteen years later, the Michigan Wolverines and Notre Dame Fighting Irish meet as the two winningest programs in college football history (by win percentage), as well as a prime example of how hard it can be to sustain football success in the modern college football universe.  
And it is all going to happen for the first time ever under the lights of Michigan Stadium.
The Irish enter the game in a strange state of limbo.  This was supposed to be the year that Brian Kelly's system finally took hold on the offensive side of the ball, and coupled with the defensive improvement over the last half of the 2010 season, the Irish were expected by many to take a step back into the Top 15 nationally and challenge for a BCS bowl birth.
Kelly's first year in South Bend was disastrous.  Three different deaths were connected with Notre Dame's football program in 2010.
The death of student video assistant Declan Sullivan in a practice accident, the suicide of freshman Elizabeth Seeburg, who reported being raped by a ND football player nine days before she took her life and the alcohol-fueled death of 2010 commit Matt James on spring break.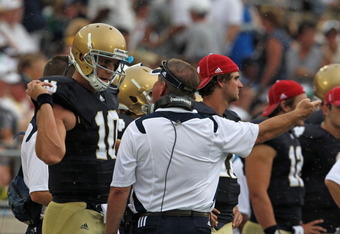 Jonathan Daniel/Getty Images
As if the off field tragedy wasn't enough, the Irish had an early season losing streak against Michigan, MSU, and Stanford before losing to Navy and Tulsa in back to back weeks mid year. Starting quarterback Dayne Crist was knocked out midway through the season as well.
The start of 2011 off season saw star wide receiver Michael Floyd arrested and suspended after a DUI, his third alcohol related run in with police.  Floyd worked hard during the rest of the off season to rejoin the Irish, and was dressed for the first game.
Also dressed and back in his role as the starting quarterback for the first game was Dayne Crist, fully recovered from his midseason knee injury.
None of this mattered much, as the Irish lost in week one against the South Florida Bulls, despite almost doubling USF's yardage.  
Notre Dame turned the ball over twice in the first quarter, saw its only three possessions of the second quarter end as three and outs and mounted an ill-fated comeback attempt in the rain-soaked second half that alternated three scoring drives with two interceptions and one missed field goal.
Starter Dayne Crist was pulled early in the game after completing less than fifty percent of his passes and throwing an interception.  Once again, Tommy Rees stepped in to great effect, finishing the game out with 296 yards on 70 percent passing for two touchdowns.  
He also added two interceptions, but one was a fluky bounce off his receivers helmet.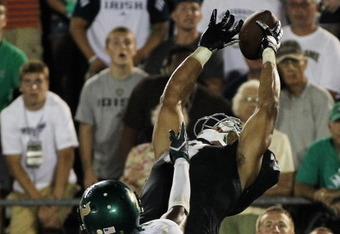 Jonathan Daniel/Getty Images
Michael Floyd once again proved that he doesn't care who throws the ball to him, racking up 154 yards and two touchdowns on twelve receptions.  Running back Cierre Wood also had a solid day, rushing for 104 yards on 21 attempts and scoring one touchdown.
Defensively the Irish played a stout game against the Bulls, holding USF to just two of fourteen on third down conversions, three yards per rush, and just over four yards per pass.
In contrast, the Wolverines had pretty much everything go right last Saturday.  After a long touchdown drive by Western Michigan, UM proceeded to score on three of its five offensive possessions, while adding two defensive touchdowns.
Denard Robinson had a quiet but effective day at quarterback, throwing for just under 100 yards on nine of thirteen passing.  Running backs Fitzgerald Toussaint and Michael Shaw combined for 134 yards on 15 carries for three touchdowns.
The defense also turned itself around after a slow start that saw players frequently out of position. Adjustments by the defensive staff turned up the pressure on WMU quarterback Alex Carder, forcing two turnovers with blitzes.
However, due to the freak thunderstorms that ravaged the Midwest, the game was called before the end of the third quarter, depriving Wolverine fans of a full game and college football junkies another quarter of evidence on which to weigh the team's chances in the game against Notre Dame this week.
Saturday night under the lights of Michigan Stadium (for the first time ever) the college football world will be treated to a very interesting matchup between two teams that continue to try and claw their way back into the national elite.
When Notre Dame throws the ball
 First, when talking about Notre Dame's offense, one must always mention Michael Floyd above all else.  Floyd is an absolute monster of a receiver who has the most receiving touchdowns in Notre Dame history, and the second most 100-yard games.  
He will be facing off against a secondary that is too young, too small, and in the first year of a new defense.  Floyd Uber Alles.
Throwing to Floyd will be Tommy Rees, who was named the starter earlier in the week and will look to build on his solid finish to the 2010 season where he threw for over 1000 yards and twelve touchdowns over the final five games.  
Protecting Rees will be an offensive line that returns four starters from 2010.
Michigan's secondary struggled against WMU last week as Alex Carder picked apart the soft zone coverage as long as he was given time.  Receiver Jordan White did pretty much whatever he wanted, hauling in twelve catches for 119 yards.
Furthermore, Michigan struggled to get any pressure on Carder with four man rushes, and only forced turnovers later in the game by throwing various blitzes at the WMU offense.  
This lack of pressure is especially disconcerting because the WMU interior line was a patchwork of JUCO transfers and underclassmen going against two three year starters in DT Ryan Van Bergen and NT Mike Martin.
Junior DE Craig Roh will need to step up and have a good game on the outside to give the secondary some relief.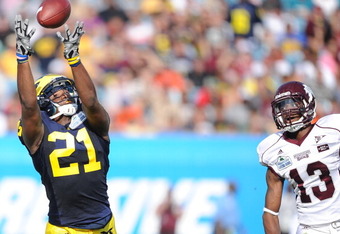 Rick Dole/Getty Images
Michigan should improve its pass rush this week, but that and the young secondary won't be enough to stop Rees and Floyd from combining for multiple scores through the air.
Advantage: Notre Dame
When Notre Dame runs the ball
Running back Cierre Wood is a good first option, but there isn't much depth at tailback which could hinder the Notre Dame rushing attack.  Last year the Irish put up 154 yards and one touchdown on the ground, but did it with the help of departed second leading rusher Armando Allen.
Defensively, the Wolverines were solid in rush defense last week, and have an advantage over last year's game against Notre Dame: competent middle linebacker play.  Kenny Demens was inserted into the lineup halfway though the 2010 season, ending the Obi Ezeh experiment and solidifying the middle of the defense.
He is a capable run stuffer with good vision and quick reflexes.  Also capable in run support is saftey Jordan Kovacs who led the team in tackles last week.
Cierre Wood will go over the century mark on the ground as well as get a score, but the Wolverine front seven will bottle him up to a low ypc average and nothing longer than twenty-five yards.
Advantage: Even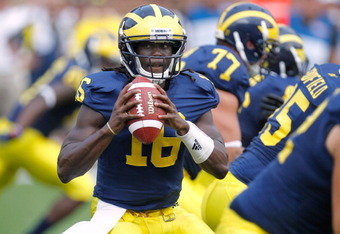 Gregory Shamus/Getty Images
When Michigan passes the ball
Last year Denard Robinson shredded the Notre Dame secondary, mostly by throwing passes to completely uncovered receivers over the middle who were left open by linebackers and safeties crashing down to provide run support on the first sign of a Denard Robinson head fake.
This year, with the switch to west coast passing principles, those wide open opportunities will be harder to come by. This will be a challenge for Robinson, as it was already apparent in the WMU game, where Robinson was 9-of-13 but overthrew a couple receivers deep and struggled on ball placement on some of his intermediate routes.
If he does get the ball out to his receivers, they should be able to do something with it.  Junior Hemingway is a big jump-ball type who uses his body well and is surprisingly slippery for a guy without top end speed or agility.  
Roy Roundtree led the team in receiving last year, but will find it harder to get open now that he is playing on the outside.  Slot receivers Jeremy Gallon, Kelvin Grady, and Drew Dileo have all shown flashes of talent over the past couple years but have yet to deliver results consistently.
Notre Dame's secondary, led by Harrison Smith, should be formidable.  Smith is a possible all-American candidate this year, and was fourth nationally in interceptions a year ago.  On the outsides the Irish have two seniors at cornerback with a combined 33 starts: Gary Gray and Robert Blanton.  
If Robinson hopes to air it out, he will have to be accurate and mistake free, because this secondary is very capable of making plays.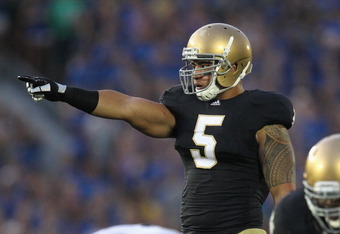 Jonathan Daniel/Getty Images
While the Irish secondary is good, it will have it's hands full with a talented group of receivers. Furthermore, Robinson's legs make him a tough quarterback to pressure.  If one player abandons his rush lanes, it could very easily be six points.  
Robinson will have his struggles in this one, but he will also catch the secondary out of position a few times and capitalize on a couple long touchdowns.
Advantage: Even
When Michigan runs the ball
The Wolverines look to see if the answers found at running back in week one will hold up.  Fitzgerald Toussaint ran the ball well in the first week after battling injuries his first two years on campus.  
He has good agility, but not breakaway speed.  For that the Wolverines will turn to either Michael Shaw, or the aforementioned Denard Robinson.  Shaw is a one-cut speedster that can take it to the house if he gets to the second level.  
Robinson is, well, you know how that worked out for Notre Dame last year.
The offensive line isn't deep, but it returns three full time starters from last year, as well as a RS-Sr with starting experience at three different positions.  The change in running philosophy could see this unit struggle, but these linemen are athletic enough to zone block with the best of them.  
Al Borges knows this and will find a way to use the line as effectively as possible.
On the other side of the ball the Irish return experienced starters on the defensive line in ends Ethan Johnson and Kapron Lewis-Moore and Sean Cwynar at nose guard.  
Behind that unit is linebacker Manti Te'o, a beast with a nose for tracking down running backs and wreaking havoc on blitzes. Flanking him will be a bevy of talent and experience, but don't overlook the fact that this is Te'o's defense and he will be the main play maker.
Regardless, the Michigan rush offense will be good enough to find some success.  With better contributions from the running backs and the ever dangerous Robinson the Wolverines won't get to last year's total of 288 yards but will rush for nearly 200 yards and a couple scores, albeit on less than five yards per carry thanks to Te'o.
Advantage: Even
Special Teams:
Michigan has a true freshman place kicker handling punting duties because of a suspension to starting punter Will Hagerup, and Brenden Gibbons—who was one for five on field goals a year ago—handling placekicking.
Notre Dame could have the actual Irishman mascot kick for them and it would still be a wash.
Advantage: Notre Dame by a mile
Prediction
This is the first night game in Michigan Stadium history, and it will be a doozy.  Michael Floyd will put on a receiving clinic, Cierre Wood will get 100 yards and a score, and Tommy Rees will only make one boneheaded turnover.
On the other side, Michigan won't have the same big play offense as last year, but there is enough talent that the backfield trio of Shaw, Toussaint and Robinson combine for over 150 yards and a couple of scores, and Robinson puts up two more through the air.
However, it will be special teams that is the undoing of the Wolverines, as at least one field goal is missed and big returns in the kicking game set up the Irish offense.
Final Score: Notre Dame 37, Michigan 31