Strikeforce Grand Prix: Main Card Breakdown, Predictions, and Gambler's Guide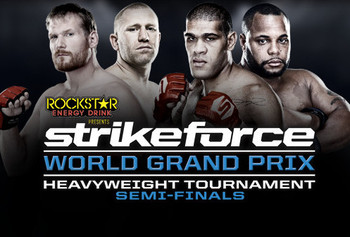 Photo: Strikeforce
The Strikeforce Heavyweight Grand Prix rolls on in Cincinnati, OH.
This Saturday, September 10th, brings us a fight card stacked from top to bottom, with five fights airing live on Showtime, starting at 10pm ET:
Pat "Bam Bam" Healy vs. Maximo Blanco
"King" Mo Lawal vs. Roger Gracie
Ronaldo "Jacare" Souza vs. Luke Rockhold
Antonio "Bigfoot" Silva vs. Daniel "DC" Cormier
Josh "The Baby Faced Assassin" Barnett vs. Sergei Kharitonov
In addition to the two Grand Prix Semifinals matches, "Jacare" Souza is defending his middleweight belt against fast-rising challenger, Luke Rockhold.
This is easily one of the better fight cards that Strikeforce has ever put together. Fight-fans...get excited.
Without further ado, let's get to the fights...
All betting odds are courtesy of BestFightOdds.com. All bet recommendations are for "entertainment purposes" only.
Maximo Blanco vs. Pat Healy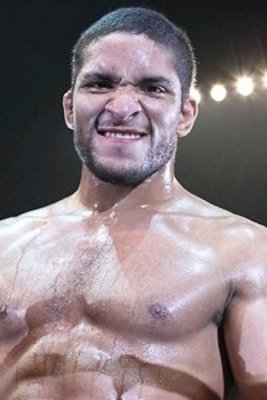 Photo: Sherdog.com
Maximo "Maxi" Blanco (-150) vs. Pat "Bam Bam" Healy (+120)
The main card gets started with a lightweight showdown between Pancrase and Sengoku star, Maximo Blanco and MMA journeyman Pat Healy.
This should be a classic striker vs. wrestler fight. Blanco is a highly skilled striker with seven of his eight wins by KO, while Healy comes out of wrestling heavy Team Quest with 13 of his 25 wins coming by submission.
Though Healy has been on a recent hot strike in Strikeforce, I don't see how he can hang with Blanco on his feet, and I'm not sure he'll get Blanco down very easily. Seen mainly as a dangerous striker, it's easy to forget that Blanco competed in the 2007 Pan American Games in Freestyle Wrestling for Venezuela. He is also training with Greg Jackson, who will surely have a strong game plan ready.
If Blanco keeps this standing like I think he will, this could very well be a short night for Healy. If Healy, however, is able to take Blanco down or force him up against the cage, he could grind out a decision. I'll err on the side of talent here, and go with Blanco.
As far as the betting lines go, I actually don't think Blanco is a terrible bet here. I've seen lines as low as -125 which are clearly favorable, but I like Blanco as part of a two-fight parlay.
Pick: Blanco
Bet: Blanco parlay
Muhammed Lawal vs. Roger Gracie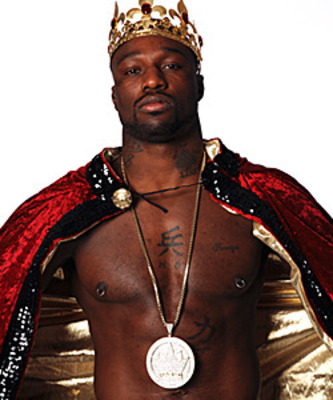 Photo: MMAValor.com
Muhammed "King Mo" Lawal (-160) vs. Roger Gracie (+130)
Not incredibly dissimilar to the Blanco vs. Healy matchup, this fight brings us a talented striker and knockout artist in King Mo and a submission specialist in Gracie.
As suggested by his surname, Gracie is a huge threat on the ground, which is certainly where he wants this fight to land. Having won all four of his MMA fights by submission (three by Rear Naked Choke, one by armbar), there can be no doubting Gracie's game plan coming into this fight.
Unfortunately for him, the striker across the cage also happens to be a phenomenal wrestler. Through his eight fights, King Mo has perfect takedown defense, which does not bode well for Gracie.
The result of this fight will be pretty simple—Gracie's only shot at winning is on the ground. If King Mo is successful at stuffing Gracie's takedowns, it's his fight to lose. I see King Mo imposing his will here.
As far as betting is concerned, I don't think the +130 for Gracie is a large enough return considering he is outmatched in two major aspects of the fight.
Pick: Lawal
Bet: Pass
Ronaldo Souza vs. Luke Rockhold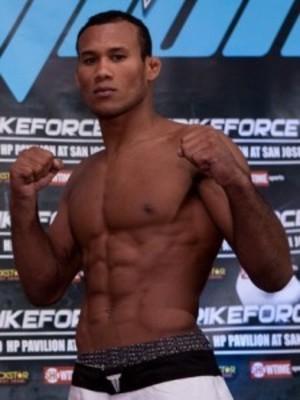 Photo: Strikeforce
Ronaldo "Jacare" Souza (-500) vs. Luke Rockhold (+350)
The Strikeforce middleweight championship fight should be very stylistically interesting. Jacare, a Top 5 middleweight in the world, is a nearly unstoppable submission machine, with 11 of 14 wins coming by submission.
Rockhold, too, has shown himself to be something of a jiu-jitsu specialist, with five of seven victories coming by submission.
Though a -500 line may be a bit steep in favor of Jacare, it's not too far off. I can't imagine a situation in which Rockhold out-grapples the champion, and while Rockhold's striking is sound, I don't think he has anything in his bag of tricks that the Black House team member hasn't already seen from a certain other middleweight.
I'm not counting Rockhold completely out of this fight, but it's going to take a heroic performance to dethrone Jacare.
Pick: Souza
Bet: Pass
Antonio Silva vs. Daniel Cormier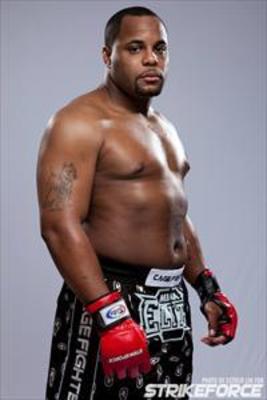 Antonio "Bigfoot" Silva (-155) vs. Daniel "DC" Cormier (+125)
The penultimate fight begins the Strikeforce Heavyweight Grand Prix Semifinals.
This fight should finally answer the age-old question, "does size really matter?" I think Cormier matches up very well with Silva—he's shown impressive striking, obviously has great wrestling and is very athletic to boot.
But, Silva is huge.
At 6'4" 280-lbs on fight night, Silva is a big, strong specimen. That really is his number one asset, and it can make things like takedown defense irrelevant if used correctly. Cormier's athleticism, striking and wrestling won't do him any good if he's pinned to the cage by 280 lbs of Brazilian. And, should Cormier get dragged to the mat, he will be looking to get up, fast.
That all said, however, Cormier is fast on the rise, trains with a great team at American Kickboxing Academy and possesses considerable talents. If he can survive sparring sessions with Cain Velasquez, I trust that he can survive Silva. I'm going to go out on a slight limb here and go with Cormier.
As far as betting goes, I'm all for the dog on this one. I like a parlay with Blanco to juice the return a bit.
Pick: Cormier
Bet: Cormier parlay with Blanco
Josh Barnett vs. Sergei Kharitonov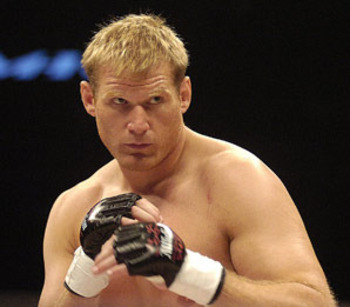 Photo: Affliction MMA
Josh "The Baby Faced Assassin" Barnett (-325) vs. Sergei Kharitonov (+250)
The main event of the evening pits the two best remaining Grand Prix fighters against one another.
Though Barnett, a notable catch-wrestler, is neither the best pure wrestler nor the best pure striker, he is easily the more well-rounded fighter of the two. Against Kharitonov, he will be facing a strong boxer/kickboxer with great takedown defense and a perfectly serviceable ground game should he need it.
Though I don't see Kharitonov being able to totally pick Barnett apart on the feet, I expect Barnett to close the distance and try to put the Russian up against the cage or on his back where his striking advantage will be negated.
I anticipate that Barnett will be able to control from the top and damage Kharitonov en route to a decision victory.
As far as betting goes, I'm not intrigued by Kharitonov enough to justify the risk, but at +250 he presents a healthy return.
Pick: Barnett
Bet: Pass
Keep Reading