England vs Wales: Where Capello Went Wrong
September 7, 2011
David Cannon/Getty Images
Riding on a fresh wave of cautious optimism, Fabio Capello sent out his England team to face Wales at Wembley needing three points to move closer to Euro 2012 qualification.
Mission accomplished.
However, Capello was lucky to come away with the win due to Rob Earnshaw's jaw-dropping miss amid England's generally poor performance.
In my estimation, Capello had hamstrung his team in a way he has done before and will most likely do again.
He used low-mobility central midfielders in defensive midfield positions.
You may blame Wayne Rooney's lack of involvement, England's inability to retain meaningful possession, the low tempo and a forward line blunted by a less than impressive Wales defense.
All of those problems are symptoms that stem from the center of England's midfield.
This is not a criticism of Frank Lampard and Gareth Barry per se, but due to their lack of pace, their positions were consistently 20 to 30 yards too deep.
Any follower of football knows that if you have a center back partnership that lacks pace, you never play a high defensive line for fear of being exposed by space left behind.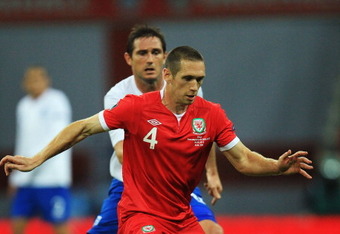 David Cannon/Getty Images
The same principle applies in defensive midfield.
With slow players in the middle of the park, they become very nervous of attackers running off them  and exploiting the space between midfield and defense.
To reduce that risk, Lampard and Barry were dropping off. At times, they were only a short distance from John Terry and Garry Cahill. This allowed them to see the dangers in front of them and gave them more time to respond, thereby negating any space that an advanced midfielder or deep lying forward might invade.
Unfortunately, the deep midfield also opened up a chasm between themselves and the front line, between central midfield and the wide positions—which were meant to be England's main focus to develop attack—and forced Wayne Rooney to drop ever deeper to try and get to the ball.
At one point, Wayne Rooney was furious with Ashley Young and Stewart Downing for not closing down the Wales defenders as they moved the ball around. The reason the wingers had not pressed the ball was that they had dropped off 20 yards towards the halfway line, trying to remain within passing distance of Lampard and Barry.
Young and Downing also didn't get the opportunity to interchange, as they did against Bulgaria, because England had become so stretched by the space across the middle of the park, it simply wasn't feasible.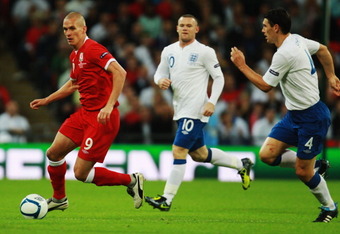 Bryn Lennon/Getty Images
England's pressing game, which is vital for winning back the ball and springing counter attacks, was ruined due to standing so far off Wales' players because the ball had gone before the English players could get close.
The problem was exacerbated by Capello's choice of playing three central midfielders, but then asking James Milner to often forget his central position to help Chris Smalling or Ashley Cole cover Gareth Bale. Milner isn't exactly slow, but he isn't as pacey as Bale, which made that defensive choice nonsensical, particularly as soon as Milner received a yellow card.
This left Barry and Lampard not only worried about pace from midfield, but also outnumbered. This gave them extra incentive to drop onto Terry and Cahill in order to avoid being immediately closed down whenever they received the ball.
Ever wonder why England players get the ball in midfield and so often play it back to the defense, over and over again?
Playing two slow midfielders against three opponents is precisely why that happens. It also leads to the fullback long-ball syndrome. If any of England's fullbacks play a ball into the center midfield only to find it coming back consistently, eventually the longer ball becomes the obvious option.
Long-balls from the back line mean less possession and a straight-line, predictable attack.
There were times when Wales could stroke the ball around unopposed at the back (other than Rooney running himself into the ground), wait for Aaron Ramsey to make himself available, and be in England's final third with one simple ball.
Germany's embarrassment of England in the World Cup occurred mainly due to this tactical blind spot in the England set up. Time and time again, the German attackers were knocking at England's defensive door with one easy ball because Mesut Ozil found all the space he could want.
In the World Cup, England's slow central midfield was too advanced and could not recover quickly enough to cover the spaces left behind. Last night, the similarly-paced midfield were so deep that the rest of the team was isolated, disconnected and ineffective.
There were many issues with England's ball retention, defensive shape, covering of dangerous areas, cohesive progression through the midfield and a lack of movement throughout.
All of those problems would have been lessened by employing mobile midfielders who were not constantly concerned about the opposition running in behind them.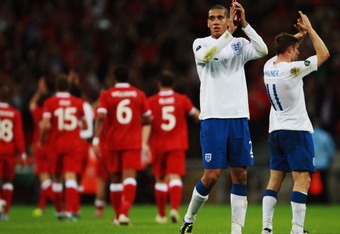 Bryn Lennon/Getty Images
These same mistakes have dogged England for years, and it would not take massive upheaval to improve the system of play.
Unfortunately, England doesn't currently have a consistent pattern or style, because Capello changes the team constantly, has no definitive vision for the team and changes his system to stop opposing sides rather than employing a system to maximize his own players.
Capello will blame confidence, fear, inhibition or how much opposing teams enjoy Wembley—as if those excuses mean anything.
After several years in the job, and millions in the bank, Capello still hasn't rectified the basic problems of the side and seems to accidentally stumble on something that works (the 4-2-3-1 against Bulgaria), before reverting back to game plans that have failed repeatedly.
England are not a team blessed with world class players in every position.
But they could definitely play better than they did last night.